Friday 11th April 2014 by David Rule in Buyers Guides, Mobile Accessories.
The eagerly anticipated Samsung Galaxy S5 was released today, so we thought we'd round up some of our favourite Galaxy S5 accessories. Here are our top 5…
1. ROCK Elegant Samsung Galaxy S5 Smart View Flip Case – Black
This neat flip case for the Samsung Galaxy S5 includes a cut out, to allow you to view incoming calls, control your music or even check the weather, without having to open the case. It's beautifully slim, adding only 0.7mm to the device's already thin body, but still offers impressive protection against nicks and scratches. The case supports the Samsung Galaxy S5′s Sleep/Wake function too, allowing you to wake the device by simply opening the case.
2. Samsung Galaxy S5 / S4 / S3 / Note 2 & 3 Smart Dock
This official Smart Dock is a particular favourite of mine. Not only will it charge the Samsung Galaxy S5, but it will also allow you to hook up your phone to a keyboard and mouse, external storage and even a HD display, making it ideal for watching your movies on a big screen.
3. Spigen Ultra Crystal Samsung Galaxy S5 Screen Protector – Twin Pack
If you're looking to protect the Samsung Galaxy S5′s impressive screen, without compromising its touch sensitivity, then the Spigen Ultra Crystal Screen Protectors are a great choice. Custom cut for the Samsung Galaxy S5, the protectors are almost invisible when on. They use a special silicone glue which not only eliminates residue on removal, but also results in fewer air bubbles. Good news for those of you that struggle with the often fiddly art of applying screen protectors.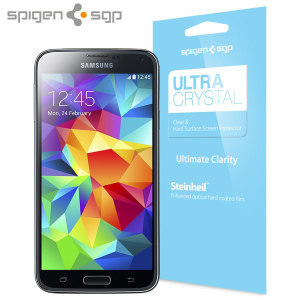 4. ArmourDillo Hybrid Protective Case for Samsung Galaxy S5 – Red
The ArmourDillo Hybrid Protective Case for the Samsung Galaxy S5 is a two-layered case with an impact-resistant polycarbonate exoskeleton, offering additional protection against drops and knocks. Ideal if you're keen to keep your Samsung Galaxy S5 looking as good as new.  The textured grip on the back of the case makes for secure handling and is surprisingly comfortable in the hand. There is also a nice flip-out stand, which is particularly useful for propping up your Samsung Galaxy S5 to watch your videos and scroll through your photos.
  
5. Kit: High Power 15000mAh Dual USB Emergency Charger
The last thing you want to be worried about when playing with your new Samsung Galaxy S5 is your battery life. This portable 15000mAh Dual USB Emergency Charger from Kit: is powerful enough to charge the Samsung Galaxy S5 several times over. With dual USB ports and 3 interchangeable charging adapters, you can simultaneously charge an additional device, which is great if you're carrying around a tablet or second phone. The charger is compact, and would make a perfect companion on a camping trip or music festivals.
I hope you've found these Samsung Galaxy S5 accessories interesting. If you'd like to view a wider range, visit the link below: