Friday 27th March 2015 by William Judd in Android, Mobile Accessories.
The HTC One M9 is coming out in exactly one week, and we've already prepared a wide range of cases and covers for the phone. In this article, we'll recommend six of our favourites to check out – and all are due in stock by the time the One M9 ships!
6. Case-Mate Barely There - Clear, Black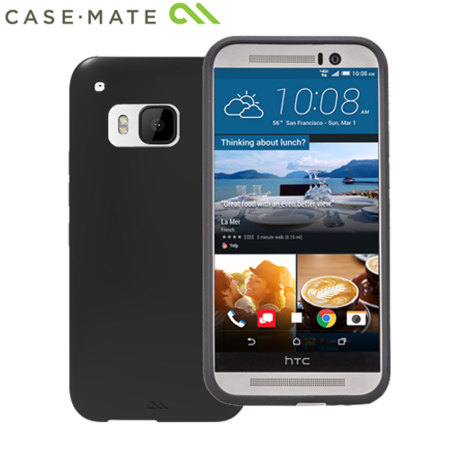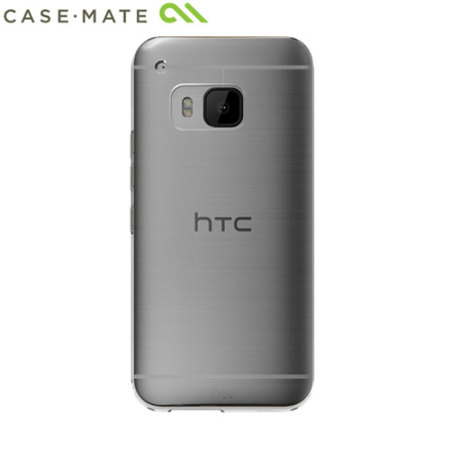 The Barely There is one of the most popular cases by veterans Case-Mate, and for good reason. It protects your phone without making it too big and bulky; as the name says it's barely there, barely noticeable. The case is made from a single slim impact-resistant plastic shell, which covers the back and sides to prevent damage. The case looks good too, particularly in its clear variant. This lets you see the nice aluminium design of the One M9 through the case, instead of it being hidden by plastic.
5. Encase Leather-Style Wallet Case - Brown, Black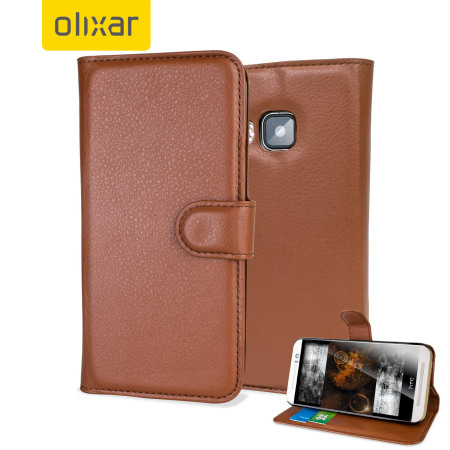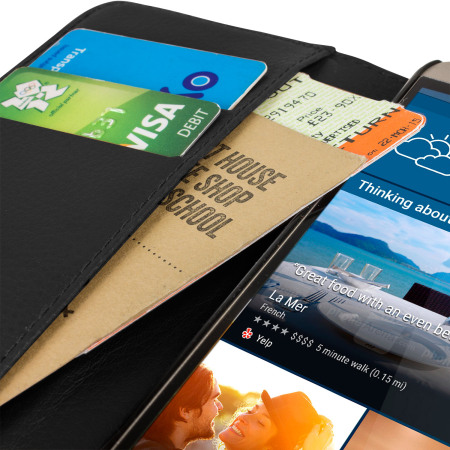 The Encase Leather-Style Wallet Case is a good choice if you're looking for a classy and practical cover for your One M9. The leather-style synthetic material used is durable and looks great, and it's much cheaper than the real deal. The wallet case comes with pockets for your cash and cards, and even works as a media stand. All in all, a strong choice if you don't mind the extra bulk of the wallet form factor.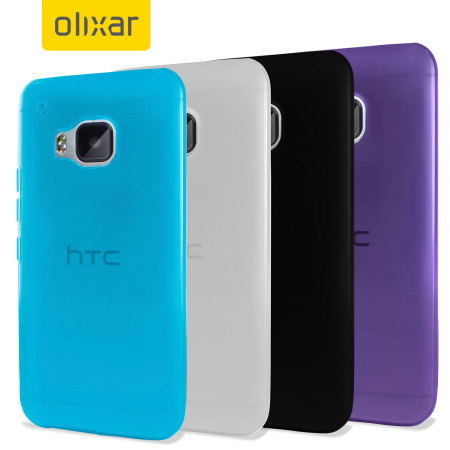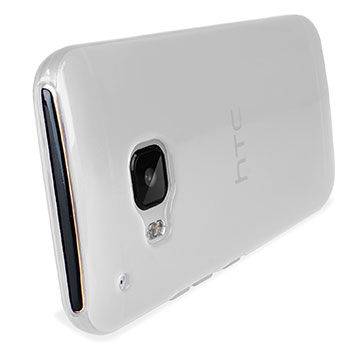 If you're looking to protect your One M9 but you don't want to spend a lot of money on a case, then the FlexiShield might be just what you're after. These cases are made from a durable gel material, allowing decent drop and scratch protection with full coverage of the back and sides. The cases are available in four different colours, which can be purchased separately or together at a discount.
3. Spigen Wallet S Case - Black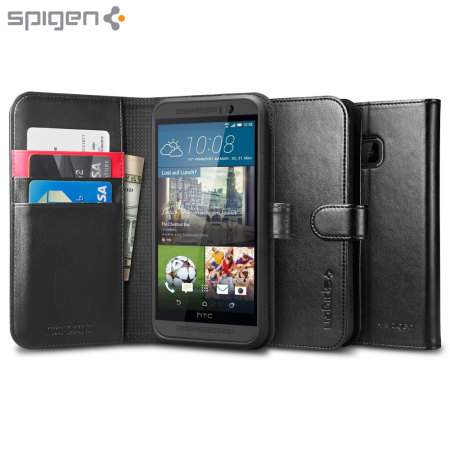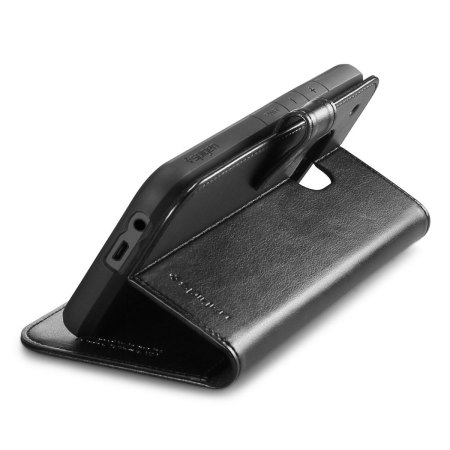 Our second wallet of the list is the Spigen Wallet S. This case is made from a high-quality synthetic material rendered in the classic black colour. The case is more protective than the average flip case, thanks to an integrated polycarbonate hard frame around the phone. Spigen have really paid attention to the details of this case too. A magnetic clasp secures the cover closed; four slots provide storage for cash and cards; a fold allows the case to be used as a media stand; and the front cover even includes a speaker hole, allowing you to carry out conversations with the cover closed. It's a great-looking, practical case, and it's a perfect choice for a phone like the One M9.
2. UAG Maverick Protective Case - Clear, Black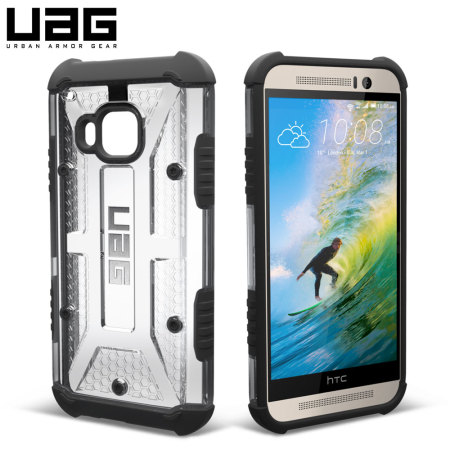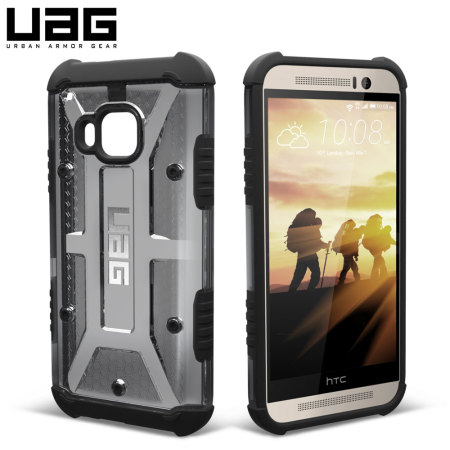 Our runner-up today is the case that provides the most protection out of all the cases on our list: the UAG Maverick. This case meets military standards for drop protection, able to survive a two metre drop onto a concrete floor. That's thanks to the innovative design, which melds a strong TPU chassis with a rugged metal insert. In combination with heavy duty TPU buttons and a high-definition screen protector, you're assured comprehensive protection for your One M9. And thanks to the option of a clear body, you can even show off your One M9′s excellent metal design.
1: HTC Dot View 2 Case - Grey, Red, Blue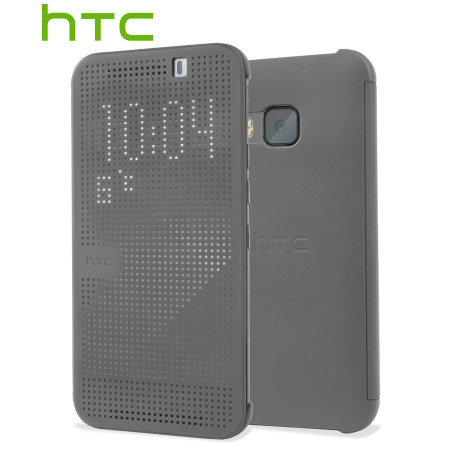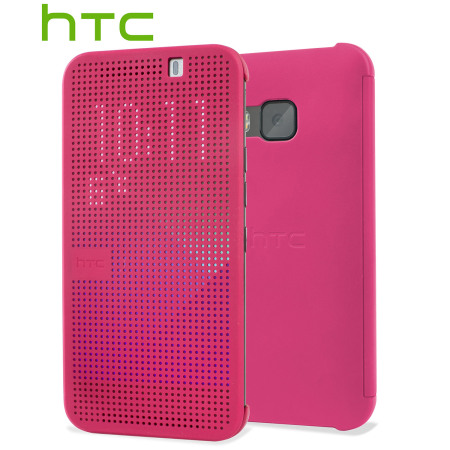 We'd be remiss to discuss the best cases for the One M9 without mentioning HTC's own effort, the Dot View 2. This case has a unique feature; a grid of dots which show a pixellated view of the screen review. This has practical purposes – you can see notifications, the time and incoming calls without opening the cover – and it also just looks really cool. The original Dot View debuted with the One M8, and the sequel includes much more complex animations that really catch the eye. It's a good protective case too, thanks to full front and rear protection. All in all, a worthy choice that deserves to stand alongside the UAG Maverick.
Conclusion
The HTC One M9 is a beautiful, practical phone, and it deserves a beautiful, practical case. I hope you've found at least one today!
If you have any questions or feedback, please write to us in the comments below. You can also reach us on Twitter @mobilefun!
Friday 27th March 2015 by William Judd in Mobile Accessories.
We've got a new gadget that might be the best travel accessory of all time. It's the Aukey 3-in-1 Travel Router and Power Bank. It creates wireless hotspots from mobile connections or ethernet cables, and can even recharge your devices with its battery. It's highly portable and highly awesome, so read on to check it out!
1. micro SIM + Aukey = wireless hotspot
First up: it's a wireless router that lets you share an internet connection with any device. You simply put in a micro SIM card, and your 3G or 4G network connection will be shared wirelessly with all of your other devices. That includes phones, tablets, computers, games consoles – everything that can connect to wireless networks – and up to 20 devices can be connected at once. You can make a lot of friends like that!
2. Ethernet + Aukey = wireless hotspot
Second, you can also share a single wired ethernet connection in the same way. If your hotel room or workplace gives you just one ethernet cable, you can use the Aukey to connect as many devices as you like. Just connect the cable, power on the Aukey and you're ready to go.
3. Aukey = portable charger
Finally, you can also use the Aukey's internal battery pack to recharge your other devices. There's 5200mAh of battery power on board, more than enough to recharge most smartphones two or three times over. That's great for getting charged up in remote locations, or simply when your phone is about to give up the ghost. The Aukey charges fast too, giving you a full 2.1A, so you won't have to wait long.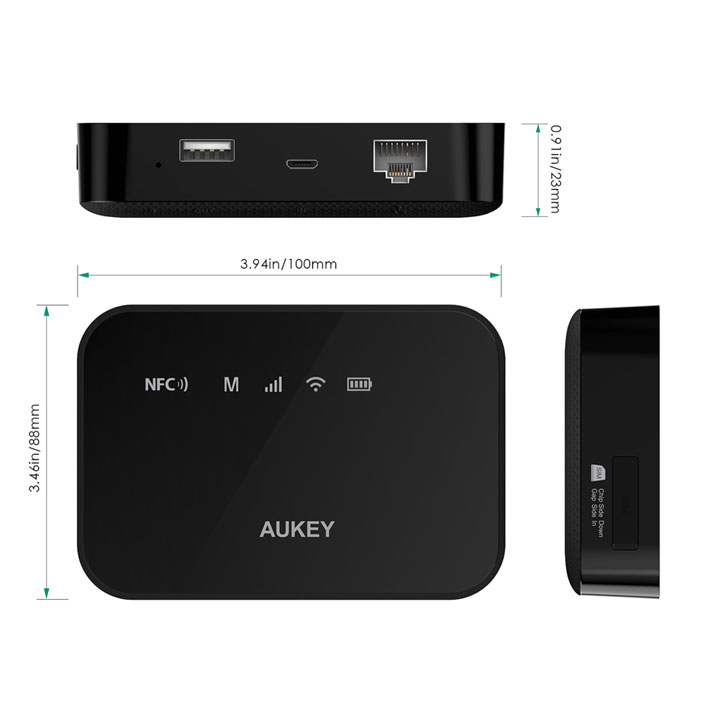 Tiny too
The Aukey measures just 100 x 88 x 23 millimetres, small enough to fit in a larger pocket or a small bag. It weighs about as much as a phone at 155 grams, so you'll never feel it's too much to carry.
Available right now
The Aukey 3-in-1 is in stock now at Mobile Fun. We're super excited about this gadget, and we hope you are too! If you're looking for a super-practical travel gadget, then this is it.
Let us know what you think in the comments below. We're also happy to answer questions, either below or on Twitter @mobilefun.
Friday 27th March 2015 by William Judd in Android, How to Guides.
Android is pretty good for phones and tablets, but how does it work on a laptop? Surprisingly well, actually. If you'd like to try the free OS for yourself, you can take advantage of the Android-x86 project, a cooperative effort that brings Android support to desktops and laptops running x86 processors. You'll get access to the same Android apps that you've installed or bought on your Android tablet or smartphone, and benefit from a slick OS that runs quickly on even dated devices. You likely won't have a touchscreen to use, but Android still supports trackpads, keyboards and USB peripherals just fine. It seems like a fair trade, and if you've got an old laptop sitting around then it's a fun experiment to try.
A few years ago I covered the install process for what was then the latest Android-x86 release, which was 4.0 Ice Cream Sandwich. Since then, Android-x86 has been updated to follow each major Android release, and now sits at version 4.4 KitKat. (An update to 5.0 is planned too.) With that in mind, I thought I'd revisit Android-x86 to see how far it's come. Why don't you join me? Here's what you'll need to do.
Part 1: Preparation
First, you'll need to prepare your materials. You will need:
The latest 'live & installation' ISO file from the Android-x86 site. I am using Android-x86-4.4-r2.iso.
UNetbootin (downloadable here)
A USB stick with 1GB or more of storage space (I used an 8GB stick)
A working computer to prepare your USB stick (Windows, Mac & Linux are all fine)
A computer with an Intel x86 processor (could be the same computer as in step 4).
Now we have to prepare our USB drive. Plug your drive into your computer, and format it to the FAT32 file system. You will lose all data on the drive, so be sure to back up anything of value before you perform this step!
Once the format has been completed, start UNetbootin.
Click on the button with the ellipses near the bottom of the screen, and select the ISO file that you've downloaded. Then, select your USB drive from the dropdown menu at the bottom. Make sure your selection is accurate! When you're ready press OK. Android-x86 will be copied to the USB drive, and the drive will be made bootable. When it's complete, close UNetbootin and remove the USB drive from your computer.
Part 2: Boot from the USB drive
Now we need to boot into the USB drive from our target computer. Plug in the USB stick and turn on the computer (if it is already on, restart). In order to boot from the USB, you'll need to make sure it is the first device that your computer attempts to boot from.
You can do this by pressing a key as the computer turns on. The key is different on different computers, but common keys include F1, F2, F10, F11, F12 and Delete. The hotkey will usually flash on the screen as the computer first boots, or can be Googled with the phrase "[name of motherboard / computer] BIOS key".
Enter the BIOS and change your boot order so that your USB drive comes first. You may also need to make some changes to ensure the drive is recognised on newer devices – for example, I had to change to a 'legacy boot' instead of 'UEFI' on my laptop. Make your changes, then press F10 to save them and reboot.
If all goes well, then you should see a screen like the one below. You will have several options here for installing Android-x86, but I recommend you choose 'Live CD – run Android-x86 without installation'. This will let you try out the OS to see if it works well on your machine, without messing up your currently installed operating systems.
If you do decide to install, you'll be asked to choose which drive you'd like to store Android-x86 on. Choose your drive, then choose the maximum size when asked how large you'd like to make the installation. This will provide more space for programs later on.
Whether or not you chose to install Android, after a few seconds / minutes you'll be into Android proper!
Part 3: Android!
If all goes well, then you'll see the Android logo, then a setup screen. As this is the first time you're booting into Android-x86, you'll need to go through the same setup process as on a real Android tablet. You'll be asked to join a wireless network, sign into your Google account, and all the rest of it. With luck, your wireless card, keyboard and trackpad will all work during this stage. I had no issues here, so hopefully the same holds true for you.
Once setup is completed, you're free to explore the OS! Android-x86 comes with the Google Play Store, so you can access this and download any apps that you like. Some apps won't be available for install (or will crash immediately), so it's worth testing out your favourites.
I installed Chrome, Google Music and a few games, including Minecraft Pocket Edition. Not all apps and games work well, but those that I tried seemed OK!
 Questions? Comments?
I hope this guide worked for you. Let me know if it did in the comments below, and if you're having problems I'll try to help you if I can!
Friday 27th March 2015 by William Judd in Android, Mobile Accessories.

One of the best features of Samsung's Galaxy S phones were their easily replaceable batteries. You could just pop off the plastic rear cover, pull out one battery, slide in a fresh fully charged one, and then be right back to 100%. For the Galaxy S6 and S6, Samsung has moved to a glass-backed design, which means replacing the battery isn't really practical. Instead, we have an alternative: a battery case for the Galaxy S6 and S6 Edge which more than doubles your total battery life.
The Power Bank Case for the Galaxy S6 provides 4,200mAh of battery power. Added to the 2550mAh battery pack inside the phone, you'll have a massive 6,750mAh of power on tap, more than many tablets! With 265% of the power, you'll be able to use your Galaxy S6 for days at a time. According to GSMArena's battery tests, you can expect:
46 hours, 16 minutes of 3G talk time (nearly two days straight!)
23 hours, 7 minutes of web browsing (nearly one full day)
27 hours, 31 minutes of HD video playback


You'll get similar numbers for the S6 Edge, which features a similar display, a slightly larger battery and otherwise exactly the same components.
Of course, this case isn't just good at increasing your battery life. You can also use the Power Bank Case to keep your Galaxy S6 and S6 Edge safe from harm. The impact-resistant plastic used here will provide good protection from scratches and impacts, with the bulk of the battery used to good effect.


The case also includes a kickstand, letting you use that extra battery life to watch movies, surf the web or play games. This handy inclusion means that you don't have to shell out for a separate desk stand.
The Power Bank Case is available for pre-order now for the Samsung Galaxy S6 and Galaxy S6 Edge. It is available in white and black for both phone models. For more information and to place your pre-order, please visit the product pages below:
Thanks for checking out the article! I hope you've found it helpful. Please feel free to leave your comments and questions below, or tweet us @mobilefun.
Thursday 26th March 2015 by William Judd in Android, Mobile Accessories, Mobile News.
The One M9 launches at the end of the month, but HTC is already preparing a follow-up. Called the One M9 Plus, the phone has been leaked in photos posted to Weibo (China's Twitter) and alluded to in event invites sent to Taiwanese media. The One M9 Plus is expected to be a better and slightly larger version of the One M9, with a 5.2-inch 2560 x 1440 display and a dual-lens camera. Otherwise, specifications match that of the One M9, including a 64-bit octa-core processor (made by either Qualcomm or MediaTek), 3GB of RAM and a 20-megapixel rear camera sensor.
We've recently acquired some cases of the One M9 Plus. In the photos below, you can see how the phone measures up to the One M9. As expected, it is very slightly larger, adding credence to that 5.2-inch screen size. There's also a very large cutout, which would fit the large sensor shown in the event invite. In terms of ports, there seem to be no obvious differences to the One M9.
What do you think of the idea of the One M9 Plus? Is it a good idea for HTC to release an upgraded phone so soon after the One M9? Let us know in the comments below!