Wednesday 23rd April 2014 by William Judd in Android, Mobile Accessories, Mobile Phones.
The OnePlus One is the "Flagship Killer." It's a bold claim from OnePlus on its smartphone debut, but it could well be true — the One has all the ingredients of a killer smartphone. The design is subtle but cleverly conceived, the hardware is powerful and modern, the software elegant and bleeding-edge. In almost every aspect, it's equal or better to the best flagship phones from Samsung, Sony and HTC.
All of that isn't worth a damn if the price is too high, but the 16 GB One is debuting in the US for just $299. That's about half what a typical flagship phone costs, and it's a move that could bring OnePlus into the mainstream. The strategy worked well for Google with the Nexus 4, and OnePlus will be looking to achieve a similarly strong result.
A Closer Look
Let's take a closer look at the OnePlus One, starting with the phone's design. The One forms a clever shape, with a slim 9mm body slimming to around 5mm at the left and right edges. The back cover is coloured white or black, and can be replaced by a number of official covers wrought in materials like denim, wood or kevlar. Even beneath the cover OnePlus have worked hard to make a good-looking phone, with circuitry carefully coloured and aligned.
Next up is hardware. We've got a Snapdragon 801 quad-core processor running at 2.5 GHz here, backed with 3 GB of RAM and 16 or 64 GB of flash storage. The phone has a 5.5″ display with small bezels, and a 1080p resolution that works out to over 400 pixels per inch. Beneath the removable back cover is a swappable 3100 mAh battery. Connectivity is good too, with global 4G LTE support and the usual range of Bluetooth 4.1, Dual-band WiFi ac and NFC. All in all, the OnePlus One is a hardware titan, eclipsing the best phones on the market.
CyanogenMod 11S is the operating system on-board the One. Android 4.4 is the heart of the OS, but the CyanogenMod team and OnePlus have made some key alterations. Customisation is key here, with Cyanogen exposing much more of Android's nuts and bolts than you'd see on any other phone – even Google's own. If you don't want to mess, the OS still seems an improvement over stock Android – CyanogenMod features like Quiet Hours, an improved home screen and a flatter theme all make for small improvements.
SIM-free price and accessories
The final stage is that killer price. The $299 16 GB model is already excellent, but the kicker is that moving up to 64 GB of storage costs only $50 extra – something that Apple charges $200 for. That 64 GB $349 price point is really unrivalled.
If you'd like to order the OnePlus One, you can get the phone sim-free and unlocked from Mobile Fun in its 16 GB Silk White or 64 GB Sandstone Black versions. Visit the products pages linked above to see pricing and availability information. Of course, we'll also be sourcing a wide range of OnePlus One accessories including cases, covers, chargers, docks and more.
Tuesday 22nd April 2014 by William Judd in Android, Mobile Accessories.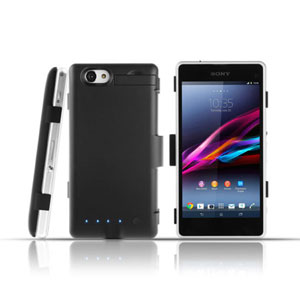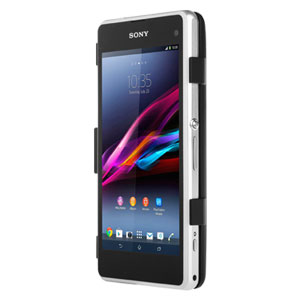 Running out of battery on your Xperia Z1 Compact? Our Power Jacket case can come to the rescue!
The Power Jacket provides an extra 3200mAh of battery power. With the internal 2300mAh battery, you're looking at a massive 5500mAh of combined battery power. That's a 2.4x improvement on the stock phone – a massive improvement that will radically transform your usage (and charging!) habits. Let's see what that increase means in real-world terms.
GSM Arena rated the Z1 Compact's battery for almost 21 hours of 3G talk time, almost 13 hours of web browsing, or 10 hours of video playback. With the Power Jacket case installed, those numbers get a massive boost. You'll be able to talk for 49 hours, browse the web for 30 hours or watch a full 24 hours of video.
With so much battery power on tap, you'll be free to keep your screen brightness up, turn GPS and Bluetooth on at all times, and start enjoying the things that make your smartphone smart – without the hassle of babying your battery.
Of course, the Power Jacket isn't just a battery – it's an Xperia Z1 Compact battery case. It does make the slim phone a little thicker, but it uses that bulk in a clever way: to protect your phone. The battery protects the rear of the phone from damage, while keeping the screen clear and easily accessible. The Power Jacket also adds a handy media stand, perfect for watching videos and playing games with all that newfound battery life.
The Power Jacket for the Sony Xperia Z1 Compact is available for pre-order now at Mobile Fun. To place your order or see additional information, check out the product page linked below.
Thanks for checking out the article and be sure to let us know what you think of the Power Jacket in the comments below!
Tuesday 22nd April 2014 by William Judd in Android, Mobile Accessories.
ElementCase have been making beautiful premium cases for smartphones for a while now, but it looks like they've really hit their stride with the Galaxy S5. We're debuting four new Recon cases for the phone, from the affordable Chroma, the mid-range RF and the high-end Pro and Pro Black Ops models.
These Recon cases boast clever protective designs realised with exotic materials and machined in the US to make a uniquely brilliant case. Let's take a closer look at each one, starting from the top.
ElementCase Recon Pro Black Ops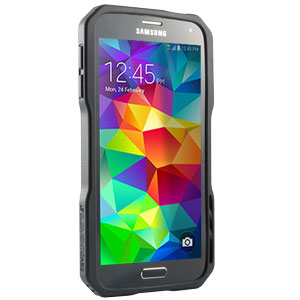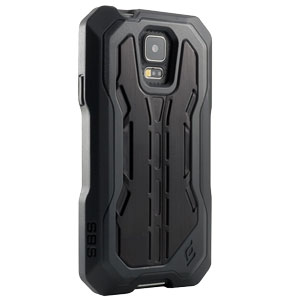 The top-tier ElementCase for the Galaxy S5 is the Recon Pro Black Ops. This heavy-duty case is designed for outside use in the most punishing conditions. The dual density chassis, made from TPU and polycarbonate, provides impact and scratch protection galore. The shell is reinforced with a CNC machined aluminium back plate, with a Type 3 hard anodized finish for rigidity. The Black Ops also includes an integrated privacy screen protector, acoustic sound boost chamber, lanyard and Fuse Dek belt clip / viewing stand. It's a comprehensive package that provides the best protection in the lineup.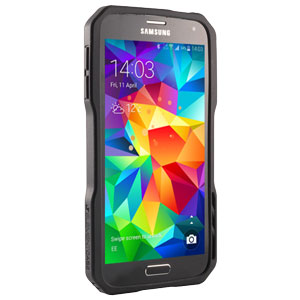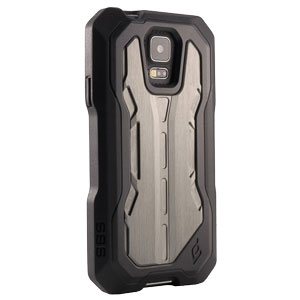 The Recon Pro is the second tier option, offering most of the same components as the Black Ops edition, including the dual-density chassis of TPU and polycarbonate, with the CNC aluminum backplate. At this lower price point, you do miss out on thenodised finish for the backplate, the privacy screen protector and the darkened colour scheme of the Black Ops.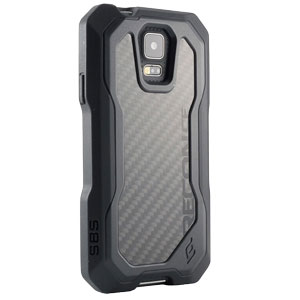 The CF here stands for carbon fiber, and that's exactly what this case is made from. This is the real deal too – it's not just a plastic with the carbon fibre look or texture like you'd find on the vast majority of carbon fiber cases on the market. You can feel the difference, and you'll be able to enjoy much improved protection here too.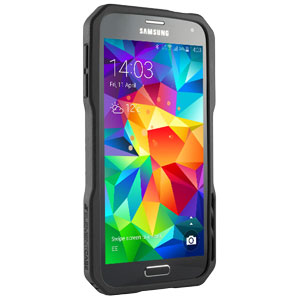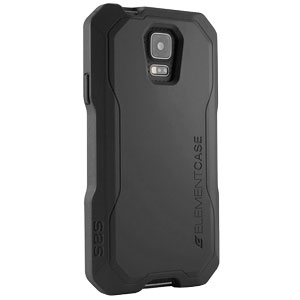 The Chroma gives you the essential component of the ElementCase Recons series, the dual density chassis, at an affordable price. The Chroma doesn't include a backplate, so you can expect a lighter albeit less rigid case.
Conclusion
Each ElementCase is intensely desirable – and if I haven't sold you already, then check out the product pages linked above to see what I mean. The ElementCase Recon series is coming into stock at Mobile Fun now, with the Chroma expected to arrive the third week of April and the rest of the series to appear the first week of May.
For live stock availability and pricing information, visit the links above or below for the Galaxy S5 case of your choice.
Thanks for checking out the article and be sure to let us know what you think of the cases in the comments below!
Tuesday 22nd April 2014 by William Judd in Android, Mobile Accessories.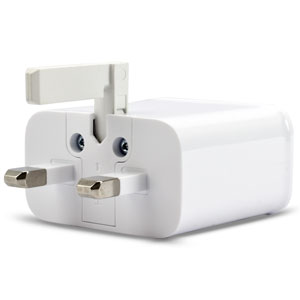 It seems like a good day for Samsung Galaxy S5 chargers. Earlier today we looked at special USB 3.0 cables for the Galaxy S5, and now we're going to see the official Galaxy S5 UK mains charger. If you've lost or damaged your original, or you just want a spare for traveling or the office, then check this out!
This Galaxy S5 charger is the same as the one you'll find in the box. It charges your phone from UK plug sockets, and much faster than you'd get from a USB port on a computer. The charger is high quality, with a white build and Samsung branding that matches the phone itself.
So why buy the official Galaxy S5 mains charger instead of any other USB mains charger? Well, it includes support for Qualcomm Quick Charge 2.0 and an impressive 2A amperage. In practical terms, that means your phone charges 75% faster than a normal charger of an equivalent amperage. That's a big difference – now you can charge your phone in under two hours; almost twice as fast as previous generation chargers.
Of course, this official Samsung product is just a good charger too. Its folding design ensures it's nicely portable despite our bulky UK plug shape, while a side-mounted USB port ensures you can easily fit it into tight spaces. It's Samsung too, so you know that you're getting a high quality accessory that'll last the life of your phone.
The Official Samsung Galaxy S5 UK Mains Charger is available for pre-order now at Mobile Fun. To see more information on this accessory, check out the product page linked below.
Feel free to let us know what you think of the article and the accessory in the comments below. Thanks for reading this blog and we'll see you again soon!
Tuesday 22nd April 2014 by William Judd in Android, Mobile Accessories.
The Samsung Galaxy S5 comes with a micro USB 3.0 port, unlocking the door to rapid charging and quick data transfers. It's a great addition to see on the S5, but unfortunately Samsung have missed a trick by only including a USB 2.0 adapter in the box; just as they did with the Galaxy Note 3.
If you want to take advantage of the new tech, then you'll need to pick up a USB 3.0 cable of your own. Thankfully, we've got plenty of options available here, from official Samsung accessories to cheaper third-party options. Let's take a look!
Samsung Micro USB 3.0 Cable – Black, White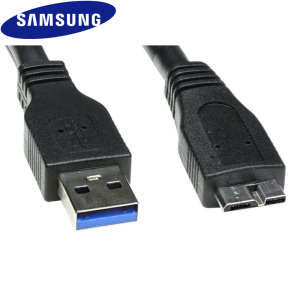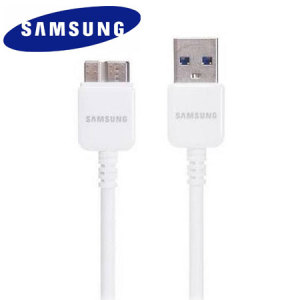 First up we have Samsung's official accessory, the USB 3.0 Data Cable. You'll get the new micro USB 3.0 connector on one end and a standard USB on the other end, which can plug into computers and AC adapters as normal. The cable comes in white or black, so you can choose the shade of your choice.
Capdase Micro USB 3.0 Cable – Black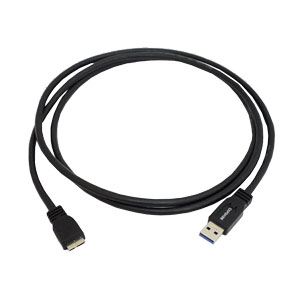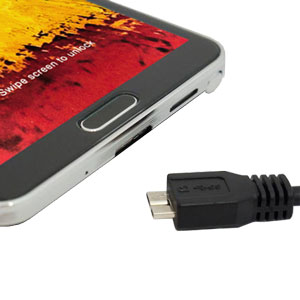 Next up is a third-party option from trusted manufacturer Capdase. The cable is around a fiver cheaper than the official option, and is rated for the same high speed data transfers and charging as the Samsung option. The cable is only available in black, though.
Capdase Micro USB 3.0 Sync & Charge Cable 1.5m – Black
Samsung Travel Adapter with Micro USB 3.0 Cable – White
Our last item is this official Samsung travel adapter, which bundles a Samsung micro USB 3.0 cable with a folding AC adapter. The adapter provides 2A of power, making it perfect for rapidly charging the Galaxy S5. The travel adapter is available in white This is a great deal; costing only £2 more than the cable itself.
Note: These cables are all backwards-compatible with USB 2.0 ports, but remember that you need a USB 3.0 port to take advantage of the new higher file transfer speeds. These ports are standard on all recent desktops and laptops, and are often coloured blue to differentiate them from USB 2.0 ports. If you're not sure if you have USB 3.0, check your the documentation from your manufacturer or post in the comments below.
Thanks for checking out the article, and be sure to let us know if you decide to pick up one of these awesome USB 3.0 adapters or any other of our official Samsung Galaxy S5 accessories. Have a good week ahead, and we'll see you again next time.