Wednesday 30th July 2014 by William Judd in iPad, Mobile Accessories.
Today we're going to have a look at some of our most popular iPad Air cases. Let's get right into the selections!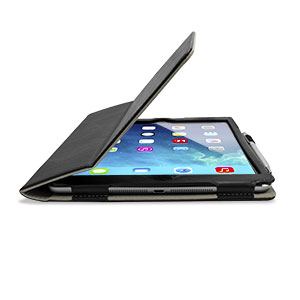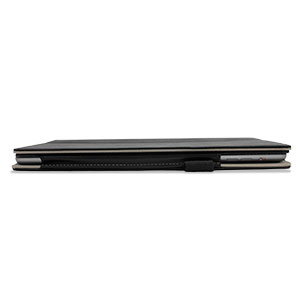 Our first featured case is the Stand and Type. The case is one of the most affordable folio-style cases for the iPad Air, offering good screen protection and a stylish contemporary look. The Stand and Type part of the name refers to the built-in stand, which allows you to keep the case at one of two convenient angles. The case includes wake/lock functionality, with a small magnet ensuring that the screen turns on and off when the cover is opened and closed. A stylus is included with this case, which is a nice value bonus as well.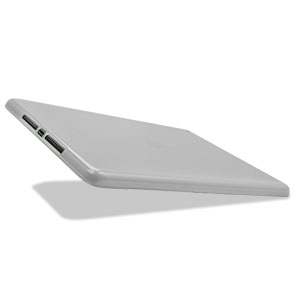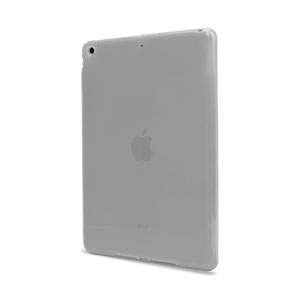 The FlexiShield Skin is an unusual iPad Air case in that it isn't a flip cover or folio; this is a simple gel case that covers the back and sides of the iPad Air, while leaving the screen fully accessible. That means you'll likely need a screen protector, but you do get the benefit of a thinner case and no flip cover to get in the way. The FlexiShield is inexpensive too, so it's a good value option.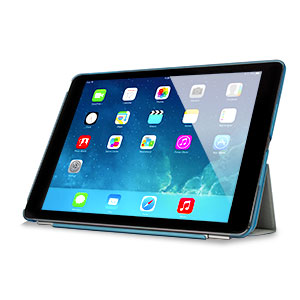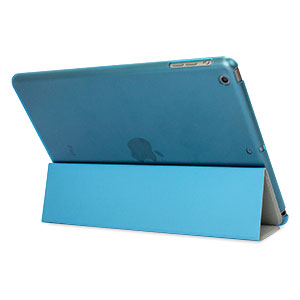 The Smart Cover with Hard Back Case is a nice slim flip cover case which includes additional protection to the rear and a wider variety of colours available. The case even includes sleep/wake locking and a folding stand that looks great.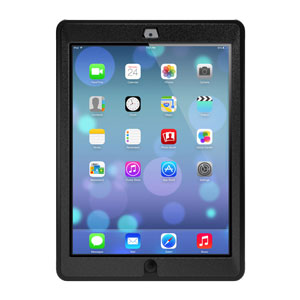 If you're looking for considerably better protection, the OtterBox Defender is one of the best options available. The Defender includes a triple-layer design, comprising of strong polycarbonate shell, a silicone skin and a detachable holster that also serves as a stand. This design ensures that you will able to put the case through a lot of punishment without risking your iPad inside.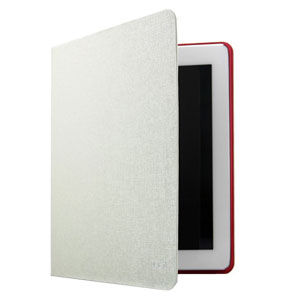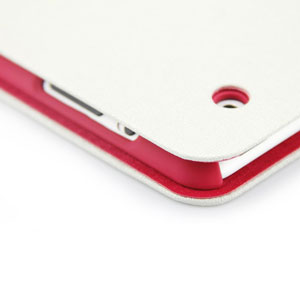 Our winning case today is the L.LA Case and Stand. This case is one of the most stylish options on the market, with a cool two-tone design. There are plenty of colourways available as well, so it's easy to find a look that fits your style. The case is practical too, with a built-in stand and sleep/wake functionality. In recognition of this style and the case's slim design, we're recommending the L.LA Case and Stand as our number one option this time.
Conclusion
Thanks for checking out the article! Be sure to let us know what you think in the comments below, or speak to us on Twitter @mobilefun!
Wednesday 30th July 2014 by William Judd in Android, Mobile Accessories.
In this article we're going to have a look at some of the best cases for the Samsung Galaxy S3 Mini. I'm sure you all know how this will go down, so let's get right to the selections!
Our first case is going to be the FlexiShield Skin, one of our most oft-recommended cases for almost any smartphone. The case has a simple design, with full coverage of the back and sides, and uses a gel material that provides both flexibility and grip. The case has been well reviewed for the S3 Mini and is now available at a new lower price in black or white.
If you want to step up to a more feature-filled case without increasing your expenditure, then the Leather Style Wallet Case is a good choice. The case has a number of pockets for cash or credit cards, so if you like you can use it as a full wallet replacement. The case's flip cover also protects the screen, obviating the need for an S3 Mini screen protector.
3. Power Jacket Battery Case – 2000mAh
Another practical option is the Power Jacket Battery Case, which provides an additional 2,000mAh of battery power. The case will constantly charge your phone, so you'll end up with more than double the battery life you had before. Of course, the case also provides a good amount of protection against scratches and bumps.
Official Samsung cases always rank highly on these lists, thanks to their perfect fit, similar style and high quality materials. This genuine Samsung flip cover is no different, offering a convenient way of covering your phone's screen without adding significant bulk. The cover is available in many colours as well: light blue (above), blue, white, mint, pink and yellow.
1. Tech21 Impact Snap Case with Flip
Our winning case this time is the Tech21 Impact Snap with Flip. This case uses the patented D3O non-Newtonian fluid to absorb damage, resulting in a thin case with surprisingly excellent impact protection. This variant also includes a flip cover, providing that essential screen protection as well. Overall, a slim, good-looking case that still satisfies all your desires for protection and security.
Conclusion
Thanks for checking out the article and be sure to let us know what you think of the recommendations in the comments below
Wednesday 30th July 2014 by William Judd in Mobile Accessories, Mobile Phones, Windows Phone.
Stephen Elop has revealed two new mid-range Lumia phones at an internal meeting, codenamed Tesla and Superman. The phones have been rumoured for some time, but this is the best confirmation that we've gotten that they're close to release.
Tesla is the higher-end option, and is said to be the most affordable Windows Phone to be equipped with their high-end PureView imaging package. That should include at least a 20-megapixel camera, which tends to have excellent low-light performance. The Tesla will look similar to the Lumia 930, with squared-off design, but with slimmer dimensions and lower weight. The phone should slot in as a replacement to the Lumia 720, but the PureView component may mean it launches as the Lumia 830.
The second phone revealed at the meeting was the Superman, which Elop reportedly referred to as a "selfie phone". That's down to the 5-megapixel front-facing camera, which is considerably higher resolution than previous front-facing cameras on Windows Phones… although some Android handsets have featured as high as 13 megapixel front-facing cameras. Superman will also include a 4.7″ display and mid-range specifications. The Superman may debut as the Lumia 730.
Both phones are expected to launch within the next few weeks, possibly alongside a Windows Phone version of the HTC One M8 in August. The Windows Phone One M8 is expected to ship with a new update of Windows Phone which includes compatibility for smart covers like the Dot View case for the One M8.
What do you make of the news? Let us know in the comments below or reach us on Twitter @mobilefun!
Wednesday 30th July 2014 by William Judd in iPad, Mobile News.
A Chinese case manufacturer recently published photos of cases made for the upcoming sixth generation iPad, aka the iPad Air 2. These cases show a few interesting details about Apple's next full-size tablet, so let's take a look.
Probably the most interesting addition to the iPad Air 2 is TouchID, Apple's system for unlocking devices with a fingerprint scanner. Touch ID is exclusive to the iPhone 5S at the moment, but it would make sense to see the system be included on tablets like the iPad Air 2 as well. You can see the ringed home button which signifies the inclusion of TouchID in each of these photos.
Internally, it's expected that we'll see an A8 processor (to debut in the iPhone 6 before the iPad Air 2) and an 8-megapixel rear-facing camera. Screen size and resolution are expected to stay the same, although the thickness of the screen (and therefore the tablet) should be reduced by a small amount.
It's  possible that we'll see an increase in storage space, with the base size moving to 32 GB of internal memory. Apple have seen a decline in iPad sales while their iPhone and Mac lines have continued to grow, so they'll be looking to shake things up a bit and prompt greater sales of the new model.
They'll be helped in this aim by the release of iOS 8, which is already slated to include "Continuity" features between Mac 10.10 and iOS, widgets in the notification centre and updates to almost all core iOS apps.
The iPad Air 2 will likely be released in November 2014, at a similar price point to the existing Air, around £399.
Are you interested in picking up the Air 2 once it is released? Let us know in the comments below, or speak to us on Twitter @mobilefun. Thanks for reading the article and have a good week!
Tuesday 29th July 2014 by William Judd in Wearables, Windows Phone.
Rejoice, Windows Phone fans! Fitbit has become the very first fitness band to support Windows Phone, with the launch of their official Windows Phone app. The app supports all Fitbit fitness and sleep trackers, including the Fitbit One, the Fitbit Flex and the Fitbit Force. The app also works with the Fitbit Aria scale.
The app seems to include all of the features afforded to Android and iOS users, including realtime syncing over Bluetooth 4.0, a food database, motivational tools, leaderboards and of course a whole bunch of colourful stats and graphs.
Starting now, all Windows Phone 8.1 handsets with the Lumia Cyan update installed will be able to download the free Fitbit app from Microsoft's app store. As of late July, the Cyan update is available for the Lumia 625, 925 and 1520; the update is still under testing for the Lumia 520, 620, 720, 820, 920, 1020 and 1320. For the latest update information for your phone, you can check out Microsoft's tracker here. As the Fitbit devices use Bluetooth 4′s low energy mode, it isn't possible to use the app without the 8.1 update, which provides Bluetooth low energy support.
It'll be interesting to see if rival fitness accessory manufacturers like Jawbone decide to release Windows Phone apps in the future, now that Fitbit has made the first move. Of course, Microsoft is said to be working on its own cross-platform fitness tracker, with support for Android, iOS and Windows Phone, to debut later this year.
Are you going to get a Fitbit now that you've heard the news? Let us know in the comments below, or speak to us on Twitter @mobilefun. Thanks for checking out the article and have a great week ahead!