Friday 7th March 2014 by William Judd in Android, Mobile Accessories.
The HTC One Dual SIM is a brilliant phone for anyone that juggles two phone lines, but many cases for the single SIM HTC One don't fit the dual SIM model. Today, we're looking to redress that unfortunate situation with the release of the official HTC One Dual SIM Flip Case.
The Dual SIM Flip Case is an impressive creation, offering a good mix of style, protection and utility.
The case looks great, with a bold red suede interior and a tough matte black polycarbonate casing on the outside. The black and red colours here are a perfect accompaniment to the clean silver colour of the One Dual SIM, making for an eye-catching case.
Of course, a good looking case is no good if it doesn't protect your phone. Thankfully, the Dual SIM Flip Case doesn't disappoint. The polycarbonate bumper protects the phone from impacts and knocks, while the flip cover ensures that the screen remains undamaged. This protection doesn't come at a heavy price either; you'll find that your HTC One remains svelte and light whilst inside the case.
The final piece of the puzzle is utility, and here the Flip Case is no slouch either. The case's flip cover can be redeployed backwards, folding to form a helpful media stand in a landscape orientation. That means you can watch movies in comfort, or use a Bluetooth keyboard or controller to write or play games. This stand is perfect for use on the widest desks and the narrowest train trays, and everything in between too.
The official HTC Flip Case for the One Dual SIM is an impressive accessory, and should provide everything you need in a phone case. For more information on what's provided or to place your pre-order for this hotly anticipated item, visit the HTC One Dual SIM Flip Case product page.
Thanks for checking out the article, and be sure to let us know what you think of it in the comments below. You can also have a look at our full range of HTC One Dual SIM cases.
Friday 7th March 2014 by William Judd in iPhone, Mobile Accessories.
Health and fitness are becoming increasingly important elements of tomorrow's smartphones. The Samsung Galaxy S5 is perhaps the clearest example of this, launching with a heart-rate monitor and a whole host of fitness-focused apps. But you don't need a Galaxy S5 to be part of the vanguard of the smartphone fitness revolution – instead, you can just pick up a case for your iPhone.
The case is called Wello. It's a simple looking case at first blush – just a slim black case that wraps around your phone in the normal way. But look closer, and you'll see two small holes in the back. Cover these with your fingers, wait a few seconds, and something kind of magical happens – your vital stats will be sent from the case to the Wello app in your phone.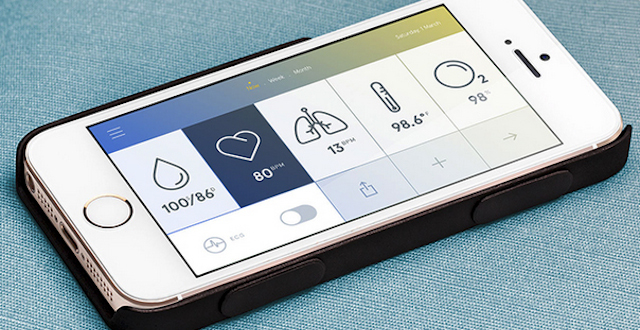 Wello call it "a snapshot of your health", and that's fairly accurate. You'll be able to see your blood pressure, your blood oxygen level, your oxygen level, your stress levels, an ECG and even your temperature. A further spirometer attachment shows your lung capacity and airflow. All of these elements are captured with medical-grade accuracy, and recorded in the app for immediate use as well as future review.
The case's internal battery will work for two months before it needs to be recharged, which is handy. The app isn't just for you, either. Wello can support multiple users, so you can track your entire family's health and fitness. Wello also interacts nicely with other fitness accessories like the FitBit, placing their stats in the same app for the sake of convenience.
Wello works with the iPhone 5 and 5S, and is available for pre-order on Mobile Fun right now for delivery this summer. For more information, visit the Wello product page now.
Thanks for checking out Wello, and be sure to let us know what you think of it in the comments below.
Friday 7th March 2014 by William Judd in Android, Mobile Accessories.
Popular Swedish case firm Krusell have announced that they are producing cases for the upcoming Xperia Z2. There are four varieties in all – the FrostCover, the Boden, the Kiruna and the Malmö. Let's have a look at these new cases, which will soon be available at Mobile Fun.
Krusell FrostCover Case for Sony Xperia Z2
The FrostCover is a cool semi-transparent case that allows you to the colour of your chosen Xperia Z2 within. The case has a slim profile and is impact-resistant too, with a raised lip helping to prevent damage to the screen. The case is a good all-around option and gives your case a cool frosted glass look.
The FrostCover is available in transparent white, black and blue.
Krusell Boden FlipCover Case for Sony Xperia Z2
The Boden is our first of several flip cases, featuring a "90′s revival" style. There's a coloured flip cover on the front, with a transparent slim casing on the rear. This provides a good amount of protection, while keeping the price down too.
The Boden is available in white, black and yellow.
Krusell Malmo FlipCover Case for Sony Xperia Z2
The Malmo is a leather-style flip cover with a unique textured finish that feels great in the hand. The case has a credit or ID card slot inside,  a built-in media stand and a sleek design with all of the cutouts you need to access your phone.
The Malmo is also available in the widest variety of colours, including black, white, red and blue.
Krusell Kiruna FlipCover Case for Sony Xperia Z2
The Krusell Kiruna is similar to the Malmo, but is made of genuine leather and soft velvet instead of wholly synthetic materials. The Kiruna also secures the phone inside the case a little differently, completely encircling the phone inside.
The case is available in two classic colours, camel and black.
Conclusion
These Krusell cases will be ready by the time the Xperia Z2 is released worldwide, in April. For more information, follow the links above or leave your questions in the comments below. Thanks for checking out the news, and let us know what you think!
Thursday 6th March 2014 by William Judd in Android, Mobile Accessories.
Today we received the first images of the official Samsung Galaxy S5 cases – 11 varieties in all. Here are those images, presented with links to the product pages where you'll find more information.
Official Samsung Galaxy S5 Protective Hard Case Cover Plus – Grey
Samsung's only protective case for the Galaxy S5 is this one, which adds good impact and scratch resistance in a slim and rather cool looking shell. The hard cover case's grey colour suits both the black and white models of the S5, and should be a good choice for anyone that is looking for a little more protection than a standard case will provide.
Official Samsung Galaxy S5 S View Wireless Charging Cover – White or Black

This case combines the S View window with a wireless charging back. It's a strong combination that lets you enjoy the convenience of wireless charging, and the added information and control from the S View functionality. Sleep/wake functionality and complete screen protection complete the package.
Official Samsung Galaxy S5 Flip Wallet Cover – White, Blue Black, Blue Topaz, Rose Gold or Glam Pink
Samsung went all out on these cases, offering a good range of colours. The cases fit the new 'glam' look of the S5, and offer a nice option to really distinguish your phone from the crowd.
Official Samsung Galaxy S5 S-View Cover Case – Blue Black, Topaz Blue, Rose Gold, White or Glam Pink
These S View cases don't offer wireless charging, but they're cheaper and more colourful than their wireless charging counterparts. The same colours are available here as with the Flip Wallet covers (although we don't yet have a pink S View case image, so it's been omitted for now).
Conclusion
I hope you've found these first looks interesting! Stay tuned for more Samsung Galaxy S5 accessories in the near future!
Wednesday 5th March 2014 by William Judd in Android, Mobile Accessories.
In this article, we're recommending five recently released cases for the popular Moto X smartphone. Let's get right into the selections.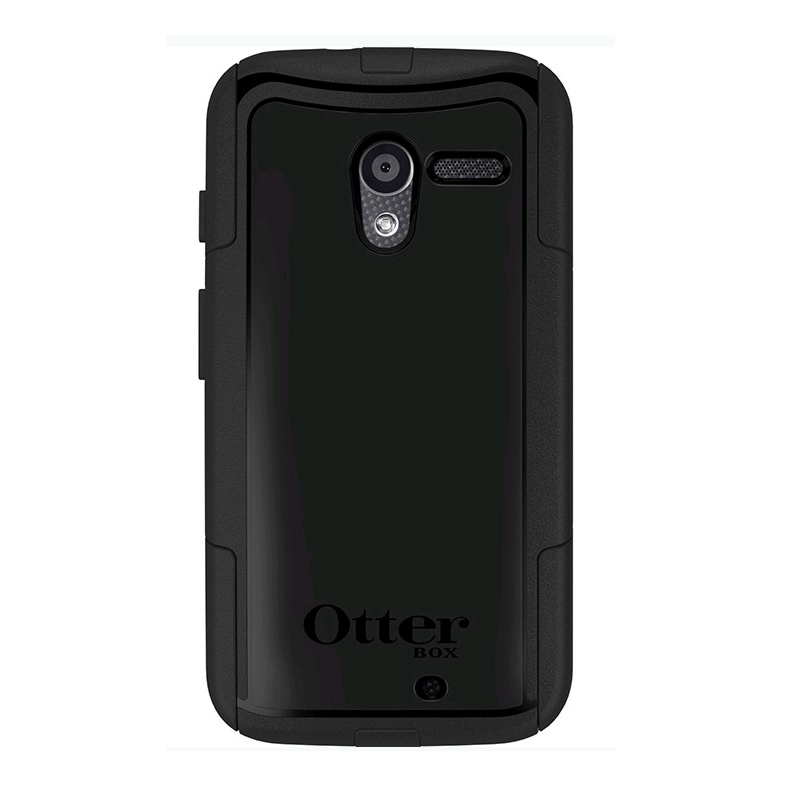 The Commuter is one of my long-time favourites, offering a convincing amount of protection without sacrificing the slim look and feel of your phone. The Commuter covers all the bases, including silicone plugs to prevent dust ingress and a screen protector.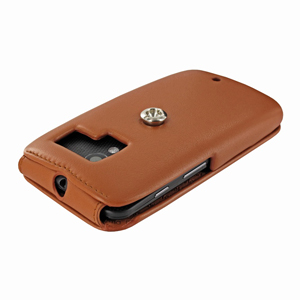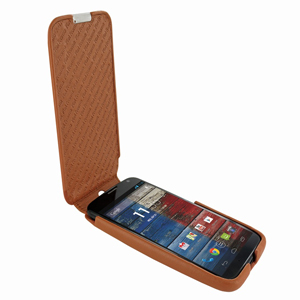 Our next case is this lovely leather case from Piel Frama. The iMagnum is a handmade case wrought from the finest materials over a 25 day period, with a design that's perfectly suited to the Moto X. From selecting grade 1a leather from individual cows to using premium Gutermann wear-resistant thread and a custom vilédon lining, every case is the highest quality. A great choice for anyone seeking a classical look and feel.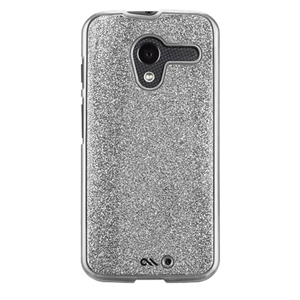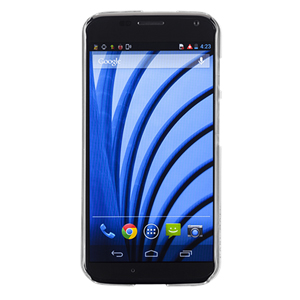 This case is rather different in its sensibilities, offering a glitter-coated inlay that adds fun and sparkle to your Moto X. The Glimmer case is made from an impact-resistant plastic shell as well, providing moderate protection against drops and knocks. The case is described by the usually conservative Mobile Fun products team as "total bling", and that perhaps says it all.
2. ROCK Elegant Side Flip Case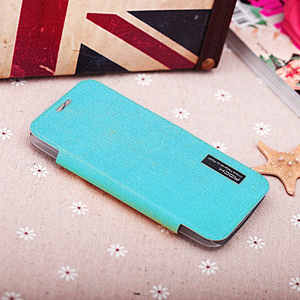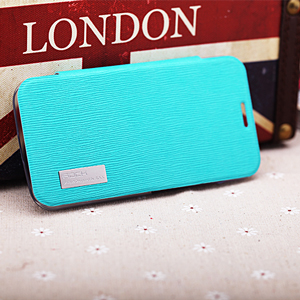 ROCK tend to produce cases with a more modern look, and that's true for their latest Moto X case: the Elegant Side Flip. This case is available in some nice contemporary colours – yellow, orange and teal – and has a cool design. Instead of completely covering the back, the flip case just takes up a little bit of the side. It makes for a dramatically thinner case than all other folios I've seen, and looks cool too.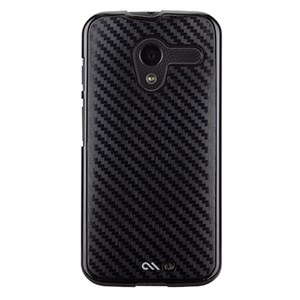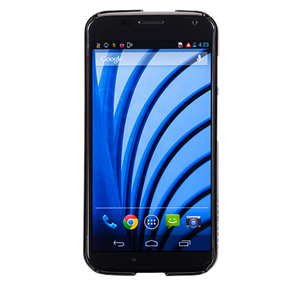 We started this list with a classic, and we'll end with one too. The Case-Mate Barely There is one of our best-selling Moto X cases. It's popular because it is incredibly thin, yet its design still provides some protection. The case is attractive too, with a carbon fibre finish that adds grip. At an attractive price point, it's hard not to recommend this case.
Conclusion
Thanks for checking out our selections. For more Moto X accessories check our store, and let us know your thoughts in the comments field below.