Wednesday 26th November 2014 by William Judd in Smartwatches, Wearables.
Google don't yet officially support custom watch faces on Android Wear smartwatches like the G Watch and Moto 360, but that hasn't stopped developers from creating hundreds of them. One popular app called Facer allows you to find new watch faces and send them to your phone, without needing to install a new app for each new watch face. In this blog, we'll show you 10 awesome Facer watch faces and how to install them.
How to use Facer
Download the Facer app from the Play Store. It's 63p – well worth it.
Visit FaceRepo.com to download watch faces. You can do this on your Android device or on your PC.  If you choose to open the downloaded file with Facer, you can skip the next step. If you download them on your PC, move the files to your Android device's Download folder.
Open Facer, then click the import 'watch face' button. It's in the upper right and looks like a watch with a downward facing arrow inside it. Select your downloaded watch face file (either .zip or .face).
Press a watch face, then click the 'send to watch' button. You'll need to set your watch face to Facer if it isn't already. Sending the watch takes up to a minute, and sometimes needs to be repeated to work properly.
Round face recommendations (Moto 360, G Watch R)
Square face recommendations (Gear Live, G Watch, SmartWatch 3)
Modern for Gear Live - a clean face with analogue time, date, weather.
Retro LCD - classic LCD look, with time, weather, battery.
Material Design - Android 5.0 style with time, date, weather.
Casio G-Shock - time and date, doesn't grant water resistance!
Digital Retro - Clean retro design with time, date, battery, weather.
LG G3 - simple time, date, weather and battery display.
Signing off
I hope you've found some cool watch faces for your Android Wear smartwatch! Please recommend your favourites in the comments below, or speak to us on Twitter @mobilefun. Thanks for checking out the article and have a good week!
Tuesday 25th November 2014 by William Judd in Android, Mobile Accessories.
Earlier today we wrote about the Galaxy S4, and now it's time to show the latest Galaxy S smartphone some love. Here are our recommendations for five Galaxy S5 accessories that everyone should own – including protective options, additional storage and battery power, and one awesome accessory that will dramatically expand your capabilities. Let's get started!
Our recommended case is a new arrival: the Redneck Red Line. This book case is hand-crafted from real leather, providing that all-natural look, feel and smell. The case provides good protection thanks to its coverage of the back and the screen, while the slim size of the case ensures your Galaxy S5 still fits easily in your pocket. The case is available in black, brown and white colour schemes – all excellent.
Our next item is another protective one – the MFX tempered glass screen protector for the Galaxy S5. This screen protector provides much stronger protection against scratches than a traditional plastic screen protector, ensuring your S5′s screen stays pristine longer. The screen protectors are shatter-resistant too, ensuring they're safe to use for extended periods.
One of the best qualities of the Galaxy S line is its removable back, which allows micro SDHC cards and replaceable batteries to be used. This Lexar Micro SDHC card takes full advantage of that fact, adding 32GB of additional storage cheaply and easily. The 32GB capacity is sufficient for dozens of movies or TV episodes, thousands of songs and millions of documents. The Class 10 speed rating is among the best available, ensuring that transfers are rapid and apps can be run quickly from the SD card.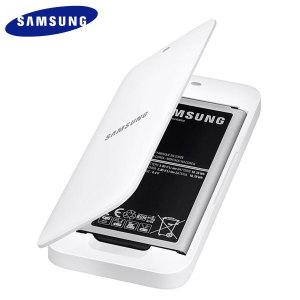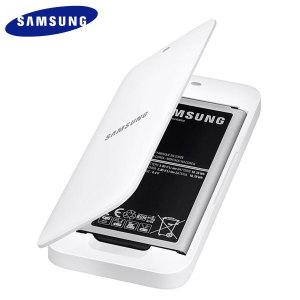 This Extra Battery Kit provides a spare battery for your Galaxy S5, plus a battery charger. In combination with your existing S5 battery and charger, you'll be able to top up both batteries simultaneously. This is perfect for overnight charging, ensuring you can awaken to 200% battery life for the day ahead. Double your battery life, double your charging rate.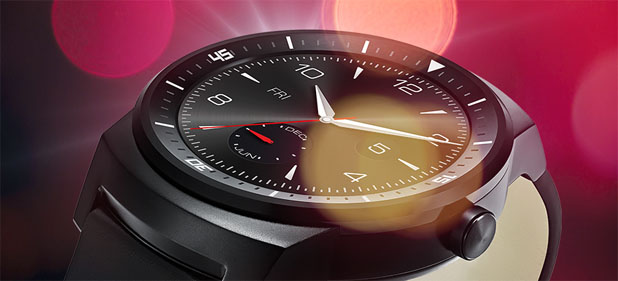 The LG G Watch R is our final choice. This Android Wear smartwatch provides instant notifications to your wrist, and so much more. You'll be able to set reminders and alarms, see Google Maps directions, swipe through Tinder contacts and choose from a wide range of analogue and digital watch faces. There's an argument for choosing Samsung's own Gear 2 smartwatch, but Google's platform works with more Android phones and is much better supported by developers.
Signing off
Thanks for checking out our recommendations? Feel free to make your own suggestions in the comments below, or ask us a question!
Tuesday 25th November 2014 by William Judd in iPhone, Mobile Accessories.

LifeProof produce some of the best sought-after cases in the world. The company is well-known for its total protection solutions, protecting iPhones and iPads against drops, scratches, water, dirt, snow and much more. LifeProof Fre cases are coming soon to Mobile Fun for the iPhone 6, so read on to learn more!
A staggeringly thin waterproof case
When you hear how protective and resistant the LifeProof is, you imagine the case to be a monolith, a massive blob that envelops your phone, making it heavy and sluggish. But that's not it at all – the LifeProof Fre looks just like another case, adding only a few grams and a few millimetres to your iPhone 6.
Military-grade protection
The LifeProof Fre has been tested in the harshest conditions, and even bears the MIL-810G military standard for surviving drops and abrasions. The Fre also has an IP-68 rating against water and dust ingress, certifying that the case can survive immersion in water at a depth of two metres for 60 minutes. That means you can freely use your LifeProof case in the bath or pool; you can even take photos underwater using the LifeProof Fre!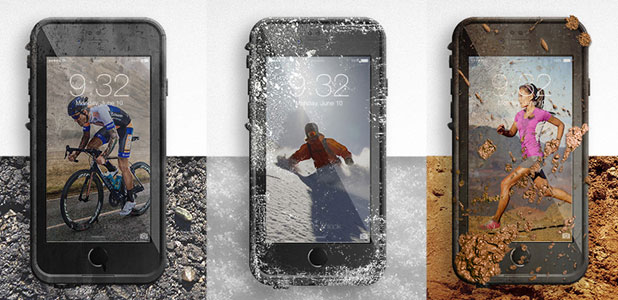 Perfect sound and camera quality
The LifeProof case uses double AR-coated optical glass to protect the iPhone's camera lens without obscuring your view. The case is even designed to sound better than a bare iPhone, as the back of the case is used as a sub-woofer for improved bass and mids.
A top-notch iPhone 6 case
The LifeProof Fre is a brilliant case, offering a strong blend of protection, size, style and features. The case is coming soon to Mobile Fun, where it will be offered in two colours. To see more information, place an order or be notified of stock, please visit the product page in the colour of your choice below.
Thanks for checking out the article, and be sure to let us know what you think of the cases in the comments below. You can also write to us on Twitter @mobilefun.
Tuesday 25th November 2014 by William Judd in Android, Mobile Accessories.
As we continue our throwback Tuesday, we're taking a look at some of the latest and greatest cases for HTC's brilliant One M8 – a phone that remains a paragon of design almost a year after its release. Let's get straight into the One M8 case recommendations.
5. Encase Genuine Leather Wallet Case - Black, Brown
We begin with a classic folio case with enviable classical style – the Encase Genuine Leather Wallet Case. As the name suggests, this case is made from genuine premium leather, providing that traditional look and great in-hand feel. The case includes a flip cover to protect the screen, which is secured with a magnetic clasp. The cover also has space for four credit or ID cards, giving you a chance to ditch your wallet entirely.
The FlexiShield Four Pack is exactly what it sounds like: four FlexiShield cases bundled into a single pack. Each is a different colour, granting you the ability to change the look of your phone on a daily basis. These cases are slim and flexible, with the gel material proving easy to install and reasonably protective too.
3. enCharge Power Jacket Hard Case - Black
The enCharge Power Jacket is a hard case that integrates a 4500mAh battery. That's almost double the capacity of the One M8, so you'll be able to nearly triple your phone's total battery life with this case installed. The Power Jacket is protective too, with the cover protecting the screen and the hard case on the rear preventing damage from scratches and drops. The case even comes with a kickstand, letting you make the most of that extra battery life by watching hours of videos.
2. Momax Stripes Flip Stand Case - Blue, Black
This blue and white striped case instantly reminds me of the beach, which is nice when it's dark at 3PM and freezing cold. The case is lightweight, yet still includes a media stand and credit card slots. If you're looking for a good all-round case with a distinctive stripey look, then look no further.
Our final case isn't really a case at all – it's a dBrand skin, which wraps your device in a cool new look without adding any appreciable bulk or weight. There are two options available here; black carbon fibre and titanium. The carbon fibre is my favourite of the two, giving the One M8 a cool futuristic look on every side. The skin is surprisingly easy to apply and is inexpensive too. A worthy winner of our #1 spot.
Conclusion
That's all the time we have for now! Thanks for checking out the article and be sure to let us know what you think in the comments below. If you have any questions or would like a personalised case recommendation, let us know below or on Twitter @mobilefun.
Tuesday 25th November 2014 by William Judd in Android, Mobile Accessories.
This article is for all of the Galaxy S4 owners out there – represent. Here are five great new cases for the Galaxy S4, hand-picked from our full lineup of S4 accessories - take a look, and let us know what you think in the comments below!
Our first case for the Galaxy S4 is the venerable FlexiShield, which provides nice and slim protection with an inexpensive and flexible gel material. This pack contains four such FlexiShield cases in a range of colours, allowing you to change up your Galaxy S4′s look to match your mood or outfit. The Four Pack is good value too, costing just £15.
The Bling My Thing Infinity Dots is a simple, high quality pouch for the Galaxy S4 (as well as the Galaxy S3 and S5). The Infinity Dots case is hand-crafted from the finest Napa premium leather, and lined with a soft microfibre material to ensure your phone gets the finest treatment. The Infinity Dots case also includes a hidden credit card slot inside, allowing you to keep your credit card, train tickets or ID card on-hand without exposing it to theft.
This stylish case from Encase provides the modern look of carbon fibre for your Galaxy S4, cloaking it in a symbol of wealth and high technology. The case is practical too, with the cover serving both as a bastion for credit cards and as a media stand for watching videos on the go. The case's full coverage is also great for protection, as it ensures your screen won't be scratched while it's in your pocket or bag.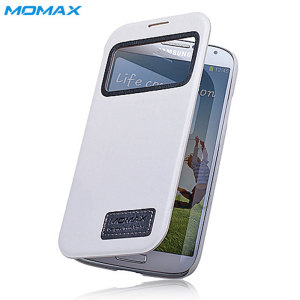 The Stand View Case from Momax is one of the most practical Galaxy S4 cover options on the market – let's count the ways. First, the cover protects your Galaxy S4′s screen from being scratched, obviating the need for an S4 screen protector. Next, the case's clear plastic window allows you full access to the time and notifications – you can even swipe through the window to accept or reject calls. Finally, you'll be able to stand your Galaxy S4 up in landscape orientation, making it easy to watch videos or play games without holding up your phone. That's three easy pieces to a clever case from Momax – to say nothing of the case's looks and protective abilities.
Our winning case today is the Ayano Kimura Orchid Case by Bling My Thing. This yellow case sports a beautiful green orchid design, transforming the rather dull Galaxy S4 into an eye-catching marvel. The case includes a few Swarovski Elements to enhance the sparkle factor, but the look doesn't go to over the top.
Conclusion
Thanks for checking out the article. I hope you've found some good suggestions here, and be sure to check out our past Galaxy S4 accessory articles too! Please leave your questions and comments below, or speak to us on Twitter @mobilefun.