Most Useful Customer Reviews
Adrian Walter
Hertford
Avantalk Jogger Bluetooth Headset - Black
3rd May 2014
Great product - shame about the colour!
I bought this headset for gym work so I didn't have to have cable all over the place which gets snagged on weights etc. The decision was based solely on the reviews of this and other similar devices. I have been absolutely delighted with them, both in terms of sound quality and ease of use/setup. They stay in your ears even without having the cable link over the top and last for several hours between charges. I can't say how many as I charge them once a week regardless. My only gripe (which doesn't affect this review) is the colour - you can vet them in a variety of colours (not necessarily from the same supplier) but if you want any other colour than those reviewed here it will cost you up to a tenner more...why?!!
---
Kingpix
Unknown
Avantalk Jogger Bluetooth Headset
10th July 2012
A Design Classic
Since I went Bluetooth with my first iPod Touch I have tried several makes & models of Bluetooth headphones for my gym workouts. They have all been either big & clumsy, heavier than workouts call for, not fitted my unexceptional head & ears so needed constant adjustment or had uncomfortable ear-buds, low volume or fiddly control buttons. What a relief to find a pair of earphones which have seem to have been designed by someone who actually uses earphones when he is jogging or working out. The Avantalk Jogger phones are so well designed they deserve a place in a design showcase. They consist of two 3.5cm circular earpieces with a soft matt finish and yellow edging, with projections to take nylon ear-buds on the inside surfaces. They are connected by a thin wire which springs naturally into a small shape and enables the complete phones to fit into the 13 x 9 cm drawstring bag provided. The controls consist of sensible-sized buttons on each earpiece for the different functions you would expect. Volume goes as high as some of the large phones I have used, which is certainly enough to cut out my gym's terrible music plus the thudding of treadmills. Pairing is the most straightforward I have used and the fit is a revelation. The earpieces fit into the ears - you can tell the right-hand one as the control buttons are fitted horizontally whilst the left side are vertical - and that thin spring wire between them shapes itself to put a gentle but firm pressure on the back of the head which keeps the phones exactly in place - no fiddling or adjusting! The only not-so-good features are the nylon ear-buds which do slip off and can easily get lost (replaceable via the Avantalk on-line shop or their local representative) but - and here's the great thing - they are not totally necessary. I have used these earphones without the buds and, such is the great design, they still stay in place and deliver great performance without the buds in the ears. The only difference is a slight diminution in the ambient noise damping and a marginal loss of music quality which, when I'm working out, I'm not too bothered about. I hope that Avantalk are paying the designer of this product a bonus to hang onto him (or her) as I really consider them a modern design classic and I am so pleased I found them in my search for the perfect Bluetooth headphones as they are a real pleasure to use.
---
Read 47 customer reviews
|
Write a review
---
Why Buy?
Stylish design and water resistant for sports / outdoor use

High-fidelity stereo sound for music and crystal clear conversations

Long music playback time - upto 8 hours continuous playback

9 hours talk time

Weights only 23grams, compact and comfortable

Can be used for gaming and calls using VoIP (Skype, MSN, etc)
---
Why not View a video about this product?
Description
The Avantalk Jogger, one Bluetooth stereo headset with stylish design and water resistant for sports and outdoor use.
Highly stylish and water resistant
The Avantalk Jogger is made to be highly stylish and water resistant and as a result its perfect for sports and for outdoor use. With its comfortable behind the head design, it allows you to listen to your music comfortably whilst you're working out.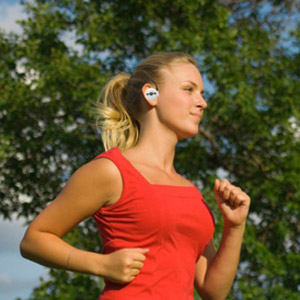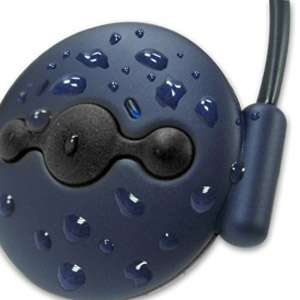 8 hours music playback and 9 hours talk time
The high-fidelity stereo sound for music and crystal clear for talk. The Avantalk Jogger offers up to 8 hours of continuous music playback and upto 9 hours of talk time. Made with a lightweight design, weighing only 23g, the Jogger offers comfort and security which make the headset easy to carry and sound that will greatly enrich your life.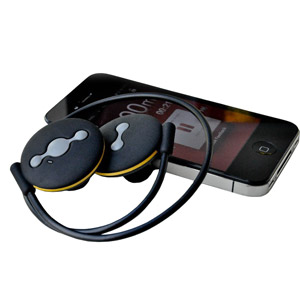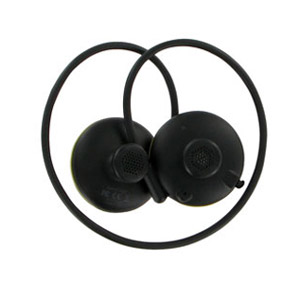 Perfect for online gaming
The Avantalk Jogger is also perfect for online gaming and using other computer software such as VoIP, Skype, MSN or any other platform which allows you to enjoy phone calls over the internet. You can also pair it with your Playstation 3 so you can talk to your friends whilst you're playing them online.
Please Note: Colours may vary

Features:
Stylish design and Water resistant for sports / outdoor use
High-fidelity stereo sound for music and crystal clear for talk
Long music time up to 8 hours, 9 hours talk time
Light (23g) , compact (keep in your fist), comfort, secure and easy to carry
Gaming and chat and VoIP (Skype, MSN, PS3 etc)
Specifications:
Bluetooth V2.1+EDR
Chipset: CSR BC05-Multimedia Single Chip
Support profiles: Headset, Handsfree, A2DP, AVRCP
Operation range: Class 2, 10 meters
Up to 9hrs talk time, 8hrs talk time
Standby time: Up to 16 days
Weight: 23g (light)
Size: 85mm (L) x 72mm (W) x 25.5mm (H)
Battery: 170mA rechargeable lithium battery
Whats in the box?
Avantalk Jogger stereo headset
USB charging cable
Carry bag
User manual
Warranty card
Optional: Armband / Travel charger / Car charger
Not quite what you want?: