Most Useful Customer Reviews
thenudehamster
South of England
Samsung Galaxy S2
12th October 2012
Solid and secure
I wanted a case that would allow me to use the S2 on my motorcycle both for normal phone use and as a satnav. This fits thev bill admirably. The handlebar mount is secure and simple to fit, though it would be difficult on bikes without a full tubular handlebar. Thew case for the phone is a full-cover type, with a clerar window for the face display, and this seems clear enough for ocaasional glances. The case is closed with a zipper which has very close stitching and seems to be as water-resistant as the title claims. A charge lead (and, I suppose, headphone lead) accesses the phone through a simple gland which looks to be reasonably weather resistant, so if you have the facility, keeping the phone powered is not difficult. The case comes with a set of phone shaped rigid dense foam pads which can be used to 'bulk out' a thin phone to make it fit the case more precisely; in this they are very effective. The case is secured to the mount with the familiar taqb and slot arrangement, but with a difference. There is a separate locking screw which prevents the case from coming loose, and the only minor disadvantage might be that this could get lost by ther less careful owner. The mount has a screw-ring locked ball and socket mount and the thumb ears on the ring are also prevented from moving far by the mount locking screw. Very effective. I bought this one because it was the only one I had found which seemed to protect the phone from the weather. I haven't yet been unfortunate enough to get caught in the rain, but it does seem that it will do exactly what it says. I like it.
---
Read 10 customer reviews
|
Write a review
---
Why Buy?
Improves your cycling experience

GN032-SBH handelbar mounting pedestal compatible with most bike handlebars

SM-WPCS-WS water resistant case protects your phone or mp3 player
---
Description
Improves your cycling experience
Designed for both pedal bikes and motorbikes, the Arkon SM032 Water Resistant Case with Bicycle Mount allows you to place your device on your handlebars in either landscape or portrait orientation. You can map out your routes using GPS specific apps, measure the distances you have travelled and even listen to your favourite tunes via the speaker or headphones.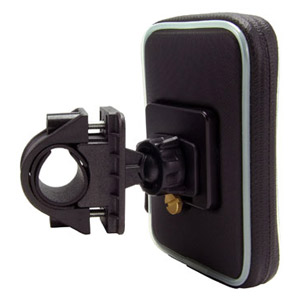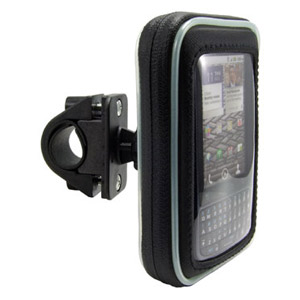 GN032-SBH handelbar mounting pedestal compatible with most bike handlebars
The mounting pedestal of the SM032 fits handlebars up to 33mm in diameter and is compatible with most straight, drop, trekking and touring sized handlebars. Furthermore, the SM032 can also be used with motorbikes, golf carts, wheelchairs, ATVs, snow mobiles and other equipment.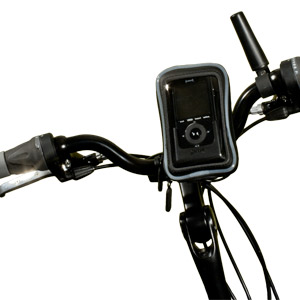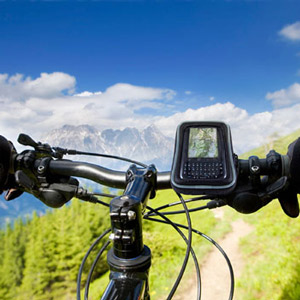 SM-WPCS-WS water resistant case protects your phone or mp3 player
Designed to protect your mobile device from the elements, the SM-WPCS-WS case is made from water resistant materials and features two water resistant zippers which provide a tight seal on the holder, keeping your device protected from water damage.
A foam insert helps secure varying sizes of mobile phones within the case whilst the transparent touch through window allows you to view and control the touch screen of your smartphone. A cut out on the bottom of the holder provides access for the charging cable.
Technical Specifications
GN032-SBH Handelbar Mounting Pedestal
Fits handlebars up to 33mm diameter
Compatible with standard (25.4mm and 26mm) size handlebars
Compatible with most straight, drop, trekking, and touring size handlebars
SM-WPCS-WS Water Resistant Case
Interior dimensions: 122 x 75 x 21mm
---
Key Details
Colour: Black
Part No: SM032
---
What's In the Box?
1 x GN032-SBH Handelbar Mounting Pedestal
1 x SM-WPCS-WS Water Resistant Case