Most Useful Customer Reviews
Ivor
Headley, Hampshire
iPhone 4
6th May 2013
A / V adapter
Does just what it say on the tin i plugged it into the tv and ha how the screen was on the hd tv fantastic
---
Ray Loxley
Solihull
iPad2
22nd September 2012
Solving a problem
The AV Adapter work first time and did not need a expert to set up
Read 2 customer reviews
|
Write a review
---
Why Buy?
Transfer your iPad 2's screen to your HDTV's screen

No changing settings - Just plug it in and it works

Projects your screen and audio - even when you rotate your iPad 2

Second 30-pin connector to charge your iPad 2 at the same time
---
Description
A lesson at school? A presentation at work? your favourite app on your HDTV? Now your one iPad gets the attention of many a big screen.
Bring down the house, the boardroom and the classroom.
Video mirroring makes it possible to share what's on your iPad 2 with an even bigger screen and an even bigger audience. Which is huge for your films, photos, presentations and lessons. Just attach the Apple Digital AV Adapter to your iPad 2 and you can watch a film in your living room on your HDTV, give a presentation in a conference room on an HD projection screen and use educational iPad apps to teach an entire classroom.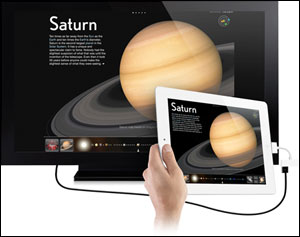 Your friends, co-workers, clients and students all get an excellent view of your excellent performance.
They see what you see
Video mirroring doesn't just turn your iPad 2 into a big screen, it actually turns the big screen into your iPad. With the Digital AV Adapter, it works instantly. Everyone sees whats on your display - even when you rotate the iPad from portrait to landscape or zoom in and out of photos. Video mirroring is engineered into iOS so its always smooth and slick. Just like your presentation.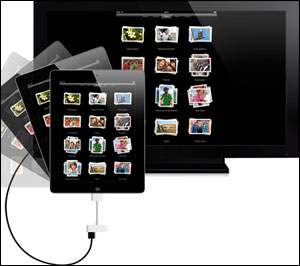 The new 30-pin to HMDI to wow adapter
Plug in the Digital AV Adapter and it works - just like that! There are no settings to tinker with, configurations to figure out or cables to contend with. And the adapter even works with audio so its easy to focus on what you're about to show the room. One end plugs into the 30-pin connector on the iPad 2, the other end plugs into your HDMI cable and the cable plugs into your HDTV, projector or other HDMI friendly screens.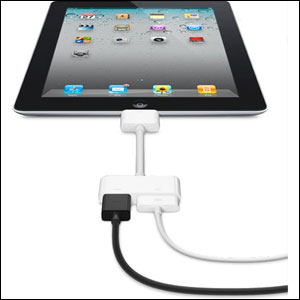 Theres also a second 30-pin connector to USB cable so you can charge the iPad 2. You'll never have to worry about running out of power in the middle of your presentation or film.