Most Useful Customer Reviews
claire walton
Cambridge
bluetooth ipad mini keyboard
5th April 2015
fab!!
Great product, delivered very quickly and easy to use, will help my girl with her mounds of homework!! Would highly recommend!!
---
1st July 2013
Fantastic!
Best thing I've ever brought! This little keyboard has revolutionised my life. I now take my iPad to meetings with me and type notes as they happen. I no longer need my laptop for business trips as using using Pages and Dropbox I am covered now that I have the ability to easily type notes up. Makes e-mails a breeze. Also looks good and gives the iPad good protection without adding too much bulk or weight. I still keep my old flip cover and just slip the whole thing into it so that when I'm jut reading my iPad, I can take the keypad off and slot the iPad into the cover for protection/better grip as I'm petrified I will drop it. Have had the keyboard for three weeks and still no sign of needing to charge it. And I use it daily.
Read 7 customer reviews
|
Write a review
---
Why Buy?
Innovative support provides 60 degree angles for viewing

Built-in rechargeable more staying power lithium-ion battery

Special function keys for music control, volume control and home

Smart and sleek, metal feeling can be a best partner with the user

Energy saving keyboard sleep mode
---
Why not View a video about this product?
Description
Innovative support provides a comfortable angle for typing
Just because you are setting up to type it doesn't always mean you want your iPad Mini 3 / 2 / 1 to be in an uncomfortable position, this Bluetooth keyboard offers a comfortable angle that best suit your typing and includes both horizontal and vertical angles.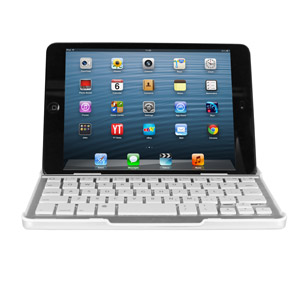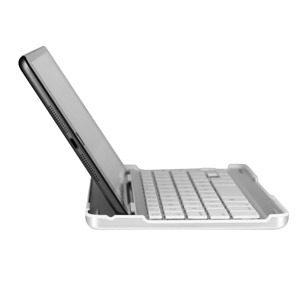 Built-in rechargeable lithium-ion battery provides more staying power
With rechargeable power that takes only 4-5 hours to charge and a stand-by charge of 60 days you will have a Bluetooth companion that will last. Charging can simply happen with a USB port to give you the flexibility where to charge your device.
*PLEASE NOTE: This product doesn't come with a charger, you have to provide your own Micro USB charging cable.
Special function keys for music control, volume control, home, etc can make the operation easily
Special function short-keys mean that you can find your away around your iPad Mini 3 / 2 / 1 at the touch of a button. This could be keys for music control, volume or take you straight back to your home screen.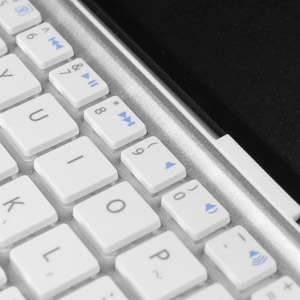 Smart and sleek, metal feeling can be the best partner
You don't have to worry that this Bluetooth keyboard will spoil the look of your beautiful iPad Mini 3 / 2 / 1 the smart, sleek design and metal finish for use everyday.
Energy saving keyboard sleep mode.
Despite having a stand-by time of 60 days you also have an easy slide sleep button that can immediately put your keypad to sleep and maintain that precious battery life.
Technical Specification :
Operating distance: 0-10 Meters
Modulation System: GFSK
Operation Voltage: 3.0-5.0V
Standby Time: 60days
Charging Time: 4-5 hours
Lithium Battery Capacity: 160mA
Uninterrupted working time: 55 hours
Power: Charge By USB
Note: Layout of the item may differ slightly to images / video featured.
---