Most Useful Customer Reviews
John O'Connor
Cork, Ireland
iPhone 7
5th December 2016
Great wireless charger
I received the Charging Pad in only 72 hours after I ordered it !!!! The Charging Pad has a red light to show when the phone has been placed correctly on the Pad and that the unit is charging. It is small enough to be unobtrusive but large enough to hold the phone flat. I 100% recommend this product to potential purchasers.
Read 23 customer reviews
|
Write a review
---
Why Buy?
Wirelessly charge any Qi enabled smartphone

Slimline, stylish design

Compatible with Qi charging adapters

Includes EU mains plug
---
Description
Wirelessly charge any Qi enabled smartphone
With a sleek and slim portable design - the aircharge Slimline Qi Wireless Charging Pad is a fantastic space saving way to charge your phone while you are away from home or the office.
Designed for quick and intuitive charging, this pad allows you to charge any Qi enabled smartphone without the mess of cables.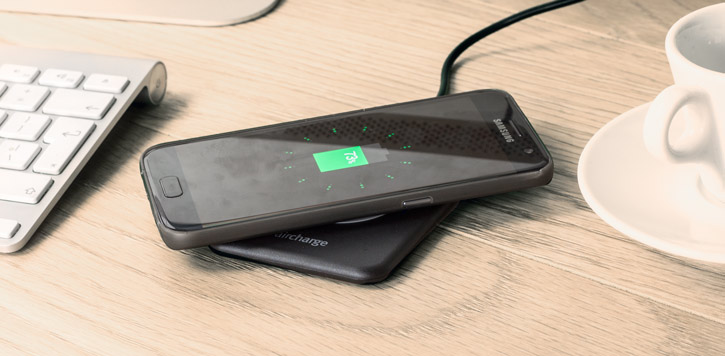 Slimline, stylish design
The unique and sophisticated streamlined design allows the aircharge Slimline Qi pad to blend into any environment perfectly and to be easily taken on your travels.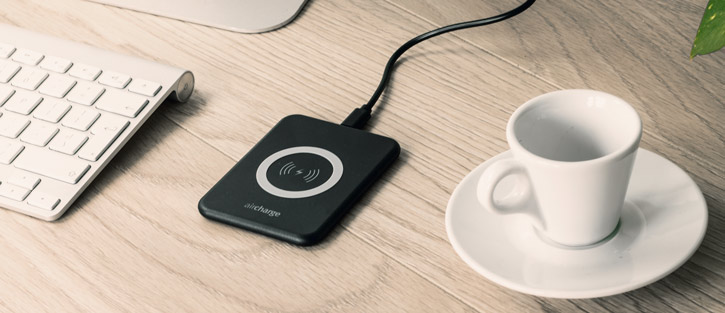 Compatible with Qi charging adapters
aircharge wireless charging pads are manufactured to the Qi standard. Qi is the sign of interoperability between power transmitters and power receivers. This means that if your phone doesn't have built-in wireless charging, you can use one of the Qi adapter solutions to convert your phone to wireless charging supported by this pad.
Includes UK mains plug
For extra convenience, a EU mains plug is included so you can keep your Slimline powered all day long.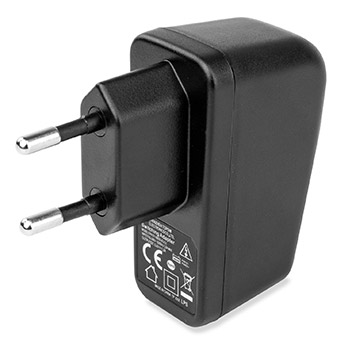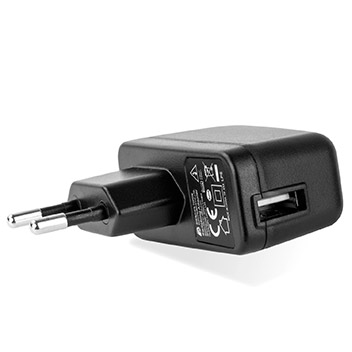 PLEASE NOTE: Not all handsets support wireless charging 'out of the box'. Certain smartphones will require an adapter to be able to perform wireless charging, please check your phone supports Qi wireless charging before purchasing.
---
Key Details
Charger Type: Desktop Charger
Colour: Black
Part No: AIR0238
Acer: Liquid Jade Z, Liquid M220, Liquid S1, Liquid X2, Liquid Zest, Liquid Zest Plus
Alcatel: A3, A5 LED, Fierce XL, Idol 4, Idol 4S, Idol Alpha, Touch Idol X 6040D, One Touch Hero 2C, OneTouch Hero 2, OneTouch Idol, OneTouch Idol 3 4.7 inch, OneTouch Idol 3 5.5 inch, OneTouch Pop C3, OneTouch Pop C7, OneTouch SPop, Pixi 4 5, PLUS 12, Pop 4, Pop 4 Plus, Pop 4S, U3
Amazon: Fire Phone
Apple: iPad Pro 12.9 2015, iPad Pro 12.9 2017, iPhone 4, iPhone 4S, iPhone 5, iPhone 5, iPhone 5C, iPhone 5C, iPhone 5S, iPhone 6, iPhone 6 Plus, iPhone 6S, iPhone 7, iPhone 7 Plus
Archos: 40 Power, 45 Helium 4G, 50 Diamond, 50 Platinum, 55 Helium, 55 Helium 4 Seasons, 55 Helium Ultra, Diamond 2 Plus
Asus: Live, Zenfone 2, Zenfone 2 Deluxe, Zenfone 3, Zenfone 3 Deluxe, Zenfone 3 Ultra, Zenfone 3 Zoom, Zenfone AR, Zenfone Max, ZenFone Zoom
BlackBerry: Aurora, Classic, DTEK50, DTEK60, KEYone, Leap, Passport, Passport Silver Edition, Priv, Vienna, Z20, Z30
BLU: Vivo 6
BQ: Aquaris E5 4G, Aquaris X5
Coolpad: Torino S
Coship: Moly X1
Doro: Liberto 810, Liberto 820, Liberto 820 Mini, Liberto 825
EE: Harrier, Harrier Mini, Rook
Essential: Phone
Google: Android One, Nexus 4, Nexus 5 2013, Nexus 5X, Nexus 6, Nexus 6, Nexus 7 2013, Pixel, Pixel XL
HTC: 10, 10 evo, 8X, Bolt, Butterfly 2, Butterfly 3, Desire 10, Desire 10 Lifestyle, Desire 10 Pro, Desire 320, Desire 516, Desire 526, Desire 530, Desire 612, Desire 620, Desire 626, Desire 628, Desire 630, Desire 650, Desire 700 Dual SIM, Desire 728, Desire 825, Desire 826, Desire 828, Desire 830, Desire Eye, Droid DNA, One A9, One A9s, One E9, One E9 Plus, One M8 Dual SIM, One M8 Eye, One M8s, One M9, One M9 Plus, One ME, One Remix, One S9, One X10, One X9, Rezound, Thunderbolt, U Play, U Ultra, U11
Huawei: Ascend G6 4G, Ascend G610, Ascend G7, Ascend Mate 3, Ascend Mate 7, C199, G8, G9 Plus, Honor 3C, Honor 4X, Honor 5X, Honor 6, Honor 6 Plus, Honor 6C, Honor 6S, Honor 6X, Honor 7, Honor 7 Premium, Honor 8, Honor 8 Pro, Honor 9, Honor Holly, Honor Magic, Honor V8 Max, Mate 8, Mate 9, Mate 9 Lite, Huawei Mate 9 Porsche Design, Mate 9 Pro, Mate S, Nova, Nova 2, Nova 2 Plus, Nova Plus, P10, P10 Lite, P10 Plus, P8, P8 Lite, P8 Lite 2017, P8 Max, P9 Lite, Raven LTE, Union LTE, Y3, Y5, Y5II, Y6, Y6 II, Y635
Intex: Aqua i5 Mini, Aqua i7
Karbonn: Sparkle V, Titanium Octane
Kazam: Thunder2 5.0, Tornado2 5.0, Trooper 240, Trooper2 5.0
Kyocera: DuraForce PRO, Hydro AIR, Hydro VIEW
Lenovo: A526, A7000, Golden Warrior A8, K4 Note, K80, Lemon 3, P2, P90, Phab 2 Pro, S660, S850, S860, Vibe k5, Vibe Shot, Vibe X2, Vibe Z2, Vibe Z2 Pro, X2 Pro, ZUK Edge
LG: Class, Enact, Escape 2, Escape 3, Exalt 2, F60, G Flex 2, G Stylo, G Vista, G Vista 2, G2, G3, G3 Beat, G3 S, G3 Stylus, G4, G4 Stylus, G4c, G5, G5 SE, G6, G6 Plus, Joy, K10, K10 2017, K3 2017, K4, K5, K7, K8, K8 2017, L90 Dual, Lancet, Leon, Lucid 3, Magna, Optimus F6, Optimus L7 II, Ray, Spirit, Spree, Stylo 2, Stylo 2 Plus, Stylus 2, Stylus 3, Tribute 2, Tribute 5, Tribute HD, V10, V20, Volt, X Cam, X Power, X Screen, X Venture, Zero
Meizu: M3 Max, MX4, MX4 Pro, Pro 5, Pro 6, Pro 7, U10, U20
Microsoft: Lumia 1330, Lumia 430, Lumia 435, Lumia 532, Lumia 535, Lumia 540, Lumia 550, Lumia 640, Lumia 640 XL, Lumia 650, Lumia 850, Lumia 950, Lumia 950 XL, Surface Pro
Motorola: Droid Maxx 2, Droid Mini, Droid RAZR Maxx, DROID Turbo, Droid Turbo 2, Moto C, Moto C Plus, Moto E 2nd Gen, Moto E 3rd Gen, Moto E3, Moto E4, Moto E4 Plus, Moto G 1st Gen , Moto G 3rd Gen, Moto G Turbo Edition, Moto G4, Moto G4 Play, Moto G4 Plus, Moto G5, Moto G5 Plus, Moto X 1st Gen, Moto X Force, Moto X Play, Moto X Pure Edition, Moto X Style, Moto Z, Moto Z Force, Moto Z Play
Nextbit: Robin
Nokia: 130, 215, 230, 301, 6, Lumia 1020, Lumia 1520, Lumia 720, Lumia 735, Lumia 810, Lumia 820, Lumia 822, Lumia 830, Lumia 920, Lumia 925, Nokia 3, Nokia 5
Panasonic: Lumix CM1
Samsung: Galaxy A3 2015, Galaxy A3 2016, Galaxy A3 2017, Galaxy A5 2015, Galaxy A5 2016, Galaxy A5 2017, Galaxy A7, Galaxy A7 2015, Galaxy A7 2017, Galaxy A8, Galaxy A9, Galaxy Ace 3 4G, Galaxy Ace 4, Galaxy Alpha, Galaxy Amp 2, Galaxy Amp Prime, Galaxy Avant, Galaxy Book 10.6, Galaxy Book 12.0, Galaxy Core 4G, Galaxy Core II, Galaxy Core Prime, Galaxy E5, Galaxy E7, Galaxy Express Prime, Galaxy Folder 2, Galaxy Grand Prime, Galaxy J Max, Galaxy J1, Galaxy J1 2015, Galaxy J1 Ace 4G, Galaxy J1 Mini, Galaxy J2, Galaxy J2 2015, Galaxy J3, Galaxy J3 2017, Galaxy J3 Pro, Galaxy J3 V, Galaxy J5, Galaxy J5 2015, Galaxy J5 2017, Galaxy J5 Prime, Galaxy J7, Galaxy J7 2015, Galaxy J7 2017, Galaxy J7 Prime, Galaxy Mega 2, Galaxy Note 2, Galaxy Note 3, Galaxy Note 5, Galaxy Note 7, Galaxy Note 8, Galaxy Note Edge, Galaxy On5, Galaxy On7, Galaxy S2 LTE, Galaxy S3, Galaxy S4, Galaxy S5, Galaxy S5 Sport, Galaxy S6, Galaxy S6 Active, Galaxy S6 Edge, Galaxy S6 Edge Plus, Galaxy S6 Edge+, Galaxy S7, Galaxy S7 Active, Galaxy S7 Edge, Galaxy S8, Galaxy S8 Active, Galaxy S8 Plus, Galaxy Star 2, Galaxy Tab A 10.1 2016, Galaxy Tab S3, Galaxy Xcover 3, Galaxy Xcover 4, Galaxy Young 2, Z1
Sharp: Aquos Crystal, Aquos Crystal 2
Sony: Xperia A2, Xperia A4, Xperia C3, Xperia C4, Xperia C5 Ultra, Xperia E3, Xperia E4, Xperia E4g, Xperia E5, Xperia L1, Xperia M2 Aqua, Xperia M4 Aqua, Xperia M5, Xperia X, Xperia X Compact, Xperia X Performance, Xperia XA, Xperia XA Ultra, Xperia XA1, Xperia XA1 Ultra, Xperia XZ, Xperia XZ Premium, Xperia XZs, Xperia Z3, Xperia Z3 Compact, Xperia Z3+, Xperia Z4, Xperia Z4 Ultra, Xperia Z5, Xperia Z5 Compact, Xperia Z5 Premium, Z2a Compact
Spice: Dream Uno, Stellar Mi-520, Stellar Mi-526
VAIO: Phone Biz
Vodafone: Smart 4 Mini, Smart 4 Turbo, Smart 4G, Smart first 6, Smart Mini, Smart N8, Smart Platinum 7, Smart Prime 6, Smart Prime 7, Smart Speed 6, Smart Ultra 6, Smart Ultra 7
Wiko: Birdy 4G, Bloom, Bloom 2, Cink Slim 2, Fever 4G, Fever SE, Freddy, Getaway, Goa, Highway 4G, Highway Pure 4G, Highway Signs, highway Star 4G, Jerry, Jimmy, Kite 4G, Lenny, Lenny 2, Lenny 3, Night Fever, Pulp 4G, Pulp Fab 4G, Rainbow 4G, Rainbow Jam, Rainbow Jam 4G, Rainbow Lite, Rainbow Lite 4G, Rainbow UP, Rainbow UP 4G, Ridge 4G, Ridge Fab 4G, Robby, Selfy 4G, Silde 2, Slide, Sunny, Sunset, Sunset 2, Tommy, U Feel, U Feel Lite
Wileyfox: Spark, Spark Plus, Spark X, Storm, Swift, Swift 2, Swift 2 Plus, Swift 2 X
Xiaomi: Mi 3, Mi 4, Mi 4i, Mi 5s, Mi 5s Plus, Mi Mix, Mi Note, Mi Note 2, RedMi 2, Redmi 3, Redmi 3S, Redmi Note 3, Redmi Note Prime
Xolo: Q1100
YU: Yutopia
ZTE: Avid Plus, Axon 7, Axon 7 Mini, Axon Lux, Axon Pro, Blade A430, Blade D6, Blade L2, Blade S6, Blade S6 Plus, Blade S7, Blade V7, Blade V7 Lite, Blade V8 Lite, Blade V8 Mini, Blade V8 Pro, Blade Vec 3G, Blade Vec 4G, Grand X Max+, Grand X3, Grand X4, Kis 3, Kis 3 Max, Martin II, Nubia Prague S, Nubia Z11, Nubia Z9, Obsidian, Salem, Sonata 3, Warp 7, Zmax 2, Zmax Pro, ZTE Blade Q Mini