Sorry, but Olixar Sony Xperia M4 Aqua Screen Protector 5-in-1 Pack has been discontinued and is no longer available to order. For your convenience we've selected some alternative items that we think you may be interested in.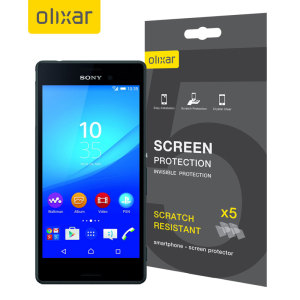 Olixar Sony Xperia M4 Aqua Screen Protector 5-in-1 Pack

Product Reference: 54376
Write a review
Dincan Collett
Taunton
16th April 2016

Sony Xperia M4 Aqua
Useless
This item is a waste of time. The hole for the front camera has been cut on the wrong side of the speaker hole. When trying to fit as per instrctions it's all wrong. Granted Mobilefun has tried to replace the item but sent exactly the same again. Haven't heard anything from them since. Also email the makers of the screen saver but haven't heard a thing from them either.
MobileFun Reply:
Hi Dincan We recently checked this screen protector and the cut-out is for the proximity sensor not the camera. Covering the camera does not impact performance, so the screen protector is correct for this phone. If you have any more concerns, please contact our Customer Services team.
Did you find this helpful?
---
Richard
York
8th February 2016

Sony xperia m4 aqua
Good protection
Bought olixar screen protector to give screen protection for newly purchased m4 aqua phone it's excellent protection I've used these before on blackberry z10 and other smartphone & tablets it's excellent value for money Leaves phone still looking pristine & combine with it case protector roxfit red which is slim perfect combination.
Did you find this helpful?