Most Useful Customer Reviews
Robert Esworthy
Cumming ga
I Pad
18th April 2014
4 in one
I just bought my wife a 4-1 and she loves it. She can use it on her I pad stop and use the pointed to play with our cats, write letters and use the flashlight to find things in her purse. Great item for a great price.
---
Barry
United Kingdom
Galaxy S4
5th December 2013
Nice
Arrived this morning and I ordered at 5pm yesterday. Nicely packaged and a nice pen to write with. Stylus works well and the laser pen and light will come in use. Took me a minute to realise you had to remove the plastic inserts from the batteries so that is something to note if you think yours doesn't work.
Read 52 customer reviews
|
Write a review
---
Why Buy?
Multifunctional 4-in-1 stylus pen tool

Omnidirectional stylus tip for accurate on-screen interaction

Ballpoint ink pen for jotting down notes

Built-in laser pointer

Integrated LED torch
---
Why not View a video about this product?
Description
4thWrite is an ingenious tool for an amazing price. It incorporates not one, not two, but FOUR essential tools that anyone will require at some point.
Like many classy pens, it includes a stylish black and silver finish with a clip for your jacket, shirt or clipboard. It also feels pleasant in the hand, but this is no ordinary pen...
Push one button and you'll immediately notice the laser pointer. Push another and you will access the LED torch, while at the other end a stylus for your smartphone or tablet.
Let's look at the 4 functions in further detail:

Omnidirectional stylus tip for accurate on-screen interaction
The 4thWrite 4-in-1 Stylus Pen has an omnidirectional tip, which you are able to use on-screen in any direction you wish. This allows for accurate on-screen movements, drawings and precision touches.
By using the stylus tip, you will also have the added benefit of keeping those pesky greasy fingerprints off your smartphone or tablet display.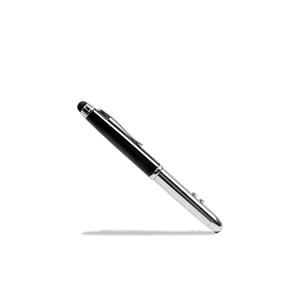 Ballpoint ink pen for smooth writing and illustration
Not only does the 4thWrite include a stylus tip at one end of the pen, but it also features a refillable ballpoint ink pen at the other.
The ballpoint is satisfyingly smooth and writes like a high-end pen many times the value of this product.
It's also fine enough for detail and illustration work.


Built-in laser pointer
Lecturer? General? Engineer? Tradesman? In fact, anyone who needs to draw someone's attention to something can make use of the 4thWrite's built-in laser pointer.
Projecting a surprisingly powerful red laser beam at an object, visible from a decent distance away.
Just be careful as lasers can be harmful to eyes if not used correctly (see safety warning below).

Who doesn't enjoy pointing things out with a laser though?


Integrated LED Torch
"You get an LED torch too? Really?" Yes, really!
Whether you've lost your keys, watch, phone or tablet in the middle of the night, dropped something down the back of the sofa or need to find your way to the electric box after a powercut - inevitably you'll need a torch.
The 4thWrite includes a compact, yet surprisingly powerful LED mini torch for when the occasion arises.


Safety Warning
This device should not be pointed at people or animals and can be dangerous if not used correctly. Avoid direct eye exposure to the laser beam. Do not aim the laser at reflective surfaces. This item is not a toy: do not allow children to use unless under the direct supervision of an adult.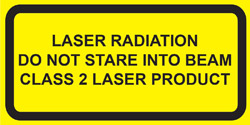 PLEASE NOTE:
This product includes batteries that have a plastic tab placed inbetween them. You will need to remove this in order for them to work correctly.
---
Acer: Acer Liquid Z3, beTouch E120, beTouch E130, Iconia, Iconia A1-830, Iconia B1-720, Liquid E1, Liquid E2, Liquid E3, Liquid Metal, Liquid S2, Liquid Z4, Liquid Z5, Stream
Advent: Vega Tegra Note 7
Alcatel: One Touch Evo 7, One Touch T10, OneTouch Idol X+, OT 990, OT 991, OT-292, POP S3, POP S7, POP S9
Amazon: Fire HD 8 9, Kindle Fire, Kindle Fire HD 2012, Kindle Fire HD 2013, Kindle Fire HDX, Kindle Fire HDX 8.9
Apple: iPad, iPad 1, iPad 2, iPad 3, iPad 4, iPad Air, iPad Mini, iPad Mini 2, iPad with Retina Display, iPhone, iPhone 2007, iPhone 3G, iPhone 3GS, iPhone 4, iPhone 4S, iPhone 5, iPhone 5C, iPhone 5S, iPhone 6, iPod Touch, iPod Touch 2G, iPod Touch 3G, iPod Touch 4G
Archos: 101 Tablet, 50 Oxygen, 50c Oxygen, 80 Helium 4G
Asus: EEE Pad Transformer Prime, Memo Pad 10, PadFone E, PadFone Mini, PadFone X, Transformer Book Duet, VivoTab Note 8, ZenFone 4, ZenFone 5, ZenFone 6
Base: Lutea
BlackBerry: 9720, Q10, Q5, Storm, Storm2, Torch 9800, Torch 9810, Z10, Z3, Z30
BQ: Aquaris 5 HD, Aquaris 5.7, Curie 2, Curie 2 Quad Core, Edison 2, Edison 2 Quad Core
Dell: Streak, Streak 7, Venue, Venue 8 Pro, Venue Pro
EE: Kestrel
GoClever: Terra 70 L
Google: Nexus 10, Nexus 4, Nexus 5, Nexus 7 2012, Nexus 7 2013, Nexus One, Nexus S
HP: 8 1401, Slate 7, Slate6 VoiceTab, Slate7 VoiceTab
HTC: 7 Pro, 8S, 8X, ChaCha, Desire, Desire 200, Desire 300, Desire 310, Desire 500, Desire 501, Desire 601, Desire 610, Desire 616, Desire 816, Desire C, Desire HD, Desire S, Desire VC, Desire X, Desire Z, EVO 3D, Evo 4G LTE, Explorer, First, Flyer, Gratia, HD mini, HD2, HD7, HD7S, Hero, Incredible S, Inspire, Legend, Magic, Mozart, One 2013, One Dual SIM, One M8, One M8 Mini, One Max, One Mini, One S, One SV, One V, One X, One X Plus, One XL, Radar, Rezound, Rhyme, Salsa, Sensation, Sensation XE, Sensation XL, Thunderbolt, TITAN, Trophy, Ville
Huawei: Ascend D Quad, Ascend D Quad XL, Ascend D1, Ascend G300, Ascend G330, Ascend G510, Ascend G6, Ascend G600, Ascend Mate, Ascend Mate 2, Ascend P1, Ascend P6, Ascend W1, Ascend Y100, Ascend Y210D, Blaze, Honor, Honor 3, MediaPad X1, Vision, Y300, Y600
iNQ: Cloud Touch
Karbonn: S5 Titanium
Kazam: Thunder2 4.5L
Konka: Expose 960, Expose 970
Lava: Iris 351, Iris 454, Iris 502
Lenovo: IdeaTab A2107, K900, ThinkPad 8
LG: Arena, Escape, G Flex, G Pad 8.3, G Pro 2, G2, G2 Mini, GC900 Viewty Smart, GD510 Pop, GD900 Crystal, GT540 Optimus, Intuition, Jil Sander, L40, L70, L90, Optimus 2X, Optimus 3D, Optimus 3D Max, Optimus 4X HD, Optimus 7, Optimus 7Q, Optimus Chat C550, Optimus Chic, Optimus F3Q, Optimus G, Optimus G Pro, Optimus Hub, Optimus L3, Optimus L5, Optimus L7, Optimus L9, Optimus Net, Optimus One, Optimus Pro, Optimus True HD, Prada 3.0, Spectrum VS920, Spirit 4G, Viewty GT
LG : Optimus Black
Maxtouuch: 7 Inch Android Tablet
Meizu: MX3
Micromax: A116 Canvas HD
Microsoft: Surface 2, Surface Pro 2
Motorola: Atrix, Atrix HD, DEFY, DEFY Mini, DEFY Plus, DEFY Plus JCB Edition, Droid Razr HD, Droid Razr Maxx HD, Droid Ultra, DVX, ES400, FIRE, FIRE XT, Flipout, Gleam, Gleam Plus, Milestone, Milestone 2, Moto G, Moto G Forte, Moto X, MOTOLUXE, MotoSmart, Photon 4G, PRO, PRO PLUS, RAZR, RAZR HD, RAZR i XT890, XOOM, XOOM 2, XOOM 2 Media Edition, XT316, XT720
Nintendo: DSi XL
Nokia: 100, 101, 220, 500, 600, 700, 701, 808 PureView, Asha 210, Asha 230, Asha 306, C6 01, C7, E6, E7, Lumia 1020, Lumia 1320, Lumia 1520, Lumia 2520, Lumia 510, Lumia 520, Lumia 525, Lumia 610, Lumia 620, Lumia 625, Lumia 630, Lumia 635, Lumia 710, Lumia 720, Lumia 800, Lumia 820, Lumia 900, Lumia 920, Lumia 925, Lumia 929, Lumia 930, Lumia Icon, N8, N9, Oro, X, X Plus, X1 01, X6, X7, XL
OnePlus: One
Orange: Dallas, Gova, San Diego, San Francisco, San Francisco II
Panasonic: Eluga, Eluga Power
Samsung: Ativ S, ATIV SE, Champ Deluxe Duos, Core LTE, E2600, Exhilarate i577, Galaxy, Galaxy Ace 3, Galaxy Ace Duos S6802, Galaxy Ace Style, Galaxy Chat B5330, Galaxy Core, Galaxy Core Advance, Galaxy Extreme, Galaxy Fame, Galaxy Grand, Galaxy Grand 2, Galaxy Grand Z, Galaxy M Pro, Galaxy Mega 5.8, Galaxy Mega 6.3, Galaxy Nexus, Galaxy Note 10.1, Galaxy Note 2, Galaxy Note 3, Galaxy Note 8.0, Galaxy Note 8000, Galaxy Note Pro, Galaxy Pocket, Galaxy R, Galaxy Round, Galaxy S Advance, Galaxy S Duos, Galaxy S I9000, Galaxy S Plus I9001, Galaxy S2, Galaxy S3, Galaxy S3 LTE, Galaxy S3 Mini, Galaxy S4, Galaxy S4 Active, Galaxy S4 Mini, Galaxy S4 Zoom, Galaxy S5, Galaxy Stellar, Galaxy Tab, Galaxy Tab 10.1, Galaxy Tab 3 10.1, Galaxy Tab 3 7.0, Galaxy Tab 3 8.0, Galaxy Tab 3 Lite , Galaxy Tab 4 10.1, Galaxy Tab 4 7.0, Galaxy Tab 4 8.0, Galaxy Tab 8 9, Galaxy Tab Pro 10.1, Galaxy Tab Pro 12.2, Galaxy Tab Pro 8.4, Galaxy Victory 4G, Galaxy W, Galaxy Xcover, Galaxy Xcover 2, Galaxy Y, Galaxy Y Pro, Galaxy Young, Google Nexus S, Grand Neo, I7500, I9003 Galaxy SL, Mega 6.3, Note 3 Neo, Omnia 7, Omnia M , Omnia W, Rex 60, Rex 70, Rex 80, Rex 90, S2 Plus, Tocco Lite 2, Tocco Quick Tap
Sharp: Aquos Xx 302Sh
Sony: acro S, T2 Ultra, Tablet S, Xperia C, Xperia E, Xperia E1, Xperia go, Xperia J, Xperia L, Xperia M, Xperia M2, Xperia Miro, Xperia SL, Xperia Sola, Xperia SP, Xperia T, Xperia Tipo, Xperia tipo dual, Xperia TX, Xperia V, Xperia XL, Xperia Z, Xperia Z Tablet, Xperia Z Ultra, Xperia Z1, Xperia Z1 Compact, Xperia Z1f, Xperia Z1S, Xperia Z2, Xperia Z2 Tablet, Xperia ZL, Xperia ZR, Z1
Sony Ericsson: X10, XPERIA Arc, XPERIA Mini, XPERIA Mini Pro, XPERIA Neo, Xperia Play, XPERIA X10 Mini, XPERIA X10 Mini Pro
Swipe: Fablet F2, Fablet F3, MTV Volt 1000
Tesco: Hudl
TMobile: Beat, Energy, Groove, Vivacity
Videocon: A 27
Vodafone: Smart Tab II 10
Wiko: Barry, Cink Five, Cink Peax 2, Cink Slim, Darkmoon, Darknight, Darkside, Highway, Mazing, Rainbow, Stairway, Wax
Xiaomi: RedMi 2
Xolo: A500, A500s, Play, Q1000, Q1000s, Q2000, Q3000, Q700, Q800, X1000
Yarvik: Luna 7 101
Zen: Ultrafone 502
ZTE: Blade 2, Grand Memo II LTE, Grand S, Grand X, KPN Smart 200, Nubia X6, Open, Tania