Sorry, but MFX Tempered Glass Moto G Screen Protector has been discontinued and is no longer available to order. For your convenience we've selected some alternative items that we think you may be interested in.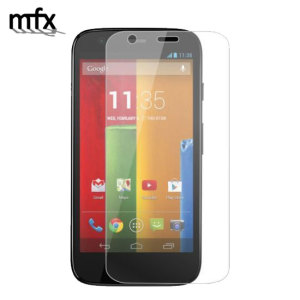 MFX Tempered Glass Moto G Screen Protector
Product Reference: 46808
"Beter than a thin film but fit not perfect"
Write a review
jim
Stockport
30th June 2015

mfx-moto-g-tempered-glass-screen-protecto r-p46808
needs better pre delivery protection
adhesive side not attached to carrier in protective case so small dust particles prevent proper adhesion to screen
Did you find this helpful?
---
Tim Rudling
Melbourne
14th November 2014

Did not stick well to the screen
I followed the directions exactly however the edges did not stick down. Quite disappointed as it was not a cheap screen protector. this is the Second one i have tried and both times it didnt stick at the corners.
2 of 2 found this helpful.
Did you find this helpful?
---
Alan
Yorkshire
28th August 2014

Motorola Moto G G4
ABSOLUTE RUBBISH, £14 IN THE BIN
This protector doesn't fit, the quality of the glass itself is good but the accuracy in manufacture leaves a lot to be desired. It is too big on the radius of the corners and is therefore propped on the case leaving an opaque portion approx 15mm deep on each corner where it won't stick down, consequently it not only looks terrible but also leaves gaps in which dirt and moisture can get between the screen and the protector, at £13.99 this protector isn't cheap and for that price I would expect a lot better, don't they even try it on a phone before putting them on the market? This item is not fit for purpose,I did try to make it fit by dremeling a thou or 2 of each corner but it cracked, it is hardened after all, but as I couldn't live with it as it was and I wasn't prepared to go through the rigmarole and hassle of returning it, I thought I'd give it a go, it is very hard and would have afforded brilliant protection if it had fit, shame, I'm well dissapointed. I won't be getting another like this, I will have to stick with the soft floppy ones in future, not as good protection but a lot easier and cheaper to rectify if something does go awry.
4 of 4 found this helpful.
Did you find this helpful?
---
Kim Wallis
Surrey
1st August 2014

Moto G 4G
Beter than a thin film but fit not perfect
This solid glass screen protector is far better than the thin film ones and doesn't suffer from problems with bubbles etc. and is virtually invisible when fitted. However I have a slight problem with the fit on the Moto G as there is a slight lip around the screen on theses phones and this MFX screen protector just catches this in the corners as it is slightly too large and this causes it to lift off the screen very slightly resulting in small semi-circular areas in the corners where it isn't stuck down properly. Only a minor thing and not really noticeable in normal use but slightly annoying on such an otherwise excellent product so only 4 out of 5 stars from me.
3 of 3 found this helpful.
Did you find this helpful?