Sorry, but MFX Nokia Lumia 630 / 635 Screen Protector 2 Pack has been discontinued and is no longer available to order. For your convenience we've selected some alternative items that we think you may be interested in.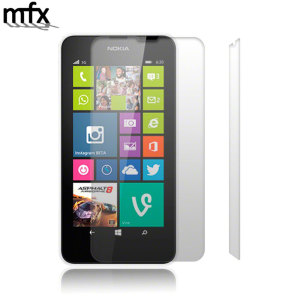 MFX Nokia Lumia 630 / 635 Screen Protector 2 Pack
Product Reference: 46279
"Excellent"
"Smooth operator"
Write a review
Ian Bathgate
Glasgow
13th November 2015

Samsung Galaxy & Nokia 635
Excellent
Having dropped my phone on a previous occasion, I can unreservedly vouch for these screen protectors. My phone fell on a concrete floor and with the screen protector in place, I was still able to continue and use my phone. A really economical way to protect a valuable asset!
Did you find this helpful?
---
Sian
South West UK
7th November 2015

Nokia Lumia 635
Fiddly
Hard to apply and the piece of card that is supposed to smooth out the bubbles makes things worse. Not as good a product as previous screen protectors I've bought.
Did you find this helpful?
---
Ian Perkins
Warwickshire
7th September 2015

Nokia Lumia 635
Overall pretty good
I found the lack of detailed instructions a bit frustrating, and using the first of the two protectors provided was a bit experimental. Removing first one film from the protector (there are 2 - one each side), I then found it difficult to accurately place the protector on the phone screen whilst keeping all dust from underneath it. Once it was in place, I managed to get all of the air bubbles out, apart from where 2 specks of dust had got in. Then the other film was removed, and job done. Overall pretty good, and no doubt much easier/better results the more practice you have! The protector has stayed in place very well.
Did you find this helpful?
---
Helen Dyson
Yorkshire
6th September 2015

Nokia Lumia screen protectors
Perfect screen protectors, 2 in a pack, great value for money!
Great screen protectors good price and easy to apply. Brilliant service and delivery from Mobile Fun!
Did you find this helpful?
---
Andy
Derbyshire
24th August 2015

Lumia 635
You get what you pay for.........
Not the cheapest but by far a brilliant product, very easy application on to the screen, no bubbles and no marks, a great product well worth the money.
Did you find this helpful?
---
Tom
Blackpool
2nd March 2015

Nokia
good
Hard to get rid of the air bubbles
Did you find this helpful?
---
Julian Grubb
Redditch
22nd February 2015

Nokia Lumia 635 screen protector pack
Seems to do the job
I had assumed that this pack, containing 2 protectors, would provide keep the screen surface free from scratches and dirt. The pack consisted of two pieces of transparent plastic film cut to fit the shape of the screen. The instructions for fixing were concise and helpful and the actual screen protector was itself sandwiched between two film applicators, to reduce the chances of the user smearing the screen protector with fingerprints. The protector has been on for only 2 weeks or so but allows full capability of the device's touch screen. A cheaper alternative would be to cut a piece of general purpose protective film to fit. I used to do this for the older generation of mobile 'phones with individual character buttons but with touch screens this thicker film may not allow the sensitivity necessary to operate the 'phone
Did you find this helpful?
---
ryan maher
london
21st September 2014

nokia lumia 630
terrapin protector 2x pack
Bought this to protect my screen as I'm a landscape gardener, very easy to apply and although the shield itself gets scratched at least it isn't the phones actual screen...fits perfectly great mid price screen protector
Did you find this helpful?
---
T Bennett
Ormskirk
1st September 2014

Nokia Lumia 630
2 Pack protectors
Just what I wanted, and arrived in the post in a couple of days. Easy to apply, I know it is protection sheets for the screen but I am a technophobe in most aspects of the mobile but even for me these were easy to apply and the instructions were easy to follow also. I would definitely recommend this product.
Did you find this helpful?
---
Lorraine Sandison
Aberdeen
11th August 2014

Nokia Lumia 635
Smooth operator
easy to adhere to the phone and looks good. Even I managed with no bubbles to be seen. would reccommend
1 of 1 found this helpful.
Did you find this helpful?
---
Richard Cage
Liverpool
1st August 2014

Nokia 635
Perfect protection
Easy to fit and a perfect fit.
Did you find this helpful?
---
Anonymous
Unknown
29th July 2014

Nokia 630
screen protector
take your time to fit this and it will be worth it. but just in case you have a spare one if it goes wrong.
1 of 1 found this helpful.
Did you find this helpful?