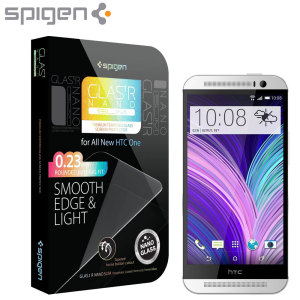 Spigen GLAS.tR NANO SLIM HTC One M8 Tempered Glass Screen Protector

Product Reference: 44710
"A cautious investment"
"Excellent screen protector"
This item is covered by our
Christmas Extended Returns Policy
Write a review
Ronan O'Brien
Dublin
17th November 2014

Far to fragile
Bought two of these (Galaxy S4 and M8), they do a very good job at protecting the phone screen and are almost invisable until they crack, which they do far too easily. Only lasted a month before it had to be removed as it made the phone look like it had a badly cracked screen.
Did you find this helpful?
---
Anonymous
Yorkshire
5th July 2014

HTC One (M8)
A cautious investment
Tired of using a leather flip case which masked the beauty of my phone, I opted for a screen protector instead & desperate to avoid scratches or worse, I cautiously invested in the best I could find. Initially distraught when I couldn't wipe away a small air bubble, I managed to carefully remove and reapply the glass without issue. Even after reapplying it the glass remains firm. Using a gel rear/side case, air bubbles sometimes appear down the side when I grab the case by the side, but these almost instantly disappear as soon as I change my grip on the phone, and I consider this to be a problem with the case rather than the glass. The glass occasionally attracts some finger prints, but is incredibly easy to clear, crystal clear and offers a very high level of reassurance. The cost may seem high, although its a fraction of what my phone is worth to me, so I would highly recommend this product.
Did you find this helpful?
---
Theo
Unknown
12th June 2014

HTC One M8
Excellent quality
Excellent quality, and very easy to apply. Unlike most screen protectors, it is quite literally a rigid sheet of some substance like glass. This makes application a breeze, as it doesn't sag or bend. Once it's on, there's no noticeable dimming on frosting, and the screen remains as responsive as ever. It is expensive, but worth the money.
Did you find this helpful?
---
Tony
London
23rd May 2014

HTC One M8
Excellent screen protector
Wanted to protect the best phone of the year, used the best screen protector if you like your phone, buy this. Would recommend this. A bit expensive, but you are paying for the best
3 of 3 found this helpful.
Did you find this helpful?