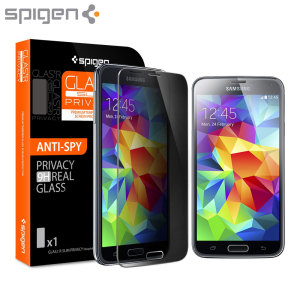 Spigen Galaxy S5 GLAS.tR SLIM Privacy Tempered Glass Screen Protector

Product Reference: 44608
This item is covered by our
Christmas Extended Returns Policy
Write a review
Johanna
Massachussetts
6th October 2014

Awesome!
I am someone who either needs to buy 3 screen protectors at a time, because I will mess up the installation, or have a professional put it on. I ride the subway to and from school and I hate when people are creeping over my shoulder checking out my Facebook. So I saw this and read some reviews and took a chance. Yes, it is a lot more expensive then other protectors BUT IT IS WORTH IT! First, it magically gets all the air bubbles out by itself, hard to believe but its true. It is a hard glass so once its installed it just feels like the actual screen rather then a piece of thin film where the corners start to peel. The privacy is great! You cannot see it 100% unless you're the one holding it. It doesn't take away from the awesome bright color the Galaxy offers, or make the tough light keys less visible. I love LOVE this product. If you're hesitant on the price, it is worth it.
Did you find this helpful?
---
Mike Snell
Epsom
4th August 2014

Samsung Galaxy S5
Amazing
I was very worried about spending so much on a screen protector but its is worth. Great quality, very nice feel, adds a tint to the screen but not in a bad way, the screen still looks great. Super easy to install, in fact it did it itself. The screen face must be immaculately clean, I placed the protector accurately over the screen and let it make contact. All the air went out and it was done. the edges have a slight curve so it feels nicer, the finger print unlock still works well too. Don't think twice about getting it for your new phone.
Did you find this helpful?
---
Alex
stockholm
10th May 2014

Perfect!!
Probably the best screen protector! Very thick and nice ! Strongly recomend!
0 of 1 found this helpful.
Did you find this helpful?
---
Nik Brooks
Ashford GB
9th May 2014

Samsung galaxy S5
Awesome!
Now you might be looking at this screen protector and you will probably be saying to yourself "How much!!!" Yes I agree as that is exactly what I thought. Now we all spend good money on cases to protect our phones..RIGHT?..YES!! So why should we hold back when it comes to the screen? Well we shouldn't..this screen protector is worth every single penny. I am using this with a ElementCase Recon Pro Black Ops Galaxy S5 Case - Stealth Black. This case came with it's own stealth screen protector, and as usual it was the same old fumbling around try to align it up, make sure there was no dust put it on and yep bubbles, lifted it up to try to re-do it and adhesive ruined. Not with this awesome screen protector, damn thing basically fitted itself..incredible!!! Just clean your screen with the neatly packaged alcohol wipe, gently wipe with the supplied cloth and then just a little puff of breath to make sure there wasn't any residual dust/hairs etc. Then remove the backing and align and release..this screen protector sucked out all the air without any input from me, it actually fitted itself..WOW!!!! The fit is perfect as it fills the entire screen thus making aligning when fitting so easy. The privacy part is cool and works really well. Screen response and sensors are not impaired in any way. So you pay good money for a decent case, why not do the same for your screen? Excellent service from MF as usual and an amazing scree protector.
4 of 4 found this helpful.
Did you find this helpful?