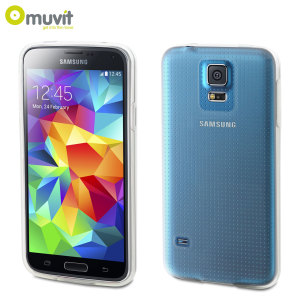 Muvit miniGEL Case for Samsung Galaxy S5 - Transparent

Product Reference: 44472
"Great Case"
"Another ..."
Also available:
This item is covered by our
Christmas Extended Returns Policy
Write a review
John
Nottingham
19th May 2014

Galaxy S5
Another ...
... transparent case for the wonderful Galaxy S5. However, the case falls slightly short of wonderful for me. Yes it's a perfect fit; yes, it provides good protection; yes, it's transparent; yes, it has a shiny outer surface but NO, that's not what I wanted. It shows fingerprints and, because it's a gel-type finish, it's difficult to wipe these off. So, I still wait in hope of a Pinlo Slice cover for the Galaxy S5.
Did you find this helpful?
---
charlotte
hampshire
5th May 2014

Samsung galaxy s5
useful
Protects the phone well, fits nicely, doesn't add too much bulk to the handset. Only downside is that it says transparent but it's not. Has a cloudy effect which doesn't really allow the colour of your handset to show.
Did you find this helpful?
---
Simon Strike
East Midlands
4th May 2014

Samsung Galaxy S5
a great opaque alternative to the current FlexiShields
I had the FlexiShield cases for both of my previous smartphones; a HTC Desire and the Galaxy S3. Personally I prefer the solid black covers, so when I saw the FlexiShield's "Smoke Black" was partially transparent, I sought out an opaque alternative. I was pleased when I found that the "Muvit miniGEL Case" came in solid black and thought I'd give it a go, hoping it would be similar to the Flexishield. In all honesty, it's almost comletely identical and exactly what I was looking for! I was a little concerned over the initial fit as it didn't quite appear to cover the edges of the S5's silver bezel straight out of the box, but over the course of a few days it's settled in nicely and fits the phone like a glove. I guess these soft plastics respond to heat. Having spent however long on a cold warehouse shelf, leaving them quite rigid, they seem to become more supple after some use and exposure to houshold temperatures. I've used this in conjunction with the "MFX Samsung Galaxy S5 Tempered Glass Screen Protector" and they are complementary products. My phone now feels completely safe and secure from any superficial scratches!
Did you find this helpful?
---
Ashley Gavin
St. Helens
27th April 2014

Samsung Galaxy S5
Great Case
Bought this case specifically because I bought the blue phone and still want to see the back. protects the phone and still allows me to see the blue back.
Did you find this helpful?