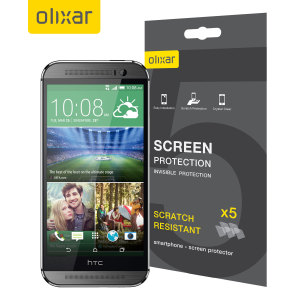 MFX Screen Protector 5-in-1 Pack for HTC One M8
Product Reference: 44379
"great product"
"In A Class of their own.."
This item is covered by our
Christmas Extended Returns Policy
Write a review
ray sturgess
n ireland
6th December 2014

htc one m,8
great product
5 of the screen savers,it took me a couple of goes,as normal with any screensaver,to get it right and I'm 200%happy.I've got spares for later if needed,great value and I would buy again.
Did you find this helpful?
---
Tony McNamee
Ebchester, Consett
23rd October 2014

One M8
Highly recommended
Delivery very quick. 1st attempt was poor - I took too long and got specks of dust under screen protector. 2nd attempt was good - I don't even know I have a screen protector on. Highly recommended.
Did you find this helpful?
---
Paul W
Magor
11th August 2014

HTC ONE M8
No Bubbles left behind!
Wow! I cant believe it! I actually managed to get the screen protector on PERFECTLY! It was all sorted only on the second attempt! Admittedly, the first attempt was the cats fault for being so dam hairy and jumping at the screen cloth on my lap at time of screen protector application!!! Result?...cat getting ejected from room for attempt number two! The screen protector went on faultlessly, with only one bubble that was removed easily with card supplied in pack. The fit is great, with only a tiny gap around edge to the screen. There is no drag from it either, unlike a lot of protectors out there these days! (Cat is allowed back in room now!) No animals were hurt in installation of the screen protector! I hope this review helps you!
Did you find this helpful?
---
jeffrey olson
greenville
16th July 2014

great
Very good sight everything is all good
Did you find this helpful?
---
Jaime
London
28th May 2014

HTC One M8
Good Value
Pretty much your standard screen protectors. The height fits the glass front of the M8 and the width is a couple of milimeters thinner. Haven't had any issues yet. There's 5 protectors in the pack, so good value for your monies or if you make any application mistakes.
Did you find this helpful?
---
Terry Green
London
26th April 2014

HTC One M8
great screen covers
These are very reasonable and incredibly easy to use screen protectors
Did you find this helpful?
---
Rich
London
16th April 2014

HTC One M8
In A Class of their own..
I've purchased many cheaper screen savers from other web sites such as Ebay, and they've sort of done the job, but have either not lasted very long, fallen off, or just not really been up to the job, and I guess that's why they were cheap. The MFX Screen protectors however are in a class of their own, much stronger, better made, put it on the screen in one application, and then use the small piece of card to smooth out any remaining air pockets and it's JOB DONE! Well done MFX, these protectors really work well. I can honestly say hand on heart I recommend these to you.
4 of 4 found this helpful.
Did you find this helpful?