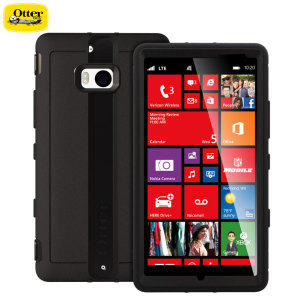 OtterBox Defender Series Nokia Lumia 930 / Icon Case - Black

Product Reference: 44097
"otterbox defender save in the knowledge"
"marvellous"
This item is covered by our
Christmas Extended Returns Policy
Write a review
eddie traill
newcastle
9th November 2014

nokia lumia 930
otterbox defender
again first class sevice for delivery but the product is ok but 2 minor problems, first it is difficult getting the phone in and out of the case second - it is not totally encased and easily lets in dust apart from the above the case is solid
0 of 1 found this helpful.
Did you find this helpful?
---
jason barnard-smith
ramsey
28th October 2014

nokia 930
otterbox defender save in the knowledge
brought the otterbox defender for my nokia 930. this is a great phone that deserved the best case. i take a lot of pictures with my phone so it is alway in and out my pocket, because of this i wanted a case that i knew would protect my lumia if the unexpexted happened. it fits perfectly, really please with it. like the little crease down the back which gives it a tad more appeal instead of being solid black. also it will work with the nfc charger you get with the 930, you do have to be more precise with the way you put the phone on the charger but it does work. all in all, very pleased with case, and top class service from mobile fun.
3 of 4 found this helpful.
Did you find this helpful?
---
andrew
bolton
27th September 2014

otterbox defender for nokia 930
marvellous
great service all round great product, even better than expected highly recommended
Did you find this helpful?
---
Andrea
Unknown
3rd September 2014

Nokia Lumia 930
Great case
Great customer service from mobilefun. Quick reply to my email asking if camera button is fully accessible with this case. It is and so are all the other buttons. Great case, feels and looks great, proper protection for my phone when out and about. Agreed, the holster when used adds quite a bit of bulk but without it is not much bigger than the previous case I used. Good solid protection is the key emphasis for me so I'm confident that this case will be just that.
Did you find this helpful?
---
Luke Palmer
Cambridgeshire
9th August 2014

Lumia 930
Absolute rubbish
Dont buy this case if you work in dusty / wet environments in fact anywhere where the case should supposedly excel! had the case now for a week and found dust gets behind the screen plastic easily forcing you to dismantle the holder and clean daily. The final straw yesterday was rainwater splash going behind the screen stopping the screen working, yet again taking the protector off cleaning screen and refitting.
5 of 6 found this helpful.
Did you find this helpful?