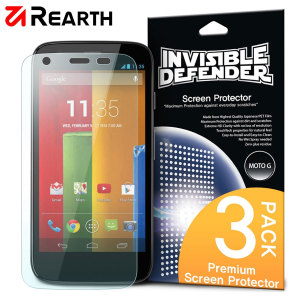 Rearth Invisible Defender 3 Pack Screen Protector for Motorola Moto G

Product Reference: 44051
"Great protection!"
"The easiest protector I've ever put on"
This item is covered by our
Christmas Extended Returns Policy
Write a review
Anonymous
Unknown
23rd September 2014

Motorola Moto G
Great protection!
I have tried several screen protectors over the years on different phones but, IMHO, this is the best. It is easy to apply if you take it slowly and carefully and there is no 'bubbling' unlike some of the others. It is easy to wipe clean and the touch screen remains easy to use. I can't imagine having to replace it but it is helpful to know that there are two spares in the pack. A very worthwhile investment!
Did you find this helpful?
---
damian
Essex
5th August 2014

Moto G 4G LTE
The easiest protector I've ever put on
This protector was very easy to fit, and went on with no bubbles at all. So good my son hasn't worked out his phone has a protector on it yet. Very pleased with purchase.
Did you find this helpful?
---
Hazel
Melbourne
20th July 2014

Does the job
Screen protector was easy to apply. It's doing a good job so far protecting my screen from scratches, I really like that you receive 3 in one pack which makes this good value.
Did you find this helpful?
---
Merrilyn Rowe
Brisbane
14th June 2014

Quality products
The flip shell and screen film protectors I recently purchased for my Motorola phone met my expectations. The flip shell has a magnetic cover that holds my phone securely in place. It has a good feel to it and an excellent range of colours to choose from. I chose the non-glare screen film protector for Motorola - the instructions were very easy to follow and I had no trouble putting it on my phone.
Did you find this helpful?
---
Con Karagiannis
Adelaide
28th April 2014

Very satisfied
I recently purchased the Otter Box commuter cover and Defender screen protectors for my Moto G mobile phone. I am very happy with these products. They provide great protection for my phone and look great as well.
Did you find this helpful?