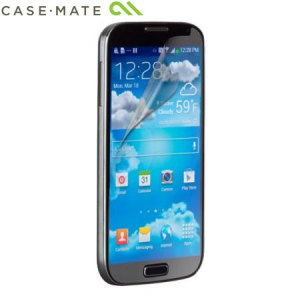 Case-Mate 2 Pack Screen Protector for Samsung Galaxy S5

Product Reference: 44001
"Great Item"
"good prompt service as usual"
This item is covered by our
Christmas Extended Returns Policy
Write a review
Robert Dutt
caerphilly
20th October 2014

Samsung Galaxy 5
good prompt service as usual
Had new phone on the Thursday screen protectors arrived on Saturday. best screen protectors I've ever fitted easy anf with mo bubbles!. Excellent value too - just what you'd expect from Mobile Fun.
Did you find this helpful?
---
Kristen Bogan
Unknown
10th September 2014

Love it!
Great and easy to apply screen protector. Instructions were helpful. Prices was reasonable. Would recommend this product to someone else!
Did you find this helpful?
---
Marco van Doorn
Ophemer
23rd August 2014

Galaxy S5
Case-Mate 2 Pack Screenprotector voor de Samsung Galaxy S5
Hele fijne screenprotectors. Anti glans en glijdt super. Voor deze prijs niet verwacht, om heel eerlijk te zijn. Aanrader.
Did you find this helpful?
---
Morgane
Unknown
13th August 2014

samsung galaxy s5
Super !
Je cherchais un écran de protection pour mon s5, et je suis tombée sur ce lot de deux, à un prix carrément raisonnable. Du coup, j'ai commandé. J'appréhendais un peu la pose car j'avais peur de laisser pleins de bulles, mais en fait, c'est vraiment super simple et mon écran est nickel ! Les protections ont un aspect mat, sont anti-traces de doigts et anti-reflets. À voir sur le long terme. Bref, je recommande vraiment, excellent rapport qualité/prix :)
Did you find this helpful?
---
Ashley Gavin
St. Helens
27th April 2014

Samsung Galaxy S5
Great Item
Brilliant item. Attached to screen with ease and no bubbles using the applicator provided.
1 of 2 found this helpful.
Did you find this helpful?