Sorry, but Spigen Slim Armor Case for Google Nexus 5 - Red has been discontinued and is no longer available to order. For your convenience we've selected some alternative items that we think you may be interested in.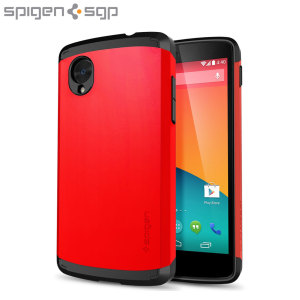 Spigen Slim Armor Case for Google Nexus 5 - Red

Product Reference: 43951
Write a review
Anonymous
Unknown
10th August 2015

Nexus 5
Hele mooie case
De case zelf is heel stevig en past perfect, ik ben niet bang dat m'n toestel zal beschadigden. Gelukkig ben ik op eBay een originele rode case tegengekomen voor maar 3,78 dollar ipv bijna 30 euro. Ik snap echt niet dat ze voor een beetje plastic zo'n bedrag kunnen rekenen
Did you find this helpful?
---
eviandos
Almere
13th November 2014

LG Nexus 5
Deze case past perfect en oogt chique
Zocht eigenlijk een goede flipcase voor mijn nieuwe LGNexus5. In de winkels niet een geschikte gevonden. Moest toch iets van een bescherming voor mijn gsm hebben. Had hem al n keertje laten vallen, maar gelukkig geen beschadigingen. Daarom maar op internet gezocht en stuitte op deze Spigen Slim Armor. De positieve reviews haalde mij over om deze dan maar te bestellen. Paar dagen wachten (moet van ver komen)was de moeite dubbel en dwars waard. Deze case past perfect. Niet erg dat je gsm er wat dikker uitziet, de champagne goldkleur geeft m een chique uitstraling en je telefoon ligt beter in de hand. Stevige bescherming, mooi afgeronde hoeken van stevig rubberGlijdt makkelijk in je broekzak door t gladde materiaal. Kortom deze Spigen maakt verwachting helemaal waar.
Did you find this helpful?
---
H.K. Nienhuys
Utrecht
25th October 2014

Spigen SlimArmor voor Google Nexus 5
Degelijk, maar met een scherp randje
Zeer degelijke bescherming. De hoekpuntjes geven een beetje mee, zodat je de telefoon ook gerust met de hoek op een harde vloer kunt laten vallen. Het buitenoppervlak is glad, zodat de telefoon makkelijk uit de broekzak komt. Al die lagen extra materiaal en metallic look om de telefoon hebben geen merkbare invloed op de radio-ontvangst (met een ander model telefoon en beschermhoes had ik slechte GPS-ontvangst). Toch een nadeel: er zit een scherp randje rond de USB-poort, precies waar ik altijd de telefoon ondersteun met m'n pink als ik hem met een hand vasthoud en bedien.
Did you find this helpful?
---
BartHutsch
Eindhoven
21st July 2014

LG Nexus 5
Een perfect sluitende case!
Deze case is een groot succes! Na enige twijfel heb ik er voorgekozen deze case te bestellen. De reden van mijn twijfel was de behoorlijk prijs. Bij ontvangst bleek de case de prijs echter meer dan waard. Zeer degelijk verpakt heb ik mijn bestelling ontvangen. Om vervolgens te mogen constateren dat dit daadwerkelijk de originele case is. Je komt op internet veel namaak cases van dit merk tegen, dat is deze zeker niet. De case zelf is echt op maat gemaakt voor mijn LG Nexus 5. Zeer goede pasvorm en degelijke bescherming. De telefoon wordt minimaal zwaarder/dikker. Het vormt 1 geheel. Helemaal tevreden! Klein minpunt, zoals ook aangegeven op de site heeft dit product een levertijd van een paar dagen. Dat is net iets minder, de levertijd zoals aangegeven op de pagina klopt echter wel. Dat is een kleine troost.
Did you find this helpful?
---
Sergej
Unknown
19th May 2014

Nexus 5
past als gegoten
net als bij andere telefoon merken passen spigen cases als gegoten perfecte opening voor headphone, usb-port en luidsprekers. De geluid- en aan/uit knop werken perfect en je voelt nog steed de klik als je ze induwt, en niet te vergeten de extra bescherming die het je telefoon biedt.
1 of 1 found this helpful.
Did you find this helpful?
---
ad de kleuver
Unknown
4th May 2014

Nexus 5
Beschermhoes voor Nexus 5
Ik heb de zwarte Spingen besteld. Levering in 4 werkdagen. Goed verpakt. Hoesje past perfect. Goede keuze dus.
Did you find this helpful?
---
Bunyamin Eren
Beringen
18th April 2014

Nexus 5
Beste mogelijke case
Ik heb onlangs een Nexus 5 gekocht, en was al eerder op zoek naar cases. Toen vond ik de Spigen Slim Armor Case, maar was wel wat duur om van Engeland te laten komen. Maar toen vond ik Mobilefun.be, wat dezelfde case ook van Engeland laat komen, €10 goedkoper. De case zelf past heel mooi rond en bij de Nexus 5. Geeft geen enkel probleem en voelt goed aan in de hand. Het kunststof beschermt heel goed de hoeken en het 2e stuk, dat lichtmetaal is, past er perfect op en zorgt voor bescherming tegen rechtstreekse stoten aan de achterzijde. Het materiaal voelt en ziet er heel professioneel uit, alsof het het meest bekend merk is voor smarphonecases. Ook is de rode versie exact dezelfde kleur als mijn rode Nexus 5, heel mooi dus. Zeer tevreden over shipping-tijd, op amper 3 dagen al thuis bezorgd, met een 30 dagen proefperiode. Spigen staat zelf ook bekend voor hun goede customer service, dus ik ben zeer tevreden. Al bij al vind ik dit een zeer goed product, en zou zonder twijfel weer een Spigen product kopen, bij voorkeur via Mobilefun.be. Klinkt misschien fake, maar is het zeker niet. :D
2 of 3 found this helpful.
Did you find this helpful?
---
Ruud
Eindhoven
6th April 2014

Nexus 5
Iets wat aan de grote kant maar verder prima
De case van Spigen past goed bij en om het toestel. Had van tevoren op internet wat rondgekeken en deze leek me wel geschikt en heb tot nu toe nog geen spijt. Je toestel wordt er wel dikker door (dus minder mooi dan zonder, maar ja of het een of het ander). Ik had aanvankelijk de rode case maar die kleur is soort van fluoriserend rood meer tegen het oranje aan. KLopte niet echt met het plaatje op de site. Nu toch maar de zwarte. Bezorgen duurde even, maar verder allemaal prima verlopen.
Did you find this helpful?
---
Jeroen Jacobs
Unknown
24th March 2014

Nexus 5
Beste case voor de Nexus 5
Na lang nadenken toch gekozen voor de Spigen Slim Armor Case. De kleur rood is met recht Bright Red genoemd: erg felrood! Ikzelf vindt dat erg mooi, maar dat is natuurlijk erg persoonlijk. De case sluit naadloos aan op de telefoon en voelt erg solide aan. De Nexus 5 wordt er iets groter van, maar ook dat vind ik eigenlijk wel prettig. De levering van Mobile Fun was snel: maandag besteld, donderdag binnen. Kortom: een zeer goeie koop bij een prettige leverancier.
1 of 3 found this helpful.
Did you find this helpful?
---
Alex
Unknown
24th March 2014

NEXUS 5
TOP
Stevige covercase, ziet er heel strak uit.
Did you find this helpful?
---
Eva
Amstelveen
2nd March 2014

Nexus LG
Redelijk
Ik had de case besteld omdat ik dacht dat deze gelijk zou zijn aan de case mate die ik voor mijn vorige telefoon had. Ze lijken ook op elkaar, zelfde principe, van binnen een zachte hoes en daaroverheen een harde. Dus zelfde bescherming. Echter deze harde hoes is van buiten glad. Terwijl de vorige hoes die ik had door harde puntjes niet glad was en neit uit je handen glijdt (Tough Sony Xperia Z Case van Case-Mate). Dus niet 100% tevreden
0 of 1 found this helpful.
Did you find this helpful?
---
Arnold van de Worp
Wezep
26th February 2014

LG Google Nexus 5
Past perfect
Na enkele weken de Nexus 5 te hebben en nog geen beschermhoesje te hebben ging ik op zoek, er moest iets degelijks komen en na wat te zoeken zag ik de hoesjes van Spigen, eerst leek me de Neo Hybrid wel wat maar de Slim armor leek me later een betere keus door zijn robuuste uitstraling, Na deze op een zaterdag avond te hebben besteld werd deze op de donderdag daar na bezorgd bij mij thuis. na dat de Nexus 5 in zijn jasje werd gestopt werd het geheel wel iets groter maar het is nog wel prettig in de hand vast te houden. Met 25 euro is de Spigen Slim armor niet de goedkoopste maar wel een zeer prettige en een goede bescherming voor mijn toestel.
1 of 3 found this helpful.
Did you find this helpful?
---
Michael
Apeldoorn
17th February 2014

Nexus 5
Beste hoesje ooit
Wat de titel al zegt. Ik zocht een hoesje voor m'n nieuwe telefoon, ik kwam bij deze uit. Heb wat reviews gelezen en mijn beslissing gemaakt. Zoals beloofd was hij er met een paar dagen (inc. weekend). Goed in verpakking en makkelijk om de telefoon te doen. Heel stevig! Pluspunten: goede verpakking, heel stevig, goed om de telefon te plaatsen camera steekt niet uit door het hoesje, je kunt hem dankzij het hoesje ook met het display naar beneden leggen geen minpunten, zegt dus veel. Ik raad hem aan aan iedereen met een Nexus 5.
Did you find this helpful?
---
JJM Spolet
Amsterdam
3rd February 2014

LG Nexus 5
Geweldig product
Makkelijk te plaatsen en zeker een zer goede bescherming voor je mobiel. Mooi ontwerp dus echt een aanrader. Ligt ook lekker in de hand
Did you find this helpful?
---
Roy
Oss
19th January 2014

Google Nexus 5
Prima!
Geweldige case voor de Nexus 5. 1 aanmerking: de aux-kabel in de auto past niet wanneer de case om het toestel zit. Echter passen de aansluitingen van oordopjes en dergelijke wel met de case eromheen.
2 of 3 found this helpful.
Did you find this helpful?
---
Jorrit
Unknown
7th January 2014

LG Nexus 5
Strak design en uitermate goede pasvorm
Strak en mooie case! Design is perfect. Past perfect om de telefoon en de uitsparingen voor knoppen zijn uitstekend! Heb getwijfeld tussen een witte of een gouden maar ben zeer tevreden met de goud kleurige! Het grote voordeel is dat de case genoeg ruimte overlaat voor een screenprotector. Bij vele cases drukt de case, de screenprotector omhoog. Dit is nu niet het geval! Het enige nadeel is dat je telefoon er wel iets grote van wordt, maar nog acceptabel en goed in de hand te houden. Kortom ben zeer tevreden over case!
0 of 1 found this helpful.
Did you find this helpful?