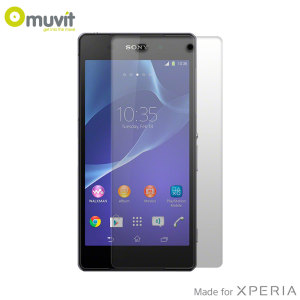 Muvit Tempered Glass Screen Protector for Sony Xperia Z2

Product Reference: 43376
"Easy, Clear & Seamless"
"Happy"
This item is covered by our
Christmas Extended Returns Policy
Write a review
Anonymous
London
18th August 2014

Sony Xperia Z2
Easy, Clear & Seamless
The increased durability first attracted me to purchase this screen protector, but I was very impressed with the added bonuses that came with this particular product: 1. Ease of application: literally glides on and the rigidity makes it very easy to aline to the phone edge. 2. No bubbles!: unlike the flimsy and bendy plastic protector, the more rigid glass protector allowed me to apply without any air bubbles, and I didn't have to scrape the surface endlessly trying to get the air bubbles out either. 3. Seamless finish: It fits so well that you can barely tell you have a protector on it. 4. Clear display: the transparency of the glass meant that it doesn't interfere with the display quality. The only possible negative point is that it picks up finger print marks quite easily, but it comes off easily with the provided cloth. A very satisfied customer indeed.
Did you find this helpful?
---
Roar Eide
Drammen, Norway
4th August 2014

Very satisfied customer
As advertised. Easy to install looks nice and screen is very sensitive. Ordering, shipping and customer service was perfect.
Did you find this helpful?
---
Heike Tichopad
hukl
30th July 2014

sony xperia z2
Happy
Very happy with product I recieved
1 of 1 found this helpful.
Did you find this helpful?
---
Satisfied customer
Limerick
24th July 2014

Satisfied customer
Excellent screen shield makes using touch screen even better and will protect no doubt against scratches, won't scratch itself and doesn't get dirty easily - easy to install in 2 secs - perfect companion of Spigen Sony Xperia Z2 Ultra Hybrid Case - Crystal Clear
Did you find this helpful?
---
Michael. Bentvelzen
Perth, Western Australia
13th June 2014

Great product
Fits great, looks nice. A lot better than those plastic ones.
Did you find this helpful?
---
Anonymous
Queensland
29th May 2014

Glass Screen protector for X2 Sony
Applies to the screen very well, doesn't peel up on the edges or get any bubbles as claimed. I haven't scratched it as yet and I am working as an electrician. Screen is still as sensitive as always. I would highly rate it over the plastic screen protectors.
3 of 3 found this helpful.
Did you find this helpful?