Sorry, but 10-in-1 Silicone Case Pack for Nexus 5 has been discontinued and is no longer available to order. For your convenience we've selected some alternative items that we think you may be interested in.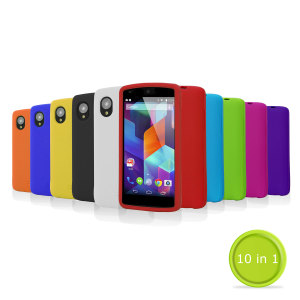 10-in-1 Silicone Case Pack for Nexus 5

Product Reference: 42960
"looks good"
"Nice product "
Write a review
Dennis
Assen
10th September 2014

Nexus 5
Top hoesjes
Het was een leuke aanbieding en had snel hoesjes nodig. Precies zoals ik had gedacht. Siliconen en in 10 kleuren. Leuk om te delen! Van mij hadden de hoesjes wel wat strakker kunnen zitten. Maar ze zitten goed genoeg. Top product!
Did you find this helpful?
---
Guus Frenken
Neer
29th March 2014

LG Nexus 5
Elke dag een andere
Echt een geweldige deal, 10 hoesjes voor slechts 18 euro en ze zijn van hoge kwaliteit. Ik gebruik elke dag een andere kleur en ik heb tot nu toe geen klachten, ze passen goed om mijn LG Nexus 5 en ze komen er niet zomaar vanaf, ik kan de oplaad en audiopoort zonder problemen gebruiken ( bij sommige hoesjes is de uitsparing te klein) en de volume en power knoppen zijn verhoogd zodat je weet waar ze zitten. Aanrader.
Did you find this helpful?