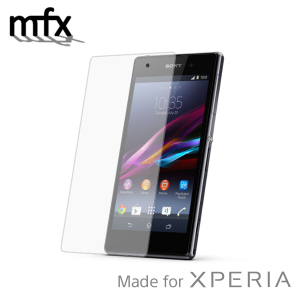 MFX Tempered Glass Screen Protector for Sony Xperia Z1
Product Reference: 42622
"recommended"
"Awesome protection and easy to apply"
This item is covered by our
Christmas Extended Returns Policy
Write a review
Tony Gibson
Southminster
20th October 2014

recommended
The product and installation worked exactly as suggested on the website and does what I need - protect the screen from scratches, etc. Watching the adhesive spread as you gently press the centre of the glass is impressive. Haapy to recommend this item.
Did you find this helpful?
---
Pete
London
28th February 2014

Sone Xperia Z1
Awesome protection and easy to apply
This is an incredibly good screen protector, so much so I am telling my friends to get one. There is one major flaw though. This attracts finger prints like flies to road kill. As soon as you have cleaned the screen, all you have to do is look at it and its got another finger print on it.. I used this outside and it was nearly impossible to see what was on screen though the fingerprints. It actually states on the packaging that this is anti-fingerprint but its probably the worst I have ever witnessed. If the finger print issue wasn't there this would be a 5 star rating without a doubt.
2 of 4 found this helpful.
Did you find this helpful?