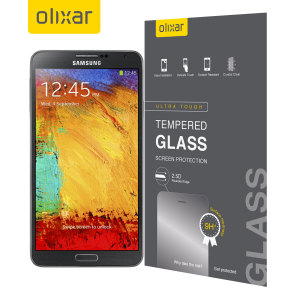 MFX Tempered Glass Screen Protector for Samsung Galaxy Note 3
Product Reference: 42620
"totally complete"
"brilliant - buy it"
This item is covered by our
Christmas Extended Returns Policy
Write a review
Richard Simons
Cheshire
29th November 2014

Screen Protector for Note £
totally complete
You might expect a glass protector merely to be a glass protector but what brought a smile to my face was not just the case in which the kit was carefully presented but the completeness of the kit, with clear instructions, right down to a strip to put on the Home button so as to raise it above the level of the protector. And not only that, but that strip came in both black and white to best suit the body colour. One happy customer here.
Did you find this helpful?
---
Steven M
Unknown
14th October 2014

Quality screen protector
You get what you pay for, and this screen protector does its job well. Doesn't come with detailed instructions, but good videos on youtube can help better than a picture anyway.
Did you find this helpful?
---
Matt
United Kingdom
17th September 2014

Samsung Galaxy Note 3
Great Protector
The protector is great, it fitted first time, so goo I've ordered another one!!
Did you find this helpful?
---
Chris Hawkins
Unknown
12th May 2014

Galaxy Note 3
Fantastic Screen Protector
What can I say, I have used your site on a number of ocassions and always found your service to be excellent along with the products I have ordered, this latest order for the screen protectors was great as well they fit so easily in fact they fit themselves and form a strong bond between the glass. Brilliant item and have already recommended to friends and family, I work with Mobile Phones all day and this is one of the best products I have used.
Did you find this helpful?
---
Anonymous
Southampton
10th May 2014

Samsung Galaxy Note 3
Easy
Really easy installation Good price
Did you find this helpful?
---
Steve Parry
Hagley
10th May 2014

Samsung Galaxy Note 3
Got to have this
Over the years I've bought a number of screen covers and the problems with bubbles can't get them to stick properly etc. I was very sceptical how wrong I was if you have a note 3 you've got to get it no bubbles stuck down 1st time no bubbles it's been the easiest cover I've ever bought fact.
Did you find this helpful?
---
Ray Fenton-Storey
Reading
8th May 2014

Samsung note 3
Perfect
No fuss no hassle just do what they say. Product exactly as They said. Best screen saver ever had will be ordering from them again for my galaxy S4 active. Can't tell it's on the phone. In a word BRILLIANT
Did you find this helpful?
---
Anton
Scunthorpe
11th March 2014

Note 3
best screen saver ever
Really easy to apply no bubbles and great clarity.I would imagine this would last far longer than the normal screen savers almost permanent.There is no change to the screen sensitivity . I would thoroughly recommend this product.
Did you find this helpful?
---
Anonymous
Unknown
13th February 2014

brilliant - buy it
first screen protector I have managed to fit without getting bubbles and dust under it. No change to the sensitivity of touch screen or to visibility of screen. Appears more substantial and protective than usual screen savers. Recommended
1 of 2 found this helpful.
Did you find this helpful?