Sorry, but Speck CandyShell Grip for Nokia Lumia 1020 - Yellow has been discontinued and is no longer available to order. For your convenience we've selected some alternative items that we think you may be interested in.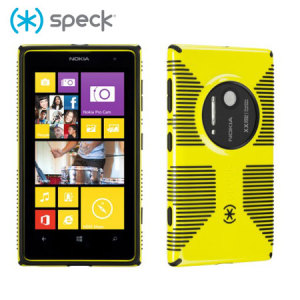 Speck CandyShell Grip for Nokia Lumia 1020 - Yellow

Product Reference: 42382
"vedy good but!"
"Great Protection & Looks Great Too"
Write a review
d w
Kinross
15th June 2015

yellow nokia candyshell o ef
vedy good but!
Great co er love colour as you don't leave it lying. Buttons work too. Worried they wouldn't through thick cover. Unfortunately now doesn't fit car holder!
Did you find this helpful?
---
Anonymous
Unknown
7th April 2015

Great
The Nokia 1020 is very susceptible to have problems with the focus when it falls. This Speck Candyshell Grip gives good protection without being bulky.
Did you find this helpful?
---
Trevor
London
8th January 2015

Lumia 1020
Excellent
Moved away from a leather flip case to this and have to say it is really nice.fits perfectly and still offers protection to the camera and display as it has slightly raised ridges. Getting lots of notice with the yellow color but great product. Best case so far
Did you find this helpful?
---
Lorenzo
Unknown
30th November 2014

Positiva
Custodia di eccellente qualità, composta in due materiali che la rendono comoda nell'uso e molto bella esteticamente.
Did you find this helpful?
---
Mark Crush
St Andrews
16th August 2014

Nokia Lumia 1020
Entitely fit for purpose!
Is it fit for purpose. Looks are secondary and quite honestly not important, but I have to know that I get what I need and that it is good value. A suitable, honest review helps. This case meets my needs entirely, but also looks goods. It is a snug fit and does not let the phone surfaces touch on either side if is placed on a desk etc.
Did you find this helpful?
---
Smeyers Thys
Belgium
29th July 2014

Nokia 1020
Great service
I had a case ordered via this website and I had it within 3 days in the mail, but make it open the case was stolen in the mail, I called customer service and explained my story which they send a second case without a problem which arrived okay, I want to thank the customer service for the exelente aftersales services, the case is perfectly tailored and protects nokia very good
0 of 1 found this helpful.
Did you find this helpful?
---
Stella
Cambridge
22nd July 2014

Nokia Lumia 1020
Perfect case
This was one of the many protectors I have bought to protect my phone. The case keeps my phone yellow, with added cool design lines which are rubber grips. Fits perfectly and I feel my phone is safe on all surfaces.
0 of 1 found this helpful.
Did you find this helpful?
---
Andy
Unknown
13th July 2014

Nokia 1020
Best phone case I've ever owned.
I've never come across a phone case that fits this well. All the buttons align up perfectly and work every time. It also makes the phone much easier to handle thanks to the rubber grips that are moulded just right. The space around the data connector and the headphone jack are large enough to plug even the largest of after market connectors. I would defiantly recommend this to anyone with a Nokia 1020. No more dropping it either due to Nokias slippery phone material. Awesome case...
0 of 1 found this helpful.
Did you find this helpful?
---
Anonymous
Unknown
27th June 2014

Nokia Lumia 1020
Perfect for what I wanted
This item is just what I needed. The colour is brilliant and it is such an easy to hold case. The no slip grips make it so secure to hold with one hand, It was delivered early the next day as promised although it wasn't ordered until late afternoon. Thank you.
Did you find this helpful?
---
Iain Miller
Fife, Scotland
14th June 2014

Lumia 1020
Great
Very good case, exactly as described. It makes the phone easier to hold and I'm sure it will protect it from a fall. Very happy that I bought it, though I do wish it had been cheaper £27 is a bit much for a case.
Did you find this helpful?
---
Jo
London
7th June 2014

Nokia Lumia 1020
Great case, an improvement to the phone
I love my new Nokia Lumia 1020... But I felt a little disappointed at the range of cases available. However this Speck case was all that I wanted! I have the yellow phone and the case complimented it perfectly. It's a snug case but I know that the phone is completely safe in there and incredibly well protected. I'm very glad I bought this.
Did you find this helpful?
---
Kasey
Fareham
29th May 2014

Nokia Lumia 1020
Tough and tactile
I needed a case for my new phone and decided to try this as it complemented the yellow phone. It fits easily arounf the phone, with cutouts in all the right places and rubber covers for the 3 main buttons. The thickness provides extra protection for the large camera lens especially if you are a bit careless and drop it. The chunkiness of the cover makes the phone less likely to slip due to the rubber details on the side and back. This also makes it stick a bit getting it into or out of a pocket of bag. I'm happy to live with that to have a stylish protector for my phone. Might get another one in White just to vary the look of the phone. I'd recommend it other Lumia owners as it provides the protection the camera (I mean phone) really needs.
Did you find this helpful?
---
michael Keegan
mayo
21st May 2014

Michael Keegan
Excellent cover very secure fit which does the job
0 of 1 found this helpful.
Did you find this helpful?
---
Andrew Hepburn
Airdrie
2nd May 2014

Nokia 1020
Nice Case
This is an excellent case for the Nokia 1020. Looks fantastic and goes well with the yellow phone. Like the rubber grips on it, won't go flying as the phone is very slippy by itself. Perfect fit but it is not easy to get back off so make sure you put your sim card in first.
Did you find this helpful?
---
Kevin Thiele
Darwin
2nd May 2014

Speck Case for Nokia Lumia 1020
This is a great product - expensive - but worth it for the shock absorption, hand grip and stays in your pocket when bending. Worth every penny!
Did you find this helpful?
---
Jason
Derbyshire UK
25th March 2014

Nokia Lumia 1020
Great Protection & Looks Great Too
Having Purchased The Nokia Lumia 1020 New the next thing i decided i needed was a case to help keep it in new condition as long as possible. Rather than going for my usual choice of a tpu rubber type sleeve protection i did a little searching and found a review of the "Speck CandyShell Grip" for the Nokia Lumia 1020 on WP-central it looked great and immediately decided i wanted the yellow version for my black lumia 1020 which will effectively turn it into a Bold yellow & black lumia 1020 :) The shell itself is constructed in 2 type materials being a hard gloss plastic outer layer(i chose the yellow color) and having a black soft rubber type inner layer which your phone sits up against. The outer of the shell also has some of the soft black rubber thats on the inside ,it having thin raised strips along the back and sides which give excellent grip, Same material is also form a raised edge around the whole front of the phone which is great as if your putting your phone face down on a flat surface the screen wont actually touch the surface, The Case also has inbuilt buttons made of same soft rubber type material rather than cutouts to directly access camera/power/volume these buttons work very well, Case does have the required cutouts for your microUsb ,Headphones ,lanyard ,microphone hole and a mesh of holes for the loudspeaker. Best thing i like about this case is its look ,next is the grip it gives to a otherwise to smooth feel phone ,and of course its got the impact protection i hope it never needs. No doubt if you dropped your unprotected lumia 1020 onto hard surface without this case on you'd damage either the screen back or corners, sure this case offers minimal screen protection apart from if it was falling face down onto a very flat surface, However it surely will protect the body of the phone from scratches and knocks,those knocks to corners would be really noticeable without some protection like this. In my opinion the Bad points 1: its Pricey but i guess like most things you do get what you pay for. 2: its a really snug fit and can be difficult to remove if are a person who likes to switch cases often 3: like all but nokia the shells it doesn't support QI Wireless charging (somebody design & make a shell like this one with the QI Wireless charging inbuilt and i will buy one :-). Would i recommend the "Speck CandyShell Grip" for the Nokia Lumia 1020? yes most definitely ,its made my phone look great and not slippery ,and if i happen to drop it if it doesn't fall screen down im confident no visible damage will occur.
2 of 3 found this helpful.
Did you find this helpful?
---
Kerin
Adelaide, South Australia
24th March 2014

Speck Candyshell Grip for Nokia Lumia 1020
Rugged, bright, unique case for my fantastic Nokia Lumia 1020 that fits like a glove - awesome!
2 of 2 found this helpful.
Did you find this helpful?