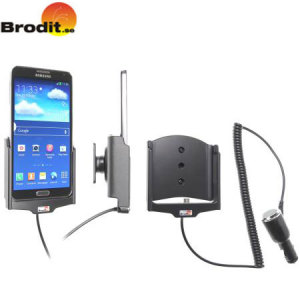 Brodit Active Holder with Tilt Swivel for Galaxy Note 3

Product Reference: 42033
This item is covered by our
Christmas Extended Returns Policy
Write a review
Keith Moran
Dublin Ireland
23rd September 2014

Perfect for my needs
I have been looking for a proper phone holder/kit for so long now, I have had so many variations which were all rubbish and ended up in the bin with other sticky things that don't work. This cradle works, mount it in the correct area for the driver and we are back to the good old days of proper phone car-kits. I PROMISE!
Did you find this helpful?
---
Steve
Melbourne
18th June 2014

Cradle for note 3
The device itself is quite expensive, therefore I had very high expectations of it. However I was quite disappointed to discover that the cradle does NOT come with a mounting of any type. It took a search of the makers site to realize that there are different mounts for different cars. This increased to total cost to almost $AUD200. Very expensive. But still cheaper then a fine
2 of 2 found this helpful.
Did you find this helpful?
---
Anonymous
Unknown
29th May 2014

Spitzenhalter für jeden Autotyp
Es wird nicht zu viel versprochen, mit dem beiliegendem Werkzeug lässt sich der aktive KFZ-Handyhalter kinderleicht am Fahrzeug befestigen, ohne es zu beschädigen. Der Halter sitzt bombenfest, und das Handy gleitet absolut pass genau in den Halter. Kein Wackeln mehr, optimaler Blickwinkel, individuell einstellbar. Sicher, nicht ganz billig, aber wer sein hochwertiges Handy optimal am Fahrzeug befestigen möchte ist mit diesem Halter besten bedient.
0 of 1 found this helpful.
Did you find this helpful?