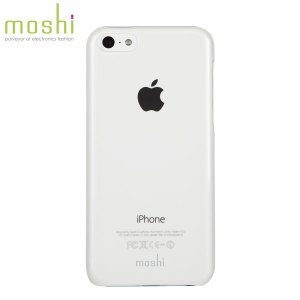 Moshi iGlaze XT iPhone 5C Case - Clear

Product Reference: 41886
Also available:
This item is covered by our
Christmas Extended Returns Policy
Write a review
Allan
Gosford
3rd April 2014

Moshi Case for iPhone 5c
Lured by the quality of the Moshi screen protector the iPhone 5c case is a great disappointment. Slippery and difficult to hold, buttons not covered , in spite of the cost quickly replaced with another brand.
Did you find this helpful?
---
Anonymous
Unknown
22nd June 2012

iPhone 4S
Stylish and functional
Great colour with a smooth, silky feel to the back of the case. The case fits perfectly and allows full use of all the features while providing protection - I have dropped my phone and it's fine. Had lots of compliments. All round great buy for anyone who loves a bit of purple.
Did you find this helpful?
---
Anonymous
Unknown
5th March 2012

Perfect
Fitted the iPhone 4s perfectly. Slim fitting and sHows off the phone whilst protecting it from bumps and scratches.
Did you find this helpful?
---
Mark
Wolverhampton
14th December 2011

White phone, black case?? What??
I managed to avoid the long queues and get myself a white iPhone 4s, but wanted a white case and could only get a black one. Why have a white phone then have a black case??? Exactly!! So while making phone calls no one new I had a white, show off I hear you shout!! Ordered a white moshi case and it's brilliant. Looks stylish and classy. Fits the phone perfectly. And next day delivery was amazing!!! Love this case and love to show it off!!! IT'S A MUST HAVE FOR ANYONE WITH A WHITE IPHONE!!!
1 of 1 found this helpful.
Did you find this helpful?
---
alan Whysall
United Kingdom
27th November 2011

Great clear case solution.
I had a switcheasy nude initially on my white 4S, which was OK, but just that little bit too much bulk. This case is better made and is slimmer, and fits perfectly, and very snug. It will not help your phone from the toughest situations but if you take care of your iphone, this case is perfect to maintain the look and feel of a 'naked' iphone.
Did you find this helpful?