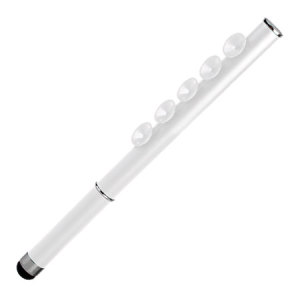 Sucker Stylus Pen - White

Product Reference: 41848
Also available:
This item is covered by our
Christmas Extended Returns Policy
Write a review
Edward J HendrieI
London
16th September 2014

I 'phone 4
Good
From ordering the pen to delivery was great. Didn't really need the Biro but am not quibbling about it, I thought the suction part was great when ordering as it would save me one big problem regarding losing the pens, but unfortunately the suckers do not stick to my 'phone. The first time I used it I was in a queue and trod on something, when I looked down to see, I found it was my pen?!! Maybe I was the sucker?!!
Did you find this helpful?
---
Mrs Katharine Richardson
United Kingdom
22nd April 2014

Sony Xperia z phone and tablet
at last a stylus that won't be easerly lost.
My new stylus came this morning and I must say that it is really good, I will be able to keep the stylus on my tablet when I am not using it because it has wonderful suckers five in total hat will prevent the stylus from being lost or mislaid.
Did you find this helpful?