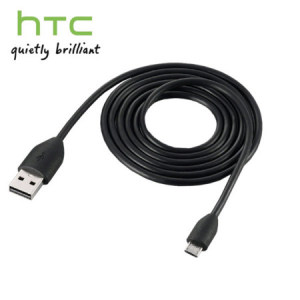 HTC DC M600 Micro USB Sync & Charge Cable

Product Reference: 41801
This item is covered by our
Christmas Extended Returns Policy
Write a review
Prateek Das
india
13th June 2014

Original HTC Accessory
its an original HTC cable, but doesn't come in a display pack like any other 3rd party cables. It comes in just a plastic pouch without the brand name or any descriptions. At first I was a little curious to know whether it was indeed a genuine HTC cable or not... and after a close inspection I figured it was probably original (though I'm no expert on this). But rest assured, this cable feels premium and high on quality. And a pretty good bargain compared to other micro USB cables available here.
Did you find this helpful?
---
Colin
Preston
11th April 2014

HTC One X+
Great customer service
This was an item that at the time no one had in stock, not even MobileFun. But I decided to try the 'notify me when the item is in stock' service. The email came, I ordered immediately, the cable arrived promptly and it was exactly what I expected - an original manufacturers item in factory packaging. So a great item and great customer service. Who was it who said "...I'll be back"?
Did you find this helpful?