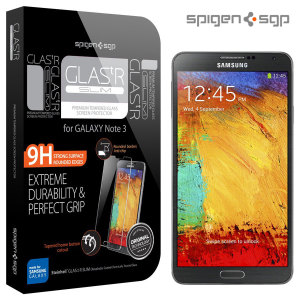 Spigen GLAS.tR SLIM Tempered Glass Screen Protector for Galaxy Note 3

Product Reference: 41345
"Protect your screen - It's worth it!"
"Clarity and Strengh !!!"
This item is covered by our
Christmas Extended Returns Policy
Write a review
Tom Gardner
HARROW
19th November 2014

Protect your screen - It's worth it!
Bought this again for my Note 3's insurance replacement. Spent much time researching screen protectors for my first Note 3. This came out best. Goes on easy - Just search how to do the hinge method(and do it in the shower! Steam equals NO dust).
Did you find this helpful?
---
Sood
Leicester
19th October 2014

Note 3
good, but expensive screen protector
follow the usual recommendations apply in steamed room like bathroom (has less dust)etc. It was one of my easier applications and fitted well - its thicker than the tech21 screen protector i had in previous phone, and feels smooth to the touch - finger and stylus works well. Very impressed. I use it in conjunction with a case to provide better protection. Only cons, the jellybean button may not be up to everyone's taste, and this is a little on the expensive side. Would I buy it again? Hmmm maybe if they drop the price - the tech21 is half the price, but then i do like the look and feel of this glass one.
Did you find this helpful?
---
Judy Sutton
Tasmania
25th July 2014

Glass Screen Protector
I love glass! Anything glass catches my eye. I was astounded when I saw a glass screen protector for my beloved Note 3. Awesome. The weight and sturdiness of the glass screen protector will impress you. But why move to glass?. With swipe actions non glass protectors develop use marks that will not clear and so compromise screen clarity. Glass on the other hand cleans readily and remains clear and clean for life if protected against anything harsh like being dropped or scratched. True it is costly but then you only get what you pay for in this life! Try a glass screen protector - you will be pleasantly surprised.
Did you find this helpful?
---
Sebastian Patrascanu
România
14th July 2014

Samsung Galaxy Note 3
Very good !
I am very pleased. I mounted easily, but be careful to dust. It seems clear, in no way does it compare to a film screen. I highly recommend
1 of 1 found this helpful.
Did you find this helpful?
---
Alan Davies
Southampton
26th April 2014

07827930408
Excellent
Cannot fault this screen. Perfect solution. My only advice to customers is apply like your attempting heart surgery...Be slow, careful and very clean. It's slightly sticky as you would expect so dust and hair can get itself caught up. Put it on with plenty of time to prepare and apply.
1 of 1 found this helpful.
Did you find this helpful?
---
Tom Gardner
Harrow
13th January 2014

Samsung Galaxy Note 3
Ultimate Screen Protection
Always put a screen protector on my phone when it's brand new. Just before hitting the shops, googled which was best. Found out there's now glass rather than just flimsy plastic available. This was the best on the market. All reviews were glowing. Feel my phone is in very safe hands inbetween this and an Otterbox Commuter. Sleeping easy now!
1 of 1 found this helpful.
Did you find this helpful?
---
Malle71
Vantaa
12th January 2014

Spigen GLAS.tR SLIM Tempered Glass Screen Protector for Galaxy Note 3
Definitely the best protective film on the market!! Product a bit pricey, but I recommend unreservedly!
Did you find this helpful?
---
John
Surrey
7th January 2014

Galaxy Note 3
A first class product so far
Fitting glass screen on device much easier than flexible films I've used on previous phones, but great care still needed to avoid the odd dust particle becoming trapped. When fitted it is virtually invisible thanks to chamfered edges and it doesn't interfere with finger tip or with s-pen operations. Scratch and crack free so far after 10 days, so no bulky case needed.
Did you find this helpful?
---
Mitch
Newcastle,Aust
30th November 2013

Great product
I was a bit worried spending $40+ on a Screen protector, but with the Note 3 having such a large screen and knowing that I would be using the stylus quite a bit, I took a chance. Not disappointed. It arrived in a box worthy of the money spent , with all the bits need for a successful installation. I had the protector perfectly installed within minutes, not a bubble or bit of fluf in sight. I have found the protector a better surface to use then the original screen and with no reduction of the screen's touch responce. Being a Technican that works in all kinds of environments l was looking for a product that offered maximum protection without loosing any of the phones functions. This product has exceeded my expectations.
4 of 5 found this helpful.
Did you find this helpful?
---
Rahul Pathak
Ludhiana
29th October 2013

Best Premium Screen Protector
I'm thankful to the Ppl of Mobile fun who introduced the premium accessories for mobiles.Spigen Shatterproof Glass Screen Protector is the best u can get for one's mobile.U get the maximum clarity which is impossible with any other sticker.scratches are impossible too.really love it.have purchased one for my Note 3 as well as my iphone5 s.so easy to apply too.really hardcore protection with Hd clarity.
3 of 3 found this helpful.
Did you find this helpful?
---
Samsung Fan
Scotland
28th October 2013

Samaung Galaxy Note 3
Clarity and Strengh !!!
OMG/WOW/FAB!!!. This product may seem a little on the expensive side, but in reality, (i have ordered packs of 2 screen protectors in the past of various makes and qualities), the first being the tester that goes the bin the second the final final chance to line it up and apply it properly. They serve a purpose for some months and they are thrown away. This Spigen product is truly first class, and simplicity to apply!, superb quality, the fact it is a glass product makes it so easily applicable too!!!.( because it is rigid !!). It enhances your devices screen and is virtually impossible to detect. Highest possible recommendation from someone who likes to preserve the appearance of their smartphones. It most definately IS!!!, worth the investment. Maybe not the cheapest product or price!, but Mobile Fun. take the stress out of buying products on-line, and delivering them when they say they will, at a reasonable cost. I have never had reason to question their standards of customer service, that in itself means they deserve my repeat custom. Great job Mobile Fun, my thanks and well done. How do you do it!!!!
9 of 10 found this helpful.
Did you find this helpful?