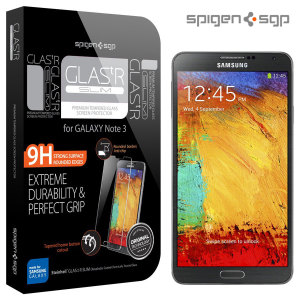 Spigen GLAS.tR SLIM Tempered Glass Screen Protector for Galaxy Note 3

Product Reference: 41345
"Protect your screen - It's worth it!"
"Clarity and Strengh !!!"
This item is covered by our
Christmas Extended Returns Policy
Write a review
sam
amsterdam
22nd April 2014

samsung note 3
Spigen glass
Voor mijn note 3 spigen glass besteld dit om krassen te voorkomen. Kan niet anders zeggen perfect voor behoud van je gsm. Wel aanbrengen op je gsm in de badkamer en de douche laten lopen, dit zorgt er namelijk voor dat er geen stof etc. er tussen kan komen.
Did you find this helpful?
---
Erwin
Turnhout
10th March 2014

Galaxy Note 3
Spigen Glas voor Galaxy Note 3
Heb al enkele keren de gewone schermbescherming gebruikt op m'n Note 3, maar die geven telkens problemen met onderliggende bubbels en kleine stofdeeltjes. Zelfs het allerkleinste stofdeeltje zie je als je pech hebt. Na online onderzoek te doen (vooral youtube) is m'n keuze gevallen op de Spigen SGP Tempered glas screenprotector, door de algemeen goede revieuws. Het glas is echt een pak dikker dan de gewone beschermfolies, maar heeft afgeschuinde randen wat prettig aanvoelt. Het glas op je telefoon kleven is echt poepsimpel en veel beter te richten dan de andere beschermfolies. Een kleine luchtbel gaat zelfs vanzelf weg en een grotere heb ik niet gehad. De pen van m'n Note 3 werkt perfect op dit glas en de punt van de pen schuift ook soepel over de bescherming, wat ik bij een andere beschermfolie niet had. Bij een andere beschermfolie had ik echt het gevoel dat de S-Pen stroever aanvoelde. Qua lichtintensiteit en kleur van het scherm moet je helemaal niets inboeten, de kleuren en het licht zijn net hetzelfde. Een echt top product.
Did you find this helpful?
---
Willem
adam
14th February 2014

note3
goed product
Werkt goed maar moeilijk met het doekje pluis vrij te krijgen toen ik het plakkertje van het glas haalde toch kleine pluisje eronder pffff voor de rest een top veiligheid scherm maar goed opletten als je hem plakt!! Ik heb hem wel gemakkelijk er weer eraf kunnen halen er op nieuw terug geplakt(om de grote pluisje eraf te halen).
Did you find this helpful?
---
Dennis
Zutphen
16th January 2014

Samsung Galaxy Note 3 N9005
Prima product en service
Ik heb het product 3 dagen na verzending gelijk binnen gekregen (verzonden vanuit Engeland). Dit was sneller dan ik had verwacht. Het product werkt uitstekend. De installatie was snel en gemakkelijk, zonder bubbels tussen het scherm en de screen protector. Ik merk geen verschil in gevoeligheid van de touchscreen. De screen protector ziet er prima uit op de Note 3, en de ronde buitenrand voelt geweldig! Al met al ben ik zeer tevreden met mijn aankoop. Ik heb hem nog maar sinds kort dus ik kan niet al te veel over de kwaliteit zeggen, maar het glas geeft me een veilig gevoel over mijn telefoon.
Did you find this helpful?
---
damian van Amersfoort
Hilversum
5th January 2014

Samsung galaxy note 3
glazen screen protector
Beste protector ooit. Geen bubbels en niet moeilijk. Zit er mooi uit en hover met de s - pen blijft werken ondanks de wat dikkere screen protector
Did you find this helpful?
---
Eric Smit
Heerhugowaard
21st October 2013

Samsung Galaxy Note3
Super !!!
Ik heb deze screenprotector gekocht voor mijn nieuwe Samsung Note3, dit was de eerste keer dat ik een screenprotector ging gebruiken. Dus ik was een beetje huiverig voor de montage procedure, maar dat viel echt 100% mee. Na een paar revies te hebben bekeken op Youtube ben ik aan de slag gegaan, en het resultaat is echt super (geen luchtbelletje). Ook doet de Oleophobic Coating zijn werk zeer goed tegen vinger vlekken, wat mij betreft een echte aanrader deze screenprotector....
3 of 3 found this helpful.
Did you find this helpful?