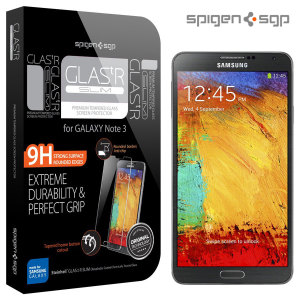 Spigen GLAS.tR SLIM Tempered Glass Screen Protector for Galaxy Note 3

Product Reference: 41345
"Protect your screen - It's worth it!"
"Clarity and Strengh !!!"
This item is covered by our
Christmas Extended Returns Policy
Write a review
Julien
Belgique
6th July 2014

Galaxy Note 3
Avis mitigé
Bien : Qualité du produit, clarté de la vitre, glisse douce et vraiment confortable. À savoir, le stylet ne perd aucune de ses propriétés (Précision, force induite dans la mine, les fonctions lorsque le stylet ne touche pas l'écran) Pas bien : le prix. Et.. la pose, directement liée au prix. Vous savez à quel point il est difficile de poser une protection sans dépôt de poussière. Et bien, évitez de vous louper... Il faut ruser (ventilateur, pièce humide, salle d'opération,...) Sinon, c'est tout de même 35 euros à la poubelle. Est-ce que ça les vaut par rapport à une bonne protection d'écran à 10 euros ? Non, encore une fois, je reviens sur le risque de la pose sans poussières...
1 of 1 found this helpful.
Did you find this helpful?
---
Dim
Unknown
17th April 2014

Très bonne qualité
Produit de très bonne qualité, rien à voir avec une protection en plastique classique. Elle est super facile à nettoyer, rien n'accroche dessus. À 30e, la pose fait peur, faut pas se louper surtout avec une unique chance, et il faut pas avoir la tremblote ! Mais pas de problèmes pour ma part, 2 micros bulles, vraiment pas grand chose. Je ne regrette pas mon achat, je recommande.
Did you find this helpful?
---
Moreau
limelette
13th March 2014

Note 3
Facile à mettre
Facile à mettre et le tactile fonctionne toujours aussi bien, très bon produit.
Did you find this helpful?
---
Romano
mulhouse
28th February 2014

Galaxy note 3
Simple et efficace
Acheté en même temps qu'une coque Spigen Neo Hybrid, les deux se montent parfaitement. Je l'ai posé juste après avoir enlevé la protection d'écran qui est sur le portable en sortie de boite donc aucune poussière. 2 ou 3 petites bulles sont restées juste après la pose mais seule 1 est restée depuis. Très efficace contre les micro-rayures et les traces de doigts (sauf après avoir mangé des frites bien sûr...). Le produit respire la qualité donc je recommande vivement.
Did you find this helpful?
---
Franck
Unknown
17th February 2014

Note 3
Très bien
Super qualité ! Enchanté de cet achat.
Did you find this helpful?
---
Anonymous
Unknown
6th February 2014

Première fois
La protection Spigen est la 1ère que j'installe, malgré avoir suivi le manuel, il reste une ou deux bulles d'air (minuscules). Pour la solidité, on verra ! (passe parfaitement avec une coque Neo Hybrid).
Did you find this helpful?
---
Christophe C
Unknown
22nd January 2014

Samsung Galaxy Note 3
Bien mais cher
La surface n'interfère pas avec l'utilisation du téléphone ; on voit bien l'écran et les fonctionnalités tactiles sont préservées. Dans mon cas, elle cache même les micro-rayures que j'avais infligées à mon écran auparavant. Points négatifs : 1) elle est quand même épaisse. On la sent quand on veut se servir du bouton Home, par exemple. 2) malgré tout mon soin, une petite poussière s'est glissée entre la protection et l'écran au dernier moment, formant une petite bulle qui ne part pas. Heureusement, celle-ci est invisible 95% du temps. 3) il y avait 2 microrayures (2mm de long chacune) sur le produit neuf. Pas gênant, mais j'attendais la perfection. 4) le prix... Au final, je pense que je pencherais pour la Glas.t pour mon prochain achat (moins chère, plus fine). Je ne l'ai cependant pas encore essayée.
Did you find this helpful?
---
verzele
mouscron
9th January 2014

samsung note 3
Superbe
Je le recommande vraiment ! Satisfait du produit.
Did you find this helpful?
---
Medy
Paris
6th January 2014

galaxy Note 3
Bon produit
Produit conforme à l'attente. Très resistant pour les micro-rayures, bien plus que les protections à dix balles qui font des bulles et qui se déchirent à cause des ongles trop grands. Pas compliqué à installer. Pour être parfait, j'aurai aimé avoir la possibilité de l'enlever afin de pouvoir le replacer mieux que ça.
0 of 1 found this helpful.
Did you find this helpful?
---
GAUDIN
SAINT HERBLAIN
5th January 2014

galaxy note 3
Toujours parfait
Après en avoir mis sur mes précédents iPhone (3Gs, 4S), j'ai installé une protection en verre sur le galaxy note 3 de mon épouse. Aucun soucis de bulle, toucher parfait. Les bords arrondis sont plus agréables que les bords droits des premières versions. C'est cher mais ça reste moins cher que de faire remplacer la vitre de nos smartphones. Mon épouse utilise une protection à rabat officielle SAMSUNG qui allume le téléphone lorsque l'on ouvre le rabat (comme les protections apple de l'ipad). Le système fonctionne toujours aussi bien avec la protection GlassT.
Did you find this helpful?
---
seb
noé
28th December 2013

galaxy note 3
Satisfait
Très bon produit. Totalement satisfait.
0 of 1 found this helpful.
Did you find this helpful?
---
sollazzo
sausset les pins
24th December 2013

Perfection
Produit génial comme si il n y avait rien. Glisse mieux que sur le vrai verre. Super content de mon achat. Top top top !
Did you find this helpful?
---
kaze
toulouse
21st December 2013

note 3
Excellent produit
L'emballage du produit est un peu too much, mais le produit en lui-même est de très bonne qualité ! Très résistant, en un mot, fiable ! Je recommande !
Did you find this helpful?
---
b
Unknown
19th December 2013

Parfait
Très intéressant comme je l'ai imaginé, je pense acheter une deuxième.
Did you find this helpful?
---
Yann-06300
Nice
27th November 2013

Samsung Galaxy Note 3
Certainement la meilleure protection sur le marché
Je ne souhaitais pas utiliser de protection d'écran type film plastique pour ne pas opacifier l'écran ou perdre en retour tactile. En cherchant une coque pour mon nouveau Galaxy Note 3, j'ai découvert la marque Spigen qui produit aussi le GLAS.tR. Après avoir lu de nombreux articles très positifs et vu des vidéos de "torture-test" sur YouTube, j'ai été convaincu par sa solidité et son utilité et ai acheté le GLAS.tR. Je l'ai posé, après une douche, dans la salle de bain embuée pour éviter les poussières. Il restait quelques petites bulles d'air qui sont parties seules durant la nuit. La glisse est plus lisse qu'avec l'écran original, la transparence est cristaline, le retour tactile est inchangé et un aller-retour sur le pantalon ou le t-shirt suffit à nettoyer le GLAS.tR. La découpe arrondie des tranches est un plus indéniable en sensation et aussi car l'épaisseur fait légèrement dépasser le GLAS.tR des bords du Note 3. Une fois posé, le GLAS.tR est quasiment invisible car ultra intégré au téléphone. C'est pour moi un très bon achat dont je suis entièrement satisfait. Je le recommande à ceux qui veulent une vraie protection de l'écran de leur téléphone.
6 of 8 found this helpful.
Did you find this helpful?