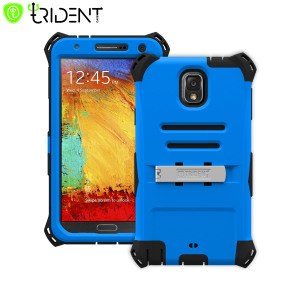 Trident Kraken AMS Case for Samsung Galaxy Note 3 - Blue
Part No: AMS-SAM-GNOTE3-BLU
Product Reference: 40613
Write a review
Eug.M
Unknown
17th April 2014

galaxy note 3
Top
Die beste Outdoor Hülle auf dem Markt für das Note 3. Sehr gut verarbeitet. Habe die Otterbox Defender auch gehabt und die ist im Vergleich um einigem besser verarbeitet. Einzig Kritikpunkt ist der eingebauter Screen Protector. Da hat man ab und zu den Regenbogeneffekt. Dafür gibt es den Punktabzug. An Empfindlichkeit ändert sich aber nix. Bildqualität ist auch sehr gut. Der ist aber bei Otterbox nicht besser.. Probably the best outdoor cover on the market. I had the otterbox defender too and the kraken build quality is a bit better. The only disadvantage of this cover is the in built screen protector. One sometimes gets the rainbow effect. Thus i shall deduct a point. The picture quality and screen sensitivity are hardly unafected. At least i don't notice it. The otterbox screen protector isn't better anyway..
Did you find this helpful?
---
Sebastian
Eisenhüttenstadt
13th April 2014

Note 3
Hinweis
Die Schutzhülle ist sehr gut aber das Bändchen hatte gefehlt.
Did you find this helpful?
---
Chris
Regensburg/Bayern
14th January 2014

Galaxy Note.3
Einfach Super
Kauf hat sich gelohnt. Sieht wirklich toll aus. Das Handy ist griffiger, liegt besser in der Hand. Das Case ist auch durch die innenliegende Gummischale, die mit den vorderen Rahmen (inkl. Schutzscheibe) verbunden ist, besser durch Spritzwasser geschützt.
Did you find this helpful?
---
dinu
petershausen
16th December 2013

samsung note 3
handy
Alles bestens gerne wieder super wahre
Did you find this helpful?