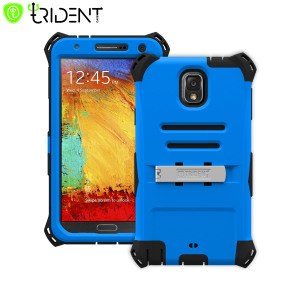 Trident Kraken AMS Case for Samsung Galaxy Note 3 - Blue
Part No: AMS-SAM-GNOTE3-BLU
Product Reference: 40613
Write a review
Anonymous
Unknown
17th April 2014

Kraken case
Trident AMS case for Note 3 arrived swiftly and silently. The good things: strong and tough; the extra screen protector works well on top of my own stick one. I would NOT recommend using the screen protector alone, however, as any dust or grit that gets under it may scratch the original screen. All the buttons work and the Note 3 is no longer in danger of snapping in two. The bad things: very heavy; the belt clip is too flimsy to hold the Note 3 outside of a pack, pouch or pocket while hiking. You wouldn't notice if the phone went AWOL somewhere on the track. Ditto for the little windscreen attachment, which I did not order because it is reputed to break easily. However, my universal Samsung windscreen holder has rubber clamps, and while not 100% secure, is just wide enough to wedge in the Note 3 and case. Warning here: do not open the drivers window if you stick the holder on the windscreen on that side, because if the phone falls off, it won't break, but it could bounce on something and fly swiftly and silently out the window. May not survive interrogation by car tyres.
1 of 1 found this helpful.
Did you find this helpful?
---
Anonymous
Huddersfield
6th February 2014

note 3
Best protection for note 3
Fits perfectly well designed would recommend this product all day long.
1 of 1 found this helpful.
Did you find this helpful?
---
Tudor
Unknown
28th December 2013

Note 3
Perfect case !
I buy this case for Note 3.This case give very good protection for my smartphone . Screen protector it is transparent ( the image is not affected , natural colors). The case is very resistant to shock. The corners of the housing are made of rubber. This case has a very good grip when held in the hand. The phone's dimensions are slightly larger with this case but not exeagerate. Can operate with one hand. Has built-in dust filter against the speaker. audio connector and the power supply are covered to prevent entrance of dirt when not in use,The audio quality is not affected. This case has the accessory belt . Recommend this case ! ;)
51 of 52 found this helpful.
Did you find this helpful?
---
cpair
Oklahoma
18th December 2013

Trident protection
I have to say that i love this and saw exactly why people love these cases because it really is worth protecting your investment. I would recommend this case to any who has a galaxy note 3
4 of 4 found this helpful.
Did you find this helpful?
---
ameen
Unknown
14th December 2013

samsung galaxy note 3
just what I needed
Its a state of the art protection for my phone.
3 of 3 found this helpful.
Did you find this helpful?