Most Useful Customer Reviews
jill dowling
west midlands
samsung galaxy s5
16th March 2015
ideal replacement
purchased the triple pack to leave a spare at work, home etc - works well, good price, job done :-)
---
Steve
Swansea
Sony Xperia N2
19th October 2014
Excellent Value
Bought the pack of three. Excellent value as Micro-USB cables are being used for most cellphones & tablets now.They are 1m long and work well charging and when used for data. Worth while purchase and speedy delivery especially as they were out of stock when I ordered!
Read 7 customer reviews
|
Write a review
---
Description
USB cable to connect your MicroUSB compatible mobile phone to your PC and synchronise your data. To be used as a complement to your data communication and synchronisation software.
The Universal microUSB data cable is compatible with a wide range of handsets for charging and data transfer. Can also be used with our USB Car Charger Adapter or our USB Mains Charger Adapter to charge your handset anywhere.
Where your device supports charging via a computer's USB port, this cable will be able to charge the device. This includes mobile phones, Bluetooth headsets, GPS receivers and any other micro USB device.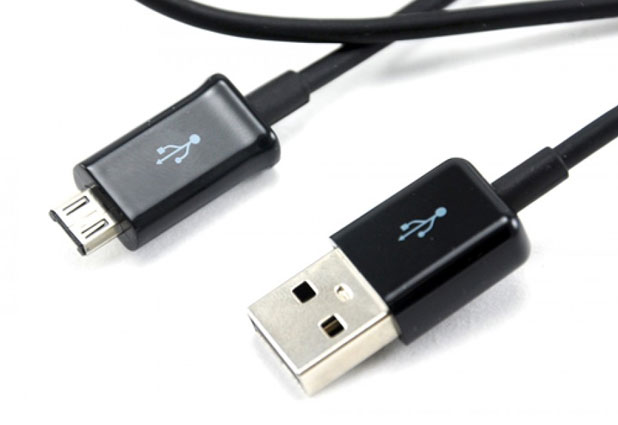 Key Features:
USB 2.0 for faster transfer speeds of 480Mb/s.
Compatible with all popular data suites.
Charges where supported from any USB port.
Can be used with USB ports on all devices; charge your phone from your Xbox, Sony PlayStation or Nintendo Wii for example.
Charge more than just phones, works for all compatible micro USB devices such as Bluetooth headsets, GPS receivers and MP3 players.
Length: 1m
Acer: Iconia, Liquid Jade Z, Liquid M220, Liquid X2, Liquid Zest, Liquid Zest Plus
Alcatel: A3, A5 LED, Fierce XL, Idol 4, Idol 4S, Idol Alpha, One Touch Hero 2C, OneTouch Idol 3 4.7 inch, OneTouch Idol 3 5.5 inch, OT 223, OT 565, OT 710, Pixi 4 5, Pop 4, Pop 4 Plus, Pop 4S, U3
Amazon: Fire, Fire 7, Fire 7 2017, Fire HD 10, Fire HD 8, Fire HD 8 2017, Kindle Fire HD 8 9, Fire Kids Edition, Kindle, Kindle 6 Inch 2015, Kindle DX, Kindle Fire, Kindle Fire 7, Kindle Fire HD 2012, Kindle Fire HD 2013, Kindle Fire HD 7, Kindle Fire HDX, Kindle Fire HDX 8.9, Kindle International , Kindle Keyboard, Kindle Oasis, Kindle Paperwhite, Kindle Touch
Archos: 40 Power, 50 Diamond, 50 Graphite, 55 Helium, 55 Helium 4 Seasons, 55 Helium Ultra
Asus: EEE Pad Transformer, EEE Pad Transformer Prime, Live, Zenfone 2, Zenfone 2 Deluxe, Zenfone Max, ZenFone Zoom, ZenPad 7.0 Z370CG, ZenPad C 7.0, ZenPad C 7.0 Z170MG, ZenPad S 8.0 Z580C, ZenPad S 8.0 Z580CA
Barnes & Noble: Nook 7
BlackBerry: Aurora, DTEK50, Leap, Passport Silver Edition, Priv, Q5, Storm 9530, Vienna, Z20
Blackberry: Playbook
BQ: Aquaris M10, Aquaris X5
Bush: Eluma
Coolpad: Torino S
Coship: Moly X1
Dell: Venue, Venue 8 7000, Venue Pro
Doro: Liberto 810, Liberto 820, Liberto 820 Mini, Liberto 825
EE: Harrier, Harrier Mini, Harrier Tab, Rook
Google: Chromebook Pixel 2015, Nexus 10, Nexus 5 2013, Nexus 6, Nexus 7 2, Nexus 7 2012, Nexus 7 2013, Nexus S
HP: Steam 7
HTC: 7 Pro, Butterfly 3, ChaCha, Desire 10 Lifestyle, Desire 10 Pro, Desire 320, Desire 526, Desire 530, Desire 612, Desire 620, Desire 626, Desire 630, Desire 650, Desire 728, Desire 825, Desire 826, Desire 828, Desire 830, First, Flyer, Gratia, HD7, HD7S, Mozart, One A9, One A9s, One E9, One E9 Plus, One M8s, One M9, One M9 Plus, One ME, One Mini, One Remix, One S9, One X10, One X9, Salsa, Trophy
Huawei: Ascend G6 4G, Ascend G610, Ascend G7, Blaze, C199, G8, Honor 3C, Honor 4X, Honor 5X, Honor 6 Plus, Honor 6C, Honor 6S, Honor 7, Honor 7 Premium, Honor Holly, Mate 8, Mate 9 Lite, Mate S, MediaPad T1 8.0, MediaPad X1, MediaPad X2, P10 Lite, P8, P8 Lite, P8 Lite 2017, P8 Max, P9 Lite, Raven LTE, Union LTE, Vision, Y3, Y5, Y5II, Y6, Y6 II, Y635
JCB: Pro Talk TP851, Sitemaster TP802, Tradesman TP121
Kazam: Trooper 240
Kyocera: DuraForce PRO, Hydro AIR, Hydro VIEW
Lenovo: A10, A7000, K4 Note, K80, Lemon 3, Miix 300, P2, P90, Phab 2 Pro, Tab 2 A10, Tab 2 A8, Vibe k5, Vibe Shot, X2 Pro
LG: Class, Cookie Style, Enact, Escape 2, Escape 3, Exalt 2, F60, G Flex 2, G Pad 8.3, G Pad II 10.1, G Stylo, G Vista, G Vista 2, G3, G3 Beat, G3 S, G4, G4 Stylus, G4c, GD900 Crystal, GT400 Viewty Smile, GT505, GW520, Jil Sander, Joy, K10, K10 2017, K3 2017, K4, K5, K7, K8, K8 2017, Lancet, Leon, Lucid 3, Magna, Optimus 2X, Optimus 3D, Optimus 3D Max, Optimus 4X HD, Optimus 7, Optimus 7Q, Optimus Black, Optimus L3, Optimus 5L, Optimus L7, Optimus Me, Optimus Pad, Ray, Spirit, Spree, Stylo 2, Stylo 2 Plus, Stylus 2, Stylus 3, T310 Wink Style, Town C300, Tribute 2, Tribute 5, Tribute HD, V10, Viewty GT, Volt, X Cam, X Power, X Screen, X Venture, Zero
MacBook: Air 13, Pro 15, Pro Retina 15
Microsoft: Lumia 1330, Lumia 430, Lumia 435, Lumia 532, Lumia 540, Lumia 550, Lumia 640, Lumia 640 XL, Lumia 650, Lumia 850, Surface 3, Surface Book, Surface Pro 4
Motorola: Atrix, Atrix HD, Backflip, DEFY Mini, DEFY Plus, DEFY Plus JCB Edition, DEXT, Droid Maxx 2, Droid Mini, Droid RAZR Maxx, DROID Turbo, Droid Turbo 2, ES400, FIRE XT, Flipout, Gleam, Gleam Plus, Milestone, Milestone 2, Moto C, Moto C Plus, Moto E 2nd Gen, Moto E 3rd Gen, Moto E3, Moto E4, Moto E4 Plus, Moto G 3rd Gen, Moto G 4G 2015, Moto G Turbo Edition, Moto G4, Moto G4 Play, Moto G4 Plus, Moto G5, Moto G5 Plus, Moto X Force, Moto X Play, Moto X Pure Edition, Moto X Style, MOTOLUXE, PRO, PRO PLUS, Q9, Quench, RAZR, RAZR2 V8, RAZR2 V9, ROKR E8, Wilder, XOOM, XOOM 2, XOOM 2 Media Edition, XT316, XT720
Nokia: 100, 101, 215, 230, 301, 3310 (2017), 3720 Classic, 500, 5330 Mobile TV Edition, 6, 600, 6210 Navigator, 6220 Classic, 6500 Classic, 6555, 6600 Slide, 6600i Slide, 6710 Navigator, 6720 Classic, 6730 Classic, 6760 Slide, 700, 701, 7900 Prism, 808 PureView, 8600 Luna, 8800 Arte, 8800 Diamond Arte, Asha 201, Asha 202, Asha 203, Asha 300, Asha 302, Asha 303, C1 01, C1 02, C2, C2 01, C2 02, C2 03, C2 05, C3, C3 01 Touch and Type, C3 01.5, C5, C5 03, C6, C6 01, C7, E5, E63, E66, E7, E70, Lumia 2520, Lumia 525, Lumia 530, Lumia 610, Lumia 710, Lumia 800, Lumia 900, Lumia 920, N78, N8, N82, N85, N86 8MP, N9, N900, N96, N97, N97 mini, Nokia 3, Nokia 5, Oro, X1 00, X1 01, X2, X2 01, X3, X3 02 Touch And Type, X5 01, X6, X7
OnePlus: X
Orange: Boston, Lisbon, Rio, Rio II, San Francisco, Sydney
Samsung: B3410, B5722, B7620 Giorgio Armani , B7722, Beam I8520, Blue Earth, C3300 Libre, C3350 Solid X Cover, C3630, C5510, C6112, Chat 222, Chat 322, Chat 335, Diva Diamond, E2100, E2330, E2370, Flutter, Galaxy 3 I5800, Galaxy 550, Galaxy 551, Galaxy A3 2015, Galaxy A3 2016, Galaxy A5 2015, Galaxy A5 2016, Galaxy A7, Galaxy A7 2015, Galaxy A8, Galaxy A9, Galaxy Ace 2, Galaxy Ace 3 3G, Galaxy Ace Plus, Galaxy Ace, Galaxy Alpha, Galaxy Amp 2, Galaxy Amp Prime, Galaxy Apollo i5801, Galaxy Avant, Galaxy Beam, Galaxy Core 4G, Galaxy Core Prime, Galaxy E5, Galaxy E7, Galaxy Europa I5500, Galaxy Express Prime, Galaxy Extreme, Galaxy Fit S5670, Galaxy Folder 2, Galaxy Gio S5660, Galaxy Grand Prime, Galaxy J Max, Galaxy J1, Galaxy J1 2015, Galaxy J1 Ace 4G, Galaxy J1 Mini, Galaxy J2, Galaxy J2 2015, Galaxy J3, Galaxy J3 2017, Galaxy J3 Pro, Galaxy J3 V, Galaxy J5, Galaxy J5 2015, Galaxy J5 2016, Galaxy J5 2017, Galaxy J5 Prime, Galaxy J7, Galaxy J7 2015, Galaxy J7 2017, Galaxy J7 Prime, Galaxy Lite, Galaxy M Pro, Galaxy Mega 5.8, Galaxy Mega 6.3, Galaxy Mini 2, Galaxy Mini S5570, Galaxy Nexus, Galaxy Note, Galaxy Note 3, Galaxy Note 4, Galaxy Note 5, Galaxy On5, Galaxy On7, Galaxy Portal, Galaxy Pro, Galaxy S Advance, Galaxy S I9000, Galaxy S Plus I9001, Galaxy S2 LTE, Galaxy S4, Galaxy S4 Active, Galaxy S4 Mini, Galaxy S4 Zoom, Galaxy S5, Galaxy S5 Mini, Galaxy S6, Galaxy S6 Active, Galaxy S6 Edge, Galaxy S6 Edge Plus, Galaxy S7, Galaxy S7 Active, Galaxy Tab 2 7.0, Galaxy Tab 3 10.1, Galaxy Tab 3 7.0, Galaxy Tab 3 8.0, Galaxy Tab 7 Plus, Galaxy Tab 7.7, Galaxy Tab A 10.1 2016, Galaxy Tab A 7.0, Galaxy Tab A 8.0, Galaxy Tab A 9.7, Galaxy Tab E 9.6, Galaxy Tab S2 8.0, Galaxy Tab S2 9.7, Galaxy Teos, Galaxy View, Galaxy Xcover, Galaxy Xcover 3, Galaxy Xcover 4, Galaxy Y, Galaxy Y Pro, Genio Qwerty, Glamour S5150, Google Nexus S, H1, i5500 Corby, i5500 Galaxy 5, i5700 Galaxy Portal, i8510 INNOV8, I8520 Halo, I9003 Galaxy SL, I9010 Galaxy S Giorgio Armani, Jet S8000, Jet Ultra Edition, Knox, Lindy M5650, Lucido, M2310, M2510, M3310, M7500 Emporio Armani, M7600 Beat DJ, Miss Player, Monte Bar C3200, Monte S5620, Naos, Omnia 7, Omnia HD i8910, Omnia II I8000, Omnia Lite, Omnia PRO 4 B7350, Omnia Pro B7610, Omnia W, Pixon12, Player 5, Player Mini, Player Star 2, S3370, S5150 Diva Folder, S5260 Star II, S5530, S5560, S5750, S6700, S8300 Ultra Touch, Shark 2 S5550 , Shark 3 S3550, Shark S5350 , Solid Immerse, Teos, Tocco Icon, Tocco Ultra Edition, Wave 2 Pro S5330, Wave 2 S5250, Wave 3, Wave 525, Wave 533, Wave 575, Wave 723, Wave II S8530, Wave M, Wave S8500, Wave Y, Z1
Sharp: Aquos Crystal, Aquos Crystal 2
Sonim: XP2 Spirit
Sony: Tablet S, Xperia A4, Xperia C4, Xperia C5 Ultra, Xperia E4, Xperia E4g, Xperia E5, Xperia L, Xperia L1, Xperia M, Xperia M Dual, Xperia M4 Aqua, Xperia M5, Xperia S Tablet, Xperia SP, Xperia T, Xperia TX, Xperia X, Xperia X Performance, Xperia XA, Xperia XA Ultra, Xperia Z Tablet, Xperia Z2, Xperia Z2 Tablet, Xperia Z3, Xperia Z3 Compact, Xperia Z3+, Xperia Z4, Xperia Z4 Tablet, Xperia Z4 Ultra, Xperia Z5, Xperia Z5 Compact, Xperia Z5 Premium, Xperia ZR
Sony Ericsson: Aspen, Cedar, Hazel, Mix Walkman, Spiro, Vivaz, Vivaz Pro, W8, XPERIA Mini, XPERIA Mini Pro, XPERIA X10 Mini, XPERIA X10 Mini Pro, Xperia X2, XPERIA X8, Yendo
Tesco: Hudl
VAIO: Phone Biz
Vodafone: 351, 360 H1, 360 M1, 455, 550, 553, 845, 945, M1, Smart 4 Turbo, Smart 858, Smart first 6, Smart N8, Smart Platinum 7, Smart Prime 6, Smart Prime 7, Smart Speed 6, Smart Ultra 6, Smart Ultra 7, Tab prime 6
Wiko: Bloom 2, Cink Slim, Cink Slim 2, Fever 4G, Fever SE, Freddy, Highway Pure 4G, highway Star 4G, Jerry, Lenny 2, Lenny 3, Night Fever, Pulp 4G, Pulp Fab 4G, Rainbow Jam, Rainbow Jam 4G, Rainbow Lite 4G, Rainbow UP, Rainbow UP 4G, Ridge 4G, Ridge Fab 4G, Robby, Selfy 4G, Silde 2, Slide, Sunny, Sunset 2, Tommy, U Feel, U Feel Lite
Wileyfox: Spark, Spark Plus, Spark X, Storm, Swift
Xiaomi: Mi 4i, Mi Note, RedMi 2, Redmi 3, Redmi 3S, Redmi Note 3, Redmi Note Prime
YU: Yutopia
ZTE: Avid Plus, Axon Lux, Axon Pro, Blade A430, Blade D6, Blade L2, Blade S6, Blade S6 Plus, Blade S7, Blade V7, Blade V7 Lite, Blade V8 Lite, Blade V8 Mini, Grand X Max+, Kis 3, Martin II, Nubia Prague S, Nubia Z9, Obsidian, Salem, Sonata 3, Warp 7, Zmax 2, ZTE Blade Q Mini