Most Useful Customer Reviews
Richard Mallett
Kent
ZTE WF710M 3G dongle
14th November 2015
Great item - fantastic performance
This antenna is now in my loft, running a 3G dongle from my wireless router (Draytek 2860n). Why? Well because our telephone cable is lying mangled in the farmers field next door and no doubt will until Openreach get round to fixing it. (Telephone cables and tractor hedge-trimming attachments don't get on well by the way.) Whilst this item came with a very handy strap-on radio pick-up device (giving a nice 9dB improvement), the electronics engineer in me decide to solder the wired connection directly to the small antenna points within the dongle and I now have a fantastic 16dB improvement! Very pleased to get a reliable connection again!
---
22nd February 2012
excellent item
very good piece of equipment im using it on a 3 mobile network and my signal strength has doubled
---
Read 19 customer reviews
|
Write a review
---
Description

This 3G Directional Antenna is perfect for getting better connection strength in areas of limited 3G signal. Simply connecting this directional antenna and pointing it at your nearest mobile phone mast can significantly improve both connection speeds and stability. With both a desk mount and wall mount coming as standard, this antenna can either become a permanent fixture or travel wherever you go.
As these 3G antennas are directional they will need to be adjusted to point in the right direction but once pointed they offer unparalleled 3G transfer speeds and signal strength.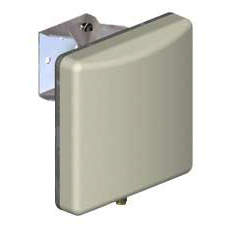 Features:.
Directional - The antenna needs to point in the direction of the network transmitter.
Wall & Desk mountable - The antenna can be mounted on a desk or wall for fixed use, although can be used anywhere.
Wall fixings and 1.2 metres of cable included.
Enhances 3G signal strength (not GPRS)

Technical Specification
Dimensions (mm) 93 x 93 x 25
Gain : 9dBi (Very High Gain
Cable Length (m) 1.2
Connector: Universal
Frequencies 1900-2170Mhz

Connector
This antenna comes fitted with a universal adapter ready for use with your USB Modem.

Connecting The Antenna:
This antenna comes complete with a 1.2 metre cable included. 3 metre extension cables and 5 metre extension cables are also available. The antenna sits on your modem and is held in place with a velcro strap.
Mounting The Antenna:
A desktop stand is provided to enable the antenna to be used as a standalone unit. Also included is a wall fixing plate for a more permanent installation. The Antenna can also be secured to a mast.

Important Signal Information:
This antenna is designed to help improve the signal received by your Dongle or Data Card. It is important to note though, that the signal strength is down to the network providing your service, and that in areas of poor coverage attaching an external antenna may not give any noticeable improvement in signal reception. Please check with your network operator for details of their coverage: