Most Useful Customer Reviews
7th December 2010
Goes Like A Greyhound!
I use my dongle with a full-size PC brought about by Talk-Talk`s inability to run a service so was interested in this product to boost my T-Mobile signal. After fairly simple assembly signal was much stronger, I found you have to press until you hear a click to properly engage plug and like they say it does what it says on the tin. I`m spoiled for antanna`s having one in Norbury and another in Crystal Palace so direction is placed between the two but the long and short of it is it works well!
---
31st August 2010
It really works
Although I am in clear site of the 3 mast only 2km away, my signal was poor at around 20%. I tried the clip antenna but this actually made the signal worse for some strange reason. Changing to the High Gain antenna saw the signal strength go up to 47% and I was downloading at 5Mb at all times. By accident the antenna fell over onto its side - the signal then increased to 63% and my download speed is now 6Mb most of the time. It appears the 3 signal is polarised and the high gain antenna is obviously better left on its side! I now have a stable super fast (for Ireland) broadband service with ping of 43ms, download of 6+Mb and upload around 1.2Mb with a 25GB per month allowance - brilliant. Eat your heart out Eircom.
Read 4 customer reviews
|
Write a review
---
Why Buy?
---
Description

This 3G Directional Antenna is perfect for getting better connection strength in areas of limited 3G signal. Simply connecting this directional antenna and pointing it at your nearest mobile phone mast can significantly improve both connection speeds and stability. With both a desk mount and wall mount coming as standard, this antenna can either become a permanent fixture or travel wherever you go.
As these 3G antennas are directional they will need to be adjusted to point in the right direction but once pointed they offer unparalleled 3G transfer speeds and signal strength.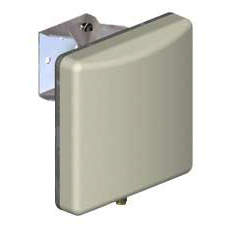 Features:.
Directional - The antenna needs to point in the direction of the network transmitter.
Wall & Desk mountable - The antenna can be mounted on a desk or wall for fixed use, although can be used anywhere.
Wall fixings and 1.2 metres of cable included.
Enhances 3G signal strength (not GPRS)

Antenna Comparison
| | | | |
| --- | --- | --- | --- |
| | | | |
| Signal Increase | upto 2 dBi | upto 9 dBi | upto 11 dBi |
| Cable Length | 0.5m | 1.2m | 5m |
| Portable | | | |
| Wall Mountable | | | |
| Weatherproof | | | |
Technical Specification
Dimensions (mm) 93 x 93 x 25
Gain : 9dBi (Very High Gain
Cable Length (m) 1.2
Connector CRC9
Frequencies 1900-2170Mhz

Connector
This antenna comes fitted with a CRC9 ready for use with your USB Modem.

Connecting The Antenna:
This antenna comes complete with a 1.2 metre cable included. 3 metre extension cables and 5 metre extension cables are also available. The antenna will plug directly into your data card /USB modem without any additional products needing to be purchased.
Mounting The Antenna:
A desktop stand is provided to enable the antenna to be used as a standalone unit. Also included is a wall fixing plate for a more permanent installation. The Antenna can also be secured to a mast.

Important Signal Information:
This antenna is designed to help improve the signal received by your Dongle or Data Card. It is important to note though, that the signal strength is down to the network providing your service, and that in areas of poor coverage attaching an external antenna may not give any noticeable improvement in signal reception. Please check with your network operator for details of their coverage: