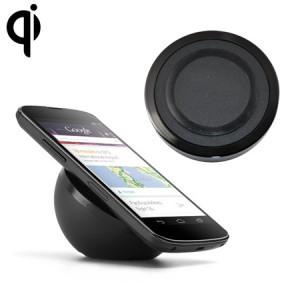 QI Wireless Charging Orb - Black

Product Reference: 39839
"Simple & effective."
"Brilliant"
Also available:
This item is covered by our
Christmas Extended Returns Policy
Write a review
DC
London
28th October 2014

Samsung Galaxy S5
Recommended
Have been using it for a while and can recommend it. I haven't gone to any specifics of measuring how long it takes to charge versus a regular wired charger, but it certainly suits my needs. Uses a regular charging cable, which is also useful. It's a little tricky if you want to use your phone while it's on the charger, but that doesn't really matter as the beauty of wireless charging is you just pick the phone up, do what you need to do, then just put the phone back down without needing to fiddle around with cables.
Did you find this helpful?
---
Nicolás
Unknown
11th August 2014

Samsung galaxy S5
perfecto
Es ideal para la oficina, lo puedes dejar en la mesa en una posición perfecta, la carga es suficiente.
Did you find this helpful?
---
Kit Byatt
Hereford
9th July 2014

Samsung Galaxy S5
Simple & effective.
Having just installed a wireless charger in my phone, I am setting up systems to work with it. This unit is perfect for my desk at work - it's at the right angle to see easily by my laptop, although it is difficult to swipe the fingerprint sensor to unlock the screen when the bottom edge is on, or just above, the desk. However with power going in whilst on the stand, I would just leave the screen on. It's neat and unobtrusive but weighs enough (140g - about as much as a full pot of youghurt) to be very stable. It has a non-slip ring on the top surface to prevent the phone slipping - it works fine, even with my phone's silicon case. The charger works off both mains and USB output (charger & USB cable supplied, but see below). I checked it charging via USB from my laptop. The phone started at 90% and took ~40mins to reach 100%, i.e. charging at about 1% every 4 mins (I graphed it and it was pretty linear through this range). N.B. I had set the display to stay on throughout; presumably it would have been quicker with the display off, but I wanted to check that the charge power was enough to keep it on AND charging. It was! Summary: It's not the cheapest stand or charger, but it's stylish, unobtrusive, simple and effective.
1 of 1 found this helpful.
Did you find this helpful?
---
Catherine Bursell
Essex
26th June 2014

Nexus 5
Brilliant
Brilliant - charges through my case - just make sure you place the phone in the centre & the light turns green. Great value.
Did you find this helpful?
---
Paul
Fort Wayne, IN
28th April 2014

Takes a little getting used too.
It works as described, but it's angle can make the phone difficult to use if it's vibrating, it tends to slide off the charger.
1 of 1 found this helpful.
Did you find this helpful?
---
Pigil
Tours
26th December 2013

Chargeur induction Nexus 4
Bon produit.
Quoique considéré comme gadget, ce chargeur correspond à la publicité qui en est faite. Design élégant avec le mobile posé en position incliné, ce qui permet de le manipuler sans l'avoir en main. Fonctionnement parfait avec son arrêt de fin de charge visualisé par LED.
1 of 2 found this helpful.
Did you find this helpful?
---
Anonymous
Unknown
26th December 2013

La charge est longue
Fonctionne mais la charge est longue et le nexus 5 ne tient pas dessus (il glisse) Pour ceux que ça gêne, la nuit les leds de charge éclairent assez fort sur le coté du chargeur.
4 of 6 found this helpful.
Did you find this helpful?
---
Renau
nice
16th December 2013

nexus5
Chargeur sans fil : Ok
Génial, plus besoin de se battre avec la prise murale et le micro USB enfoncé à l'envers. Juste à poser et ça charge. L'inclinaison permet de voir qu'il faut se réveiller quand ça sonne ou peu également servir d'horloge ou cadre photo selon paramétrage. Pour le négatif, un décalage d'un petit centimètre peut empêcher la charge et provoquer une déception au petit matin.
Did you find this helpful?
---
Rechberger Boris
Beaumont
30th November 2013

Iphone 5S et Galaxy 4S
Compatibilité
Attention, ne fonctionne pas avec une coque autre que celle d'origine !
2 of 2 found this helpful.
Did you find this helpful?