Sorry, but Mugen Samsung Galaxy S4 Extended Battery (5500mAh) - Black has been discontinued and is no longer available to order. For your convenience we've selected some alternative items that we think you may be interested in.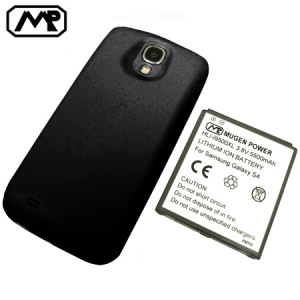 Mugen Samsung Galaxy S4 Extended Battery (5500mAh) - Black
Product Reference: 39658
"Useful Power"
"Worthwhile replacement battery"
Write a review
Mike Williams
Ross-on-Wye
8th March 2016

Samsung Galaxy S4
Useful Power
The old Galaxy S4 battery was beginning to show its age and after some research for a replacement I came across this item. My phone gets a lot of outdoor use for mapping and GPS work through Geocaching etc and this often is needed all day. The old battery could no longer support this useage - enter the Mugen battery. I've had it about three weeks and it is now giving me up to three days power (depending on useage) between charges. A day's Geocaching is nothing for this battery and I still have more than a days charge left. 30% power left will still see me through the day. I would certainly recommend this battery pack and I have found the increased size and weight of the phone no problem at all. In fact it is a small price to pay for the benefit it has given me. I was also able to buy the unit at a very attractive price - thank you for that and for the good service all round.
1 of 1 found this helpful.
Did you find this helpful?
---
Gym Bunny
Glasgow
15th January 2016

Samsung Galaxy S4
Worthwhile replacement battery
I bought this extended battery to replace my original S4 battery which was approaching 2 years old and perhaps suffering some decline in capacity since new. Portable battery packs are all very well but using my phone with an OTG cable in the gym means I am dependant on just the battery. With my old battery I could only manage about 90 minutes from 100% to below 10% (screen on constantly running an app, connected through OTG, streaming radio through WiFi to Bluetooth earbuds & receiving heart rate data from a BTLE chest belt to a different app). Longer workouts had to be tech free. With this battery in place I no longer need to make sure I am bang on 100% before I start a workout. I am so confident in the capacity of this battery that I started this mornings workout (90 minutes as above) at a frankly reckless 82% battery. Having finished & arrived at work I am still at 59% The larger back supplied to accommodate the battery does make the phone about 2.5 times as thick and noticeably heavier but I still find it comfortable to hold.
Did you find this helpful?
---
Pawel
oxon
15th January 2016

galaxy s4 9506
much tinner than expected
my galaxy relay s4 extended was much ticker than this one. i guess i would prefer bigger one. on the plus side it fits well in belt pouch biggest size avaiable freely on ebay. as for battery, holds about 2 day charge of moderate use. as exptected. coulld potentialy squeze third day as about 30% im using now, but i prefer to stay on a safe side. no any abnormal heating observed. didnt test nfc as never needed to so far. mugen quality. mugen power. mobilefun price ;) positivly surprised here. not only they are rare now, but even got in a good price. shame i didnt know about this site before when i got my battery off directly from mugen. battery cover fits well, alto in one place it can stil out a bit, could be i didnt close it properly. texture is fine alto i prefered the relay ones, as this one is more sparkly and little more slippery. still better grip than original one which under certain conditions gonna be real pain.
Did you find this helpful?
---
fintan richmond
aldershot
28th November 2013

SGS4
Really Good Battery kit!
I really love this item and it keeps my battery going forever! I would recommend this item to anyone who is looking for a battery to last!
Did you find this helpful?
---
Anonymous
Unknown
16th October 2013

Servies
I'm very happy about service and very good discribstion about item
3 of 5 found this helpful.
Did you find this helpful?