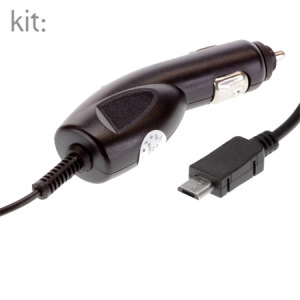 Kit: Micro USB In-Car Charger for Tablets 2.1A
Product Reference: 39605
"Excellent for using with Sat Nav App"
"Great charger"
This item is covered by our
Christmas Extended Returns Policy
Write a review
Anonymous
Hertfordshire
15th October 2014

Samsung Fame
Excellent for using with Sat Nav App
This product provides enough power to run a Sat Nav App on the phone and has enough power to charge the phone up as well. The coiled cord cable means the cable never gets tangled up although the cable is a little short if you want your phone on the top of the dashboard, it would probably work well with a phone holder that clips into the air vents. The charger unit also fits snuggly into the car power supply socket and doesn't move about and disconnect the supply like some charger I have tried
Did you find this helpful?
---
Matt
Stoke on Trent
5th May 2014

S5
Great charger
This is a great charger. Its high output means it charges the phone very quickly even when using the phone as a sat nav (most car chargers struggle to charge whilst sat nav is being used). Charges fully from virtually empty in less than 2 hours.
Did you find this helpful?
---
Jon Armstrong
Unknown
1st March 2014

Nexus 4
I can now use my smartphone sat nav to get home!
With the sat nav on my smartphone seriously draining the battery so much that it could not be used to get back home, I needed a way to charge it up. Having seen the comments from some other items I was considering on this site I realised I needed a 2.1 Amp version rather than the standard 1 Amp versions and this product fits the bill. I do find it a bit difficult to put into my car power outlet (you really have to press it down hard) but it is a really useful device and now I can still use my sat nav to get back home again!
1 of 1 found this helpful.
Did you find this helpful?