Sorry, but InvisibleSHIELD Protector HD for Samsung Galaxy S4 has been discontinued and is no longer available to order. For your convenience we've selected some alternative items that we think you may be interested in.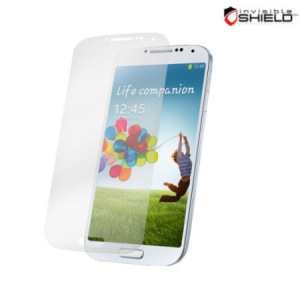 InvisibleSHIELD Protector HD for Samsung Galaxy S4
Product Reference: 39551
"Spot on!"
"Good Protection"
Write a review
JP
Paris
5th March 2014

Samsung Galaxy S4 i9505
La meilleure
Je recommande une nouvelle protection écran pour mon S4... Car j'ai brisé mon écran en vacances (chute sur la tranche). Mais il est resté parfaitement fonctionnel grâce à l'invisibleshield, aucun morceau ne s'est envolé avec visibilité parfaite. La version HD est très lisse au toucher, on croirait vraiment toucher l'écran. Habitué de la marque pour tous mes téléphones, la pub n'est pas exagérée, le film est vraiment ultra résistant aux rayures (j'ai essayé d'en retailler un l'an dernier. Malgré mes ciseaux, je n'ai pas pu faire de coupe précise car trop résistant aux déchirures, c'est génial). Sans hésitation, prenez le, peu salissant, facilement nettoyable et ne s'abîme pas dans le temps.
Did you find this helpful?
---
Docced
Unknown
20th October 2013

Très bon produit
Utilisateur de Zagg pour la plupart de mes telephones ; je confirme la qualité des produits ; protection top pour ce S4 (testée en poche avec clefs et ustensiles contondants), les impacts sur l'ecran marquent la protection, puis disparaissent. Très satisfait de cet achat ! Cette version HD n'altère pas la qualité de l'ecran ni le toucher ! À conseiller !
1 of 1 found this helpful.
Did you find this helpful?
---
wil
Unknown
19th August 2013

parfait
très bonne protection, facile a posée grâce au spray, la protection ne gène en rien l'utilisation du téléphone et elle vaut son prix contrairement a ce que l'on peut trouver en bas de gamme qui a toujours plein de poussières ou de bulles après le montage et qui ce raye rapidement.
2 of 3 found this helpful.
Did you find this helpful?