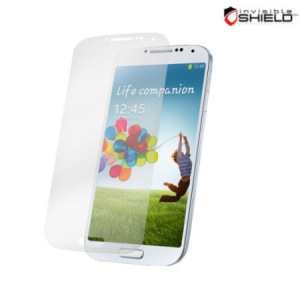 InvisibleSHIELD Protector HD for Samsung Galaxy S4
Product Reference: 39551
"Spot on!"
"Good Protection"
This item is covered by our
Christmas Extended Returns Policy
Write a review
Farrukh Adeel
Unknown
6th November 2014

Samsung Galaxy S4
Good Protection
I was using zagg standard screen protector for last 3 years on 2 products on phone and tab only cleaning the screen is big problem is really hard to keep the screen clear with wipes and lint free cloths and the same problem with this one. Protection is no doubt really good as I use my phone rough. I recommend Spigen Galaxy S4 Screen Protector GLAS.t SLIM Premium Tempered Glass is better then zagg easy to clean screen.
Did you find this helpful?
---
Paul
Narberth
23rd November 2013

Samsung Galaxy S4
Spot on!
I upgraded my phone from a S2 to a S4 and I had used the Invisable shield before and it was exceptional! I had the phone for 2 years and the screen looked like new (bar for one nick!). I immediately opted for the same type for my new S4. Application was a doddle and my screen looks like there is nothing on it! Phone use is not hampered at all and swiping is a breeze. I HIGHLY recommend this screen protector.
1 of 1 found this helpful.
Did you find this helpful?