Sorry, but Mugen Samsung Galaxy S4 Extended Battery 2750mAh has been discontinued and is no longer available to order. For your convenience we've selected some alternative items that we think you may be interested in.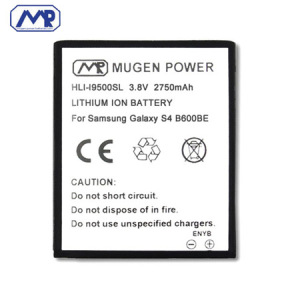 Mugen Samsung Galaxy S4 Extended Battery 2750mAh
Product Reference: 39412
"Great Battery."
"Brilliant Service !"
Write a review
Barry Younge
Methwold
16th December 2014

Samsung Galaxy s4
Would recommend it
No need to charge battery every couple of hours it is really a good battery.
Did you find this helpful?
---
corb06
Sweden
19th March 2014

Galaxy S4
Great!
Just bought this battery since I wont be upgrade to S5 this year. Battery lasts vaigly longer than stock battery. But if you need 2 batteries then you might aswell get this one instead of another stock. A strange behaviour i noticed, is that if my phone is off, and charger connected, I cant turn off the screen. The Charging symbol is visible at all time, but it does not fill up. Only a circle is fixed in the middle of the battery icon. Might be ROM-related though. Giving Mugen 4 stars due to high pricing.
Did you find this helpful?
---
Kevin
Cornwall
8th November 2013

Galaxy S4
Ideal replacement
My original battery bulged at 6 weeks old! Samsung acknowledge bad batch of batteries. It could easily spin on a flat surface and the phone was playing up. Samsung and O2 wanted phone back for 2 weeks and possible wipe down. Not wanting to risk another Samsung battery tried this one. I can confirm it Lasts a little bit longer than the original with average use. Fits perfectly with original battery cover and NFC is a plus. 4 stars as a bit expensive but needed it quickly and knew from experience that these guys are pretty good to deal with.
2 of 3 found this helpful.
Did you find this helpful?
---
DAVID WELLS
PETERSFIELD
25th August 2013

Samsung Galaxy S4
Fantastic Battery!
The morning I woke up realizing I had this wonderfall battery in my phone was enlightening, rainbows and happy thoughts were flowing thought my mind as I considered how much more I could do with just 150maH more power. Ok humour over but seriously this will probably extend your usage hard to tell but it did seem to last out a bit longer.
2 of 3 found this helpful.
Did you find this helpful?
---
Steve C
Newport Pagnell
27th June 2013

Samsung Galaxy S4
Samsung Galaxy S4 Extended Battery
Great to have a battery which does not run out after five minutes. I also keep the original fully charged and carry it as a babackup. What is also good is that you do not need an alternative back cover to accommodate the extended battery unlike it's predecessor the S3. Well worth a punt!
2 of 3 found this helpful.
Did you find this helpful?