Alternative Products:
Sorry, but Nokia Universal Portable Micro USB Charger DC-18 - White has been discontinued and is no longer available to order. For your convenience we've selected some alternative items that we think you may be interested in.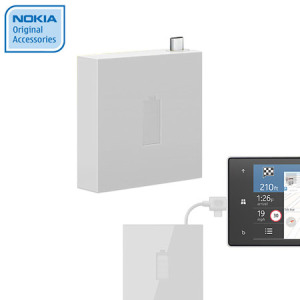 Nokia Universal Portable Micro USB Charger DC-18 - White

Product Reference: 39401
Write a review
Saroj
London
28th July 2015

Nokia Universal Portable Micro USB Charger DC-18 - Red
Brilliant little gadget
I bought this charger for my son, who is constantly listening to music, therefore the battery on his phone dies out very quickly. This small gadget, is brilliant, small easy to carry around, therefore easy to charge his phone when required.
Did you find this helpful?
---
Niall
Edinburgh
19th August 2014

Nokia Universal Portable USB Charger DC-18
Pocket Power
This is a brilliant little design, manufactured to the high quality standards one would expect from Nokia. The internally-stored, captive output cable is, IMO, much preferable to a detachable one, and the LED charge indicator (which lights up a whitish-blue) is also handy. The colour of this (red) unit is a properly fluorescent fire-orange, and the finish is nice glossy plastic, although obviously this won't last long if kept in a bag or pocket with keys, etc. The charging rate for your device is not the quickest, but for me is acceptable. I probably wouldn't buy this particular model for modern, 5" plus display phones, as the internal battery capacity and charging rate would be too low. Perfect for my BlackBerry Z10 and its 4.2" display and its 1,800mAh battery.
Did you find this helpful?
---
Phil
Lincoln
28th June 2014

Lumina 630
Neat little gadget
Usual excellent service from MobileFun; all items in stock and arrived within 72 hours with good comms. This charger is about the size of a box of swan vestas. Took about 4 hours to full charge on receipt via USB cord supplied. Neat pull out micro USB on the unit then plugs into phone to charge. Small size makes it very convenient to keep in hand luggage for the nightmare scenario of dead phone at the airport. Build quality is excellent.
Did you find this helpful?
---
Christine
Hobart
30th May 2014

Great
Charged up very easily and worked beautifully with Nokia Lumia 900. Will be a great addition when travelling.
Did you find this helpful?
---
mairi
Glasgow
15th April 2014

Nokia Lumia 625
Got what I ordered
I needed to get a mobile charger for my phone as I am always on the go and forgetting to charge my phone After choosing my charger, on Friday night and selecting free post, my charger was with me on Monday morning. Charger does what it says and I am very pleased with my purchase and I will recommend mobile fun to my friends
Did you find this helpful?
---
Ryan Prior
United Kingdom
18th January 2014

Nokia Lumia 820
Exactly what I wanted
I bought this charger so that on long trips I can charge my phone on the go. It's a little heavier than expected but a very sturdy and well made product. The battery should hold more than enough charge for most gadgets and is perfect due to the fact that it will charge pretty much anything.
Did you find this helpful?
---
Nikita Veniaminov
Seattle, WA
22nd November 2013

Power on the run...
Nice, simple, light, precise, helpful!!!
Did you find this helpful?
---
Anonymous
Unknown
16th September 2013

Nokia Lumia 800
Perfect smartphone accessory
I bought this "Little Gem" to take on holiday. What a useful accessory it has proved to be. I am able to top up the phone "on the move" and the charger stores away in your pocket or bag so easily. The shape and dimensions are perfect to carry out a full charge with the minimum of fuss. It is a delightful design icon and totally practical. Congratulations Nokia!
1 of 2 found this helpful.
Did you find this helpful?