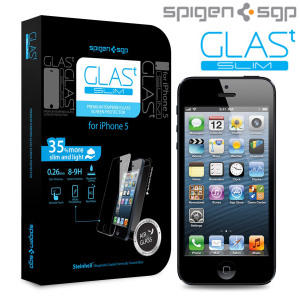 Spigen SGP iPhone 5S / 5C / 5 GLAS.t SLIM Glass Screen Protector

Product Reference: 39248
"Worth the price"
"Excellent "
This item is covered by our
Christmas Extended Returns Policy
Write a review
Denise
Canberra
15th April 2014

Brilliant
Love this screen protector ... went on easily, without any bubbles. Feels just like a 'naked' iPhone screen. Haven't dropped my phone (yet) so can't attest to its protective qualities, but loving it so far!
Did you find this helpful?
---
Dave
Bedford
25th February 2014

iPhone 5
Worth the price
This is my second purchase of this product and I'd happily buy more. Why? Well it's far cheaper than replacing a screen on an iPhone! When I dropped my phone recently, this protector cracked, but the screen beneath was intact. It's a doddle to apply compared to plastic protectors and has a much nicer feel when in use. Brilliant customer service from Mobilefun as usual
Did you find this helpful?
---
Tom
Wexford
17th November 2013

Tough glass
Great screen protector. Hardly notice it in screen slimline design Only quibble is the recess button seems deep and the pad to place on home keep is not a perfect fit but that's only really picking at it
Did you find this helpful?
---
Carlos
Uk
22nd October 2013

iPhone 5
Excellent
I was sick of having to keep on re-applying new cheap screen protectors so plumped for this and it is truly excellent. The screen clarity is hugely improved over any other protector I have used. You couldn't even tell that it's on there once carefully applied and it feels incredibly smooth almost making the touch screen seem more sensitive (probably due to other protectors dulling this sensation) overall excellent and well worth the money.
1 of 1 found this helpful.
Did you find this helpful?