Sorry, but Roxfit Sony Tablet Xperia Z SMT5133W Book Case - White has been discontinued and is no longer available to order. For your convenience we've selected some alternative items that we think you may be interested in.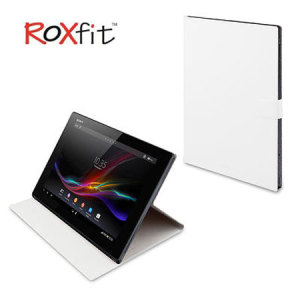 Roxfit Sony Tablet Xperia Z SMT5133W Book Case - White

Product Reference: 39066
"Easily exceeded my expectations."
"Very pleased wit hthe case."
Write a review
Gordon Halliwell
Unknown
9th June 2014

Sony Xperia Z Tablet
Easily exceeded my expectations.
I am thrilled with the quality & the fit of the case. I find it reassuring that it provides such good protection but in no way compromises any of the tablet functions. The fact that the tablet switches on when the case is opened is a surprise bonus.
Did you find this helpful?
---
James
Dorset
28th April 2014

Xperia tablet
Great case
Very slim smart case, at first I wasn't sure about the adhesive strip aiving to stick it in but once it was done I found it holds the tab very securely and it's nice not having the extra bulk and the plastic clips around the edges like a clip in case. The edges overhang a little to provide some protection to the sides and corners but wouldnt offer as much protection as a clip in case. I would recomme
Did you find this helpful?
---
YS
Central Coast
28th April 2014

Great product and well worth the money
This is my third Xperia Z Tablet cover, and I've tried plenty of others. This is however EASILY the best... if I had come across this first I would've saved a lot of money, including the super expensive one that Sony had (which I fortunately did get it on a discount). One minor setback about this - it uses an adhesive back, which means that you can't take it out from the case easily. I have no need to taking it out, but if you do for whatever reason or don't want to risk damaging the back (it doesn't like it will at all), then you're better off getting one that clips on.
Did you find this helpful?
---
Carol
Unknown
7th April 2014

excellent product
After trying various covers from other companies none of which fitted. This one however is perfect for my experia z 10.1 tablet, I chose white and it looks beautiful fitting is so easy and it is really sturdy without being bulky. Thankyoufor an excellent product and excellent service.
Did you find this helpful?
---
Anonymous
Unknown
31st March 2014

Perfect Xperia tablet Z cover...
I use 3 different cases before buy this RoxFit. Positve: Super slim, lightweight, stylish, excellent quality, very nice look and touch feel, magnets for smart sleep and wake. Negative: Can not provide high device protection, but this is normal for so thin case, I would prefer front cover to be two parts like back side.
1 of 1 found this helpful.
Did you find this helpful?
---
andrew wilcockson
derby
28th February 2014

sony experia. z tablet
best product ever bought
I was given my Sony tablet for my 60th birthday and I wanted a book case for it and I saw it at mobile fun and I am very happy with my purchase it is brilliant thanks.the service from mobile fun is second to none they are very professional.
Did you find this helpful?
---
shaun
telford
20th February 2014

sony experia z tablet
excellent
Great fit! Looks good and worth the price, I first brought a cover like this for my Sony experia z1 mobile,this tablet one is excellent.
Did you find this helpful?
---
Brian
Dallas, TX
28th January 2014

Best Non-OEM 'case'
This case is great, as far as I know it is the only case aside from the SONY one that you can use with the SONY charging dock. It does not add bulk and the magnetic closing is genius.
0 of 1 found this helpful.
Did you find this helpful?
---
Eleonora
Torino
24th January 2014

Bellissima!
Semplicemente perfetta!
Did you find this helpful?
---
Anonymous
Unknown
7th January 2014

Sony Xperia tablet Z
Brilliant
I recently purchased the Roxfit case to use on my tablet Z as it's supposedly the thinnest case there is available. Installation is really easy and the package comes with clear instructions, there's a piece of 3m adhesive which is actually very secure, this also means there no frame.on the case so it, keeps that aesthetic appeal and really does make the case look sleek on the tablet. The front and back and also reinforced by some sort of strong material which does seem to take quite some knocks as I learnt :P I've dropped my tablet a few times with the case on and it's actually taken all the force off the drops so not too bad at all for first impressions. The stand feature on the case is actually really useful, works perfectly for watching movies and video :)
4 of 4 found this helpful.
Did you find this helpful?
---
Mrs k. richardson
west sussex
7th January 2014

rolfix Sony Tablet Xperia z book case SMT 5133B - black
just what I have been seařching for
I am really delighted with the roxfit Sony Xperia z book case,it fits the Sony Xperia tablet z snug like a glove,it also protects the tablet safely against anything being dropped on the tablet by accident and it looks extremely smart and lovely to hold.
2 of 2 found this helpful.
Did you find this helpful?
---
Anonymous
Unknown
28th November 2013

Xperia Z Tablet
Does what it says on the tin
This is a great cover the sticky strip hold the tablet in place really well and it barley adds any bulk onto what is a slim device.
Did you find this helpful?
---
Mark Lewis
Cheshire
3rd September 2013

Xperia tablet Z
Very pleased wit hthe case.
The Roxfit, Xperia Z tablet case is very well made and sturdy (enough to protect the tablet) The case allows you to stand the tablet in say a 45 degree angle as the inside of the case is lined with and anti slip material, the case attaches to the tablet by 3M tape which at first was a but of a letdown, however I have come to realize that this allows for the case to be very slim and it only adds about 3mm to the total thickness of the tablet (so still a very thin form factor unlike other cases I have seen. The case is held shut by a magnetic strip which when used turns the screen off and wakes the tablet from sleep, this magnet is also used when the case is open as you flip it the other way and it holds the flap firmly in place. Overall I am made up with the case and speedy service I received from mobilefun.
3 of 3 found this helpful.
Did you find this helpful?