Sorry, but DriveTime Sony Xperia Z Adjustable Car Kit has been discontinued and is no longer available to order. For your convenience we've selected some alternative items that we think you may be interested in.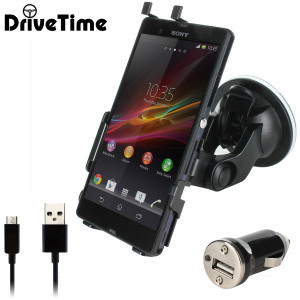 DriveTime Sony Xperia Z Adjustable Car Kit
Product Reference: 38941
"Car Phone holder."
"car kit"
This item is covered by our
Christmas Extended Returns Policy
Write a review
Richard
sydney
26th October 2013

Wobbles too much
Bought the DriveTime to securely hold the xperia z without pressing the buttons. The suction cap holds onto the windscreen securely however the is far too much free play in the mounts and the phone wobbles substantially. Would not recommend
1 of 1 found this helpful.
Did you find this helpful?
---
David Moir
Perth
2nd October 2013

Xperia Z mobile car kit has good and bad features.
I recently bought a mobile car kit to hold my Sony Xperia Z phone in the car. After some shipping delays, the kit arrived as ordered and in good condition. It was easy to work out how to fit the phone and adjust the kit so it would mount to the windscreen via the pretty powerful suction cup. It works pretty well as a simple phone holder but I also wanted to use it to record in-car videos in my rally car. Unfortunately the swivel joints in the mounting kit have too much free-play so the the phone wobbles noticeably, even on smooth roads. This results in the video image appearing occasionally jerky as the phone moves around a bit with the car in motion.
Did you find this helpful?
---
Elias norman
United Kingdom
23rd May 2013

Sony Xperia z
not what I expected.
struggle to get the phone in and out due to the very poor design. phone holder makes it difficult to access charging port, and lock button. constantly holds the volume and lock button down. Tacky, ugly. Not impressed
2 of 3 found this helpful.
Did you find this helpful?
---
Joseph O'Neill-Byrne
kent UK
12th May 2013

Xperia Z Mobile Phone.
Car Phone holder.
Looking at what's on the market I thought it would be impossible to get a holder that would remotely fit my phone. Prior to this new holder I had to satisfy yself with an IPad holder which looked like a pizza hanging from my windscreen. I was delight with the unit Mobile fun sent me. If I designed it myself it could not have been better. To say it was custom made is an understatement. It fits the Xperia Z like a glove and tilts to allow you to slip the phone single handed into it. No adjustments have to be made at all. It holds the phone steady while you switch it on and off and type on the screen without shaking. It does not vibrate during travel even if you hit a pothole. It's a well engineered piece of kit that is spring loaded at the top to hold the phone in place. I'm reaally happy with it and highly recommend it to other Xperia Z users. One last thing, it arrived less than 36 hours from ordering. Very well done Mobilefun. Thank you. Joseph.
2 of 2 found this helpful.
Did you find this helpful?
---
Angadbrar Singh
southall middelsex
30th April 2013

Sony Xperia Z
car kit
this item is aveey good quality wise and veey handy.i m so happy.
2 of 2 found this helpful.
Did you find this helpful?