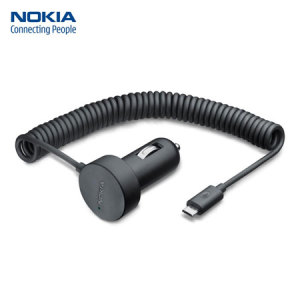 Nokia In Car Charger Micro USB

Product Reference: 38842
"Compact charger"
"Crucial"
This item is covered by our
Christmas Extended Returns Policy
Write a review
Vicki
Adelaide
16th March 2014

Excellent!
Great Service, Great Product, Great Delivery time
Did you find this helpful?
---
Les
Gloucestershire
8th March 2014

HTC one
Compact charger
Most chargers on the market are quite big, but this one is so compact and neat. It fits nice and flush to the surface of your charger point and the coiled lead keeps things tidy. It's a top quality item and though it's branded Nokia it will fit any phone that has a Micro USB port. I am totaly happy with it in every way.
Did you find this helpful?
---
Martin Smith
Cambridge
14th February 2014

Samsung galaxy s3 lte
It does the job nicely
What can I say? It's a device for charging your mobile using the cigarette lighter socket (I have finally found a use for this after quitting smoking two years ago) your vehicle and, not surprisingly, I was able to charge my mobile in my car. All joking apart, this charger feels sturdy and the cable feels high quality, secure and unlikely to break easily unlike some other, cheaper chargers that I have tried in the mistaken belief that I would save myself money (it broke after three months!). If you are looking for a new charger, regardless of your phone make or model, as long as it has the mini usb charging port I would recommend that you give this one a whirl.
Did you find this helpful?
---
Anonymous
Unknown
6th February 2014

samsung s3
the perfect replacement
This charger was brought for a samsung s3, brought this for the times when you are running short of time and need a charge for your phone when your out. This charger is much better than original one received with my phone and gives a quick fast charge over a short distance than a mains in my opinion.
Did you find this helpful?
---
Steve
Weston-supewr-Mare
2nd February 2014

Lumina 920
It charges at least
Bought this in the hope of it being a quality item from Nokia. It does keep my Lumia 920 charged. The downside is that it interferes with music play back with noise in the background. It seems it's not shielded very well.
Did you find this helpful?
---
Heather
Devon
31st December 2013

Nokia Lumia
This works
I received as a present last year a generic mobile car charger, it didn't fit my phone. The Nokia charger does of course fit, it show that it pays to buy branded goods
Did you find this helpful?
---
Optional
home
15th December 2013

Phone
Nice design for driving
I like the design with the cable at right angles. Fits my old Ford Escort better by not getting in the way of other stuff. Cable is a bit short but stretches enough when hooked round the phone bracket. Nice colour.
Did you find this helpful?
---
Neil Flanagan
United Kingdom
3rd August 2013

Nokia Lumia 520
Faultless
I have brought some in car charger in the past that have not lasted that long before I had to replace them. So when my wife asked me to purchase one for her Nokia Lumia 520, I decided to buy an original Nokia item to remove any future hassle.
Did you find this helpful?
---
Juliette
Bromley, Kent
9th July 2013

Nokia Lumia 520
Crucial
Love our Nokia Lumia 520s but the batteries don't last long and as we spend most of our working days in vans, an in-car charger is crucial! These work fine. These chargers were just one of several items I bought from mobile fun. I made the purchase at 1755 and I know the website says that orders received before 1800 would get them next day but I expected them to arrive the day after. I was wrong. Everything I'd ordered arrived next day. Brilliant service. Thank you.
1 of 1 found this helpful.
Did you find this helpful?
---
Robert
Oklahoma City
21st June 2013

Nokia 808 Pureview
Works Well
The packaging is intelligent and minimal. Blue paperboard box containing a White paperboard insert with a compartment for the charge head and a place for the coil cord. Ease of use - Plug it into the 12VDC accessory point, plug it into your device and you are done. This charged the bottomless pit BV-4D (1400 mAh) while I was using the 808 as a navigator and never struggled to keep ahead of the drain. The color is a non-glare deep gray which is unobtrusive. It is well built and functions as intended.
Did you find this helpful?
---
Pirate
Unknown
19th June 2013

Nokia Lumia phone
Ideal!
Does just what i wanted. After all, it's only a charger. To be fair, it is compact without too much spare curly wiring, but it charges my phone in-car, so really there isn't much more to say. Only one criticism..the tiny green LED is so small you have to look twice at it to check it is on in daylight.
Did you find this helpful?