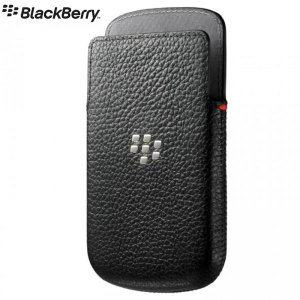 BlackBerry Q10 Leather Pocket - Black - ACC-50704-201

Product Reference: 38777
This item is covered by our
Christmas Extended Returns Policy
Write a review
Subhakanta Satpathy
Thane, India
3rd August 2014

Blackberry Cover
This is the standard pouch of Blackberry. Good built and very sturdy. Protects the device and allows the OEM's feel of the original slickness during use.
Did you find this helpful?
---
Dave
Cotswolds
20th October 2013

BB Q10
Perfect
Great quality simple pocket for the Q10. Looks good and protects the phone, saves battery as it switches off the phone when in the pocket.
Did you find this helpful?
---
CT
Stockton-on-Tees
27th September 2013

BlackBerry Q10
Great Case
A very tough case, which holds the phone securely, but not too tight that it is difficult to release the phone when you need it. The case that came with my 9900 was a lot tighter. The quality of this one is superior as well. Delivery spot-on again, arrived the following day. Just wish BlackBerry would ship these with the handset, as with previous Bolds that I have used.
Did you find this helpful?
---
Ric
Perth WA
27th August 2013

Leather Q10 Wallet
Does exactly what it is meant to do
Did you find this helpful?
---
John Egan
Essex
18th June 2013

Q10
Spot on!
Ok it's just a case, but it was sent swiftly and delivered in official packaging and happy to say is excellent quality! It's rare with phone cases to hit genuine quality and service but happy to say mobile fun.co.uk have. Thanks.
Did you find this helpful?
---
Aslam
Middx
28th May 2013

Blackberry Q10
Q10 case
Thank you very much, for the very fast and speedy delivery, this is the second time i have purchased and will continue to do so.
2 of 2 found this helpful.
Did you find this helpful?