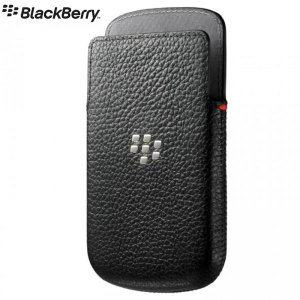 BlackBerry Q10 Leather Pocket - Black - ACC-50704-201

Product Reference: 38777
This item is covered by our
Christmas Extended Returns Policy
Write a review
Subhakanta Satpathy
Thane, India
3rd August 2014

Blackberry Cover
This is the standard pouch of Blackberry. Good built and very sturdy. Protects the device and allows the OEM's feel of the original slickness during use.
Did you find this helpful?
---
Dave
Cotswolds
20th October 2013

BB Q10
Perfect
Great quality simple pocket for the Q10. Looks good and protects the phone, saves battery as it switches off the phone when in the pocket.
Did you find this helpful?
---
CT
Stockton-on-Tees
27th September 2013

BlackBerry Q10
Great Case
A very tough case, which holds the phone securely, but not too tight that it is difficult to release the phone when you need it. The case that came with my 9900 was a lot tighter. The quality of this one is superior as well. Delivery spot-on again, arrived the following day. Just wish BlackBerry would ship these with the handset, as with previous Bolds that I have used.
Did you find this helpful?
---
Ric
Perth WA
27th August 2013

Leather Q10 Wallet
Does exactly what it is meant to do
Did you find this helpful?
---
Anonymous
Sydney
23rd July 2013

Cheap and small
The leather is quite cheap, no padding so that I don't believe it offers much protection. The pouch is extremely tight - so the device cannot accidentally drop from it, but it's hard to get the device out. And in contrast to many reviews on the web, you can't fit the hardcase protected Q10 into it. On the positive side, the pouch "interacts" with the Q10, i.e. you can set the device to lock automatically when put into the pouch or answer the phone when removed. Still - I believe there will be better pouches available soon.
0 of 1 found this helpful.
Did you find this helpful?
---
Luis
Unknown
13th July 2013

Simple and brilliant design
The first thing it noticed when I picked it up is how solid the pouch is, the nice hard leather that they used and the contrast red stitching. It simply look brilliant and does an excellent job to protect my blackberry q10 especially around the keyboard - feels as though there's a protective plate around it. The pouch is also active, meaning that you can set your phone to lock when it's holstered in inside. It is also cut in a way so that you can see the top led for any notification and for easy removal. The phone sits solidly inside so there's little chance it will slide out without excessive shaking. The only negative I have is that the USB charge port sits too deeply inside the pouch, so any charging will need to take place with the q10 just slightly sticking its head out of it. In the end, the quality has exceeded my expectations and I can recommend this product to anyone looking for a pouch to protect their blackberry q10!
Did you find this helpful?
---
John Egan
Essex
18th June 2013

Q10
Spot on!
Ok it's just a case, but it was sent swiftly and delivered in official packaging and happy to say is excellent quality! It's rare with phone cases to hit genuine quality and service but happy to say mobile fun.co.uk have. Thanks.
Did you find this helpful?
---
Aslam
Middx
28th May 2013

Blackberry Q10
Q10 case
Thank you very much, for the very fast and speedy delivery, this is the second time i have purchased and will continue to do so.
2 of 2 found this helpful.
Did you find this helpful?