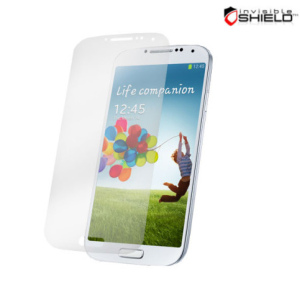 InvisibleSHIELD Full Body Protector for Samsung Galaxy S4
Product Reference: 38641
"Crystal Clear"
"Best Screen protector"
This item is covered by our
Christmas Extended Returns Policy
Write a review
Anonymous
Unknown
25th March 2014

galaxy S4
Bien
1ère fois que j'utilise cette protection et pour le moment je ne suis pas déçu. j'ai eu peur de mettre beaucoup de produit pour appliquer le film arrière et du coup ça à été un peu difficile à mettre en place et il reste quelques bulles... Je le saurais pour la prochaine fois ! Néanmoins, ça permet de bien protéger l'arrière du S4 sans grossir le téléphone et il glisse moins entre les mains. le film est parfaitement ajusté pour le S4 et pour le moment il tient très bien ! Pas encore utilisé le film pour l'écran car déjà un en place !
Did you find this helpful?
---
lemo
yvre l évêque
13th November 2013

galaxy s4
Bonne protection
Bonne protection, il faut un peu de dextérité pour mettre en place le film mais les bulles d'air restantes partent d'elles-même ! Attention ne protège pas contre les chutes.
Did you find this helpful?
---
Wolfgang Frahs
12627 Berlin
2nd September 2013

kein
Die Ware ist sehr qualitätsgerecht und zu meiner besten Zufriedenheit! Dies ist auch mit allen anderen Waren, welche ich bisher bezogen habe! Ein Grund für mich in meinem Umfeld umfangreiche Werbung zu betreiben. Meinen herzlichsten Dank dem gesamten Team!
Did you find this helpful?
---
Paco
Murcia
16th August 2013

samsung galasy 4
Protector de pantalla
Pedí el mejor protector de pantalla y muy mal, estoy muy descontento porque tiene muy mala colocación y e tenido que tirar el protector de pantalla.
1 of 3 found this helpful.
Did you find this helpful?
---
Rudolf
Schleswig
3rd July 2013

Samsung Galaxy s4
Tolles Produkt
Habe das Invisible Shield auf Anraten meiner Tochter gekauft. Ich bin begeistert. Super Verarbeitung, spitze Qualität, gute Beschreibung. Ich muss sagen bevor ich eine Billigfolie kaufe, nur diese.
Did you find this helpful?
---
Anna Varey
Moreton-in-Marsh
27th June 2013

Samsung Galaxy S4
Crystal Clear
The invisible shield full body protector is exactly as described. Crystal clear and virtually invisible. Does not impede the use of the phone in any way. Would definitely recommend this item.
0 of 1 found this helpful.
Did you find this helpful?
---
AUBERT
paris
21st June 2013

samsung galaxyS4
Pas top
je pense que le produit est très bon, mais très dur à installer voir limite impossible.
Did you find this helpful?
---
Jérémy
Bordeaux
9th June 2013

Samsung Galaxy S4
Bonne protection, mais...
Il s'agit d'une protection de qualité qui a le gros avantage de s'appliquer beaucoup plus facilement que les autres protections en raison de sa souplesse. Il est possible de le repositionner à souhait et les bulles partent très facilement. Si les traces de doigts sont complètement invisibles avec cette protection, les reflets sont eux bien présents et peuvent gêner en plein soleil. De plus, cette protection ne peut pas être rayée mais elle peut en revanche être "marquée" par l'appui prolongé d'un corps sur elle et ce parfois définitivement. Il s'agit donc là d'une protection qui se démarque des autres avec des avantages et des inconvénients.
0 of 1 found this helpful.
Did you find this helpful?
---
Mrs graham
Exeter
29th May 2013

Iphone 5,ipad 3
Fantastic screen saver
I have had most of the upto date mobile phones and on everyone i have purchased the Moshi ivisor XT Screen protector and i would not buy any other for my phones and the great thing is you can take them off and wash them and also mine are in the same condition as when i purchased them couple of years ago also i have purchased one for my Samsung galaxy s and can't wait for it to arrive so i highly recommend this screen saver.
2 of 3 found this helpful.
Did you find this helpful?
---
nico
hyeres
22nd May 2013

galaxy s4
Protection parfaite
Génial, parfaite et simple à installer, à recommander car la qualité est conforme par rapport au prix.
0 of 1 found this helpful.
Did you find this helpful?
---
Peggy
Exeter
19th May 2013

iPhone 4S,iphone5,ipad and HTC
Best screen savers EVER
I have just bought the Samsung galaxy s so my screen saver is on its way but i always pay extra for my phones screen savers as not only do what they say they do its worth the money without a shadow of doubt and. Would not buy any other as my iPhone 4S which i have just sold looks as if its just come out the shop brand new when infact its 2yrs old so would strongly recommend this screen saver.
1 of 1 found this helpful.
Did you find this helpful?
---
D Tough
United Kingdom
16th May 2013

Samsung Galaxy S4
Best Screen protector
The Invisible SHIELD line of screen protectors are fantastic having owned two HTC phones previously I have found I need nothing more. The quality is excellent and will last you for the lifetime of the device that you install it on, after 18 months on my previous phone it is still in excellent condition so while it may seem a little more expensive than others it offers great value and unbeatable protection. Installation is made easy by the supplied solution and squeegee and was installed flawlessly on my phone in under a minute which was great as screen protectors can tend to be a bit fiddly.
3 of 3 found this helpful.
Did you find this helpful?
---
Anonymous
graulhet
5th May 2013

galaxy 4s
Parfait
Très bonne protection. Déjà achetée pour d'autres téléphones qui a en plus la particularité de garder son téléphone tel quel.
1 of 2 found this helpful.
Did you find this helpful?